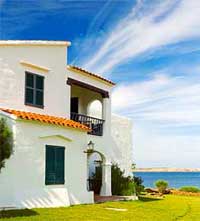 Alicante takes the top flight destination spot for Brits travelling abroad in 2012 it has been revealed by price comparison website dealchechecker.co.uk.
Up five places from last year, Alicante has always been a popular destination, offering great value getaways.
A fall in local prices on everything from a restaurant meal to sun cream combined with the fact that the pound is at a two- year high against the euro has made the Costas even more affordable this year according to an annual survey conducted by the Post Office.
"In today's holiday market, people are looking for the best available deals to get the most for their money, and places like Alicante offer just that," notes Mr. Marc Pritchard, sales and marketing manager of Taylor Wimpey España.
To highlight just how affordable, the recent Post Office Survey on global tourism trends revealed that Spain is the second cheapest destination with a price of £37.72 for eight every day items.
"In tough economic times, holiday makers prefer to stick to what they know and the cheaper cost of travel and living in Spain will make the country even more attractive to bargain hunters this year," he says.
Last year, over 286 million overnight stays were registered in Spanish hotels, representing an increase of 6.4% over the previous year, according to the National Statistics Institute (INE).
Indeed, this trend looks set to continue according to a recent report from low cost airline Jet2.com and package holiday specialist, Jet2holidays where 1 in 3 sun seekers stated that they will be heading to the Iberian nation for their main holiday in 2012.
Making travelling to Spain even easier this year, Vueling, Spain's low cost airline, announced it is adding two new destinations to its list seeing new flights from Cardiff Airport to Alicante and Palma, Mallorca this summer.
"This is excellent news for Spain. These routes lead to very popular holiday destinations and have the potential to significantly increase traffic to Spain. We are even more excited by the increase in passenger numbers this year as we have just completed the purchase of an amazing and unique first line plot of land with direct beach access in Villajoyosa between Alicante and Benidorm. All south facing apartments and townhouses will have sea views with Paraiso beach, only 150 feet away. This kind of location has not been seen on the international second home market for years and we are confident it will be a hit," adds Mr. Pritchard.
Taylor Wimpey España have properties to offer prospective buyers in Costa Blanca, and in other locations in Spain including a new property development in Lagunas del Sol.