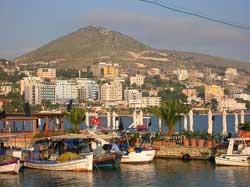 A leading UK trekking holiday organisation Walks Worldwide said Albania is set to become one of the most popular destinations this year because of its unusual terrain.
Walks Worldwide saw extraordinary demand for Albania's Accursed Mountains trek to Albania last year combined with the high levels of advanced bookings already received for its 2012 programme.
One of Walks Worldwide programmes is for trekkers and walkers as well as adventure seekers, who wants to explore the 'Mysterious South of Albania' set for September 2012.
"As one of the least explored countries in Europe, Albania is a place like no other, one which has yet to become popularised by the masses and one where those looking for adventure, history and scenic beauty are likely to flock. Indeed, the Accursed Mountains in Albania offer and unspoilt landscape in a remote area perfect for those who not only love the great outdoors but are in search of something different," says Ravin Maharajah, Partner of Lalzit Bay Resort & Spa, the 5* luxury residential development located on Albania's Adriatic coastline.
However, it's not just trekkers that will want to investigate the wonders of the Balkan land. Following double digit growth in traveler numbers last year and thanks to travel guide Frommer's voting the Albanian Riviera as the Top Value Destination for 2012, an increasing number of holiday makers will be setting their sights on Albania this year.
Meanwhile, helping to increase future tourist numbers, Albania's Mother Teresa International Airport plans to build a new passenger terminal over the next two years with the airport announcing that the new terminal is expected to cost around €7 million.
"Last year was a great year for the airport and tourism into Albania. The airport saw an 18% increase in passengers which equates to an impressive 1.8 million passengers. Indeed, with the expansion of the airport and range of tour options for adventure buffs to explore the country not to mention GDP growth above that of the Eurozone, Albania is not only beginning to get the attention it so rightly deserves but is creating a favorable climate for holiday makers, foreign and domestic business and those on the lookout for property," Maharajah notes.
Luxury property investments are available in the area.