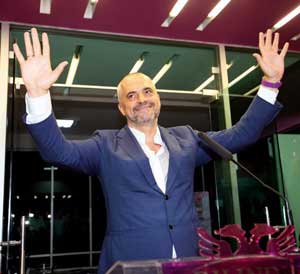 Last month saw the election of the new Prime Minister of Albania, Mr Edi Rama, leader of the Socialist Party.
With almost all the votes counted after the election took place on June 23rd, his coalition took 84 out of 140 seats in parliament a landslide with the result ending 8 years of rule by Sali Berisha's Democratic Party.
The newly elected socialist party has lined up British former PM, Tony Blair, to advise the government towards the ultimate goal of EU membership for Albania.
A formal contract has not been drawn up, but it is expected that Mr Blair will advise on boosting the European integration process, attracting investment and promoting tourism. 
Hot on the heels of Albania's general election, neighbouring country Croatia was last week granted its long awaited European membership, offering hope for its Balkan brothers.
This will no doubt also translate into rising tourist numbers and provide a boost for the Albanian property market as more and more people explore this new EU member nation and its adjacent lands.  
"The election has opened the gates for Albania to become an official candidate to join the European Union, which would come as welcome news for those wishing to invest in this beautiful country, unspoilt by stampedes of tourists and boasting stunning natural landscapes with white sandy beaches and crystal clear seas," Peter Walshe, Marketing Director of Lalzit Bay Resort & Spa, the 5* luxury residential development located on Albania's Adriatic coast notes.
Indeed the race to EU membership continues. Albania applied for candidate status in 2009 and the EU Council stated in a report which was published on December 12, 2012 that Albania could achieve candidate status by 2015 in the event that it conformed to the advice of the European Commission.