Amid calls for King Salman to be deposed, Saudi Arabia's property market is weakening
All is not well in Saudi Arabia. World crude oil prices have fallen around 45% during the year to October 2015 to US$46.40 per barrel.  The kingdom is involved in an expensive war in Yemen, has become alarmed by ISIS (an outcome of its own funding of extremist Sunni groups), has tightened internal repression of Shia and dissidents to unacceptable levels, and is being criticized for its mismanagement of Mecca.
Add to this, bitter internal feuding has broken out within the royal family since King Salman, now 79, ascended the throne after the death of former King Abdullah on January 23 2015.  A senior member of the royal family has called for King Salman to be deposed.
Will Saudi Arabia see a replay of the early eighties, when falling oil prices saw Saudi Arabia´s GDP per capita plunge to 1/3 of its former level?  That outcome could be catastrophic, given current tensions, internal and external.
Nobody thinks that will happen soon, because this year Saudi´s economy is expected to expand by 3.4%, according to the International Monetary Fund (IMF), despite reduced oil revenues, due to massive stimulus spending.   Yet how long can this continue? Because of the government's current enormous fiscal deficit, Saudi Arabia is projected to run out of financial assets needed to support spending within the next five years, according to the IMF.
And already, house prices and property transactions have begun to fall.
In Riyadh, the capital city, apartment prices dropped by 1% during the year to end-Q3 2015, according to Jones Lang LaSalle (JLL), and 2% on a quarterly basis in Q3 2015. Villa prices fell by 5% from a year earlier, and 3% from the previous quarter.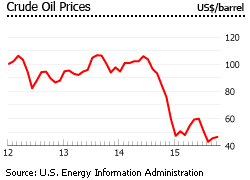 Likewise in Jeddah, apartment prices fell by 4% y-o-y in Q3 2015, and 5% from the previous quarter, according to JLL. Villa prices fell by 5% y-o-y in Q3 2015 and 1% from the previous quarter.
The median sales prices of villas in Riyadh ranged from SAR3,333 (US$889) to SAR5,200 (US$1,386) per square metre (sq. m.) in 2014, according to KPMG.
Residential transactions in Riyadh fell by 10% in Q3 2015 from the same period last year, while in Jeddah transactions dropped 8%, according to the Ministry of Justice.
Demand has also been hit by mortgage regulations issued in November 2014, raising banks´ loan-to-value ceiling to 70%, compelling buyers to pay 30% of property´s appraised value upfront.
The Saudis have been encouraging residential investment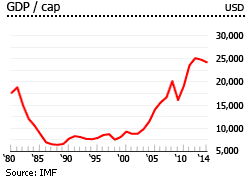 Mindful of the lessons of the 1970s to early 1980s, the Saudis have in recent years spent their petrodollars cautiously, reinvesting a large portion of the windfall into real estate and encouraging foreign investment.
After deep recession in the 1990s, a Foreign Investment Law was passed in April 2000 to encourage a service-oriented economy. Seven months later a new Real Estate Law allowed legally-resident non-Saudis to own a private residence, provided they obtained a license from the Ministry of Interior.
In addition, the volatility of the local stock market from 2006 on encouraged investors to shift focus to real estate.
From 2002 to 2005, house prices rose by 13.7% annually while average land prices rose 16.5% per year, according to the National Commercial Bank Capital (NCBC). Strong house price rises have continued in recent years. During 2014, the average sales price of villas in Riyadh rose by 4% to 7% while apartment sales prices increased by 6% to 9%, according to KPMG Real Estate Advisory.
The law passed in 2000 also allowed ownership of real estate by foreign investors in order for them to conduct their business activities and have accommodation for their employees, again with Ministry of Interior permission.  To prevent speculation, five years must elapse before property can be sold.
However, real property ownership by foreigners is forbidden in the holy cities of Mecca and Medina. Non-Saudi Muslims can only obtain leases of up to two years in these cities. Leases are renewable for the same period.
The Saudis themselves helped drive oil prices down
Ironically, it was the Saudis themselves who helped drive oil prices down, battling to keep their shares of Asia´s oil markets with other members of the Organization of the Petroleum Exporting Countries (OPEC),
Saudi Arabia hopes lower oil prices will stimulate Asian demand, and also wants to hit production in the U.S.. Lower oil prices will also hurt Iran - a major aim.  Iran´s economy needs oil to trade around $135. Saudi Arabia´s own breakeven oil price at which the national budget is in balance, is around $100 per barrel, according Crude Oil Peak, an industry analysis site.  Saudi Arabia also has far larger cash reserves and is thus able to withstand a downturn in prices for much longer. Saudi Arabia is the world's largest oil producer and exporter, and also has huge clout as leader of the Organization of the Petroleum Exporting Countries (OPEC). Petroleum accounts for more than 75% of government revenues and 90% of exports.
In early November Saudi oil giant Aramco cut the price of light-crude deliveries to Asia by $1.7 a barrel, a discount of $1.6 a barrel against the rival Dubai benchmark. The company also cut its heavy oil prices by $2 a barrel to the Far East, and by 30 cents a barrel to the U.S..
Despite falling oil prices, the government plans to keep the economy humming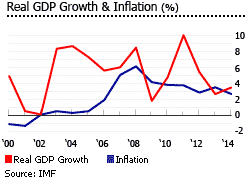 Yet despite the oil price fall, Saudi´s economy is expected to expand by 3.4% this year according to the International Monetary Fund (IMF), following GDP growth rates of 3.5% in 2014, 2.7% in 2013, 5.4% in 2012, 10% in 2011, and 4.8% in 2010.
That´s because Saudi Arabia has withdrawn $50 billion to $70 billion (£33 billion to £46 billion) over the past six months from global asset managers, according to the market intelligence company Insight Discovery. The massive withdrawals will help Saudi Arabia sustain its domestic economy, stave off domestic unrest, and fund the ongoing military campaign in Yemen.
In other words, Saudi Arabia has less money coming (from oil sales), but its spending will remain broadly the same.
In September 2015, the kingdom's annual inflation was 2.3% according to the Central Department of Statistics and Information, down from 2.7% in 2014, the lowest level in eight years, according to the IMF.
Unemployment was 5.5% in 2014, almost unchanged from an average of 5.6% from 2001 to 2013.
However, Saudi Arabia's fiscal balance has deteriorated rapidly. In 2015, the kingdom is expected to post a budget deficit equivalent to more than 20% of GDP, in sharp contrast with budget surpluses of about 13% of GDP from 2003 to 2013.
The sharp increase in Saudi Arabia's budget deficit can be attributed to the following:
Crude oil prices plunged more than 45% in the past 12 months,
Following King Salman's recent accession to the throne in January 2015, he immediately spent substantial amount of money on subsidies and public job bonuses, including extra months of additional salary to all government employees, in an effort to increase his popularity.
Significant military expenditures directed on the conflicts in Yemen, Syria, and Egypt.
In 2014, the kingdom's public debt stood at just less than 2% of GDP in 2014, the lowest in the world. However, public debt is now expected to rise to about 33% of GDP by 2020.
In July 2015, Saudi Arabia issued its first sovereign bonds since 2007 to shore up public finances.
Saudi Arabia's net foreign assets tumbled to US$646.9 billion in September 2015, its eight consecutive month of decline and the lowest level since November 2012, according to the Saudi Arabian Monetary Agency, the country's central bank.
In October 2015, ratings agency S&P downgraded Saudi Arabia´s sovereign credit ratings to A+/A-1 from AA-/A-1+. S&P´s outlook for the kingdom remains negative, amidst worsening fiscal balance due to falling oil prices.
Although the government is deliberately running a budget deficit, this has not prevented it planning some austerity measures, including the freezing of government hiring and promotions, stopping contracting new projects, and suspending the purchase of furniture and vehicles.  n July 2015, the government decided to continue the construction of only two football stadiums, out of the eleven stadiums planned to be built.
Rental market remains strong
So far, Saudi Arabia's rental market has remained robust, buoyed by increasing demand from middle-income Saudi nationals and expatriates in the country.
In Riyadh:
Apartment rents rose by 8% y-o-y and by 1% q-o-q in Q3 2015, according to JLL.
Villa rents rose by 6% y-o-y and by 2% q-o-q in Q3 2015.
In Jeddah:
Apartment rents surged by 20% y-o-y and by 1% q-o-q in Q3 2015.
Villa rents also rose by 5% y-o-y and by 3% q-o-q in Q3 2015.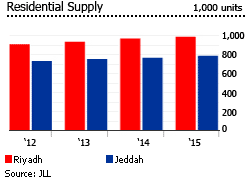 In Riyadh, the average rent for small villas/duplexes measuring 250 - 330 sq. m. ranges from SAR 80,000 (US$21,327) to SAR140,000 (US$37,323) per year in 2014, according to KPMG. The average rent for two-bedroom apartments range from SAR110,000 (US$29,325) to SAR150,000 (US$39,989) per year. In 2014, rents for apartments and villas in Riyadh rose by 6% to 11%.
The strong demand for residential rental units is expected to continue in 2016.
Rental yields are high in Saudi Arabia. In Riyadh, yields were around 7% to 8% for apartments, and 8% to 9% for villas and duplexes, according to some estimates.  In Jeddah, yields for villas and duplexes stood at about 8% to 9% while yields for apartments were about 10% to 12%.
Housing supply increasing
The supply of housing units in Riyadh is expected to grow by an annual average of 3.8% over the next two years, according to KPMG.
During the year to Q3 2015.
In Riyadh, the total housing supply in Riyadh rose by 1.8% y-o-y to 984,000 units in Q3 2015 from a year earlier, according to JLL.
In Jeddah, the total housing supply rose by 2.7% to 785,000 units in Q3 2015 from a year earlier.
In Q4 2015, about 4,000 additional units are expected to be available in the housing market in Riyadh and another 5,000 units in Jeddah, according to JLL.
The capital city's housing supply is expected to increase by 28,000 units in 2016, and by 30,000 units in 2017. In Jeddah, future housing completions are projected at 23,000 units in 2016, and 25,000 units in 2017.
Key Residential Projects in Riyadh

Project Name
Units
Completion Date
Village Mulqa
154
2015
Masharif Hills (Phase 1)
169
2015
Ritaj Villas
292
2015
Manazel Qurtoba (Phase 2)
1,000
2015
Rafal Residence
172
2016
Bayt Al Hurr
216
2016
Manazel Qurtoba II
558
2016
Source: KPMG
There´s a housing crisis here too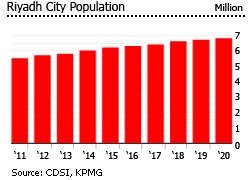 Despite all the building, less than 35% of households own their homes, mainly due to lack of mortgage finance.
The Kingdom's population of 27 million is growing by more than 2% annually. It is dominated by young middle-class Saudis who are first time homebuyers, as about 45% of the country's population are below 20 years old.  In addition, demand from expatriates is also exacerbating the housing shortage, with about 5.5 million expat workers in the country. Low and middle-income households make up about 80% of the unmet demand.
"Demand for apartments and small villas/duplexes is expected to increase with faster pace due to influx of expatriates and reduced affordability concerns for Saudi nationals," said the KPMG.
To ease housing the shortage, the Ministry of Housing launched the ESKAN (the Arabic word for housing) housing scheme in March 2014, to assist Saudi families who do not own a house through state-subsidized home loans or subsidized sales of land or housing units. The government has allocated about SAR250 billion (US$66.7 billion) for the construction of an additional 500,000 new dwellings in coming years.
ESKAN will "help initiate a housing market take-off to tackle the needs of the middle class, where most of the demand lies," said John Sfakianakis of Saudi investment firm MASIC.  "Once people see the supply being addressed, there will be fewer concerns about systemic risks and housing market imbalance."
Local interest rates have been progressively cut by the kingdom's central bank, the Saudi Arabian Monetary Agency (SAMA), which has pushed the reverse repo rate down to 2% since January 2009.  This is unavoidable, as the Saudi riyal is pegged to the US dollar (at 1US$=SAR3.75).
Yet low interest rates haven´t helped much, because less than 1% of all home purchases are financed by mortgage loans, according to CB Richard Ellis.
To encourage private banks to be more aggressive, in March 2011 the Saudi Arabian Shura Council passed a long-awaited mortgage law, to widen funding options.  The Real Estate Development Fund (REDF), a state-funded entity, currently dominates the home financing market. As part of the stimulus package announced last year, REDF funding was increased and loan amount was raised.
Total Housing Units (Occupied with Households)

Administrative area
Total
Traditional house
Apartment
Villa
A floor in a traditional house
A floor in a villa
Other
Al-Riyadh
1,155,763
132,819
434,533
299,243
11,812
159,612
117,744
Makkah Al-Mokarramah
1,328,840
399,322
719,305
100,888
19,035
48,532
41,758
Al-Madinah Al-Monawarah
309,171
98,570
158,064
26,149
3,351
9,620
13,417
Al-Qaseem
202,573
51,752
43,925
59,410
2,793
25,245
19,448
Eastern Region
619,285
103,175
287,402
161,911
8,760
35,624
22,413
Aseer
336,065
130,800
88,530
58,526
5,607
34,991
17,611
Tabouk
133,156
38,314
61,762
15,112
1,835
10,320
5,813
Hail
94,223
44,205
13,380
24,404
1,012
5,754
5,468
Northern Borders
42,708
8,598
9,810
14,381
1,252
6,087
2,580
Jazan
199,625
133,679
26,793
19,902
2,876
7,763
8,612
Najran
85,350
33,234
23,776
12,308
1,156
6,786
8,090
Al-Baha
75,227
28,998
23,298
8,943
2,591
7,666
3,731
Al-Jouf
70,176
15,364
20,670
23,328
1,437
4,451
4,926
Total
4,652,162
1,218,830
1,911,248
824,505
63,517
362,451
271,611
Source: Central Department of Statistics and Information
Major real estate developments
The Saudi government has launched four integrated economic cities in recent years. These huge projects aim to meet residential and commercial property needs and to improve the investment climate in the country.
These economic cities will create over 1.3 million jobs and house more than 4.5 million residents, contributing SAR563 (US$150) billion to GDP and increase Saudi Arabia's per capita GDP to SAR125,625 (US$33,500) by the year 2020, according to the Saudi Arabian General Investment Authority (SAGIA).
Project
Location
Total Area
Date Launched
Value(SAR)
Residential Area
King Abdullah Economic City (KAEC)
Rabigh, north of Jeddah
168 million sq. m.
Q4 2005
100 Billion
Includes 260,000 apartments and 56,000 villas
Prince Abdulaziz bin Mousaed Economic City (PABMEC)
Hail, north of Riyadh
156 million sq. m.
Q2 2006
30 Billion
Develop 30,000 housing units
Knowledge Economic City (KEC)
Holy city of Medina
4.8 million sq. m.
Q2 2006
25 Billion
Develop 30,000 residential units
Jazan Economic City (JEC)
Jizan, 725 kms south of Jeddah
100 million sq. m.
Q4 2006
102 Billion
Include residential areas with complete amenities
Source: Ministry of Economy and Planning
Will the King be deposed?
King Salman is widely believed to be in bad health.  Soon after he ascended to the throne, he appointed Mohammed bin Nayef as Crown Prince, the US´ preferred choice, seen as reliably pro-Western.  The appointment cemented the dominance of the descendants of the "Sudairi seven" - the children of Ibn Saud´s favourite wife, Hassa al Sudairi.
Despite the appointment of Mohammed bin Nayef, the real ruler is said to be the man who is formally his deputy, the king´s son Mohammed bin Salman, an ambitious man who favours more diversification of the economy, greater privatization, and a future that's closer to the more open model of the United Arab Emirates than to the conservative House of Saud - but who also championed the expensive and unsuccessful war in Yemen.
Salman has also consolidated his power with a savage crack-down on dissent, refusing to heed US calls to stop the brutal flogging of blogger Raif Badawi, and intensifying the persecution of Shias in the kingdom.
In recent months the king has fired Mohammed bin Nayef´s chief aide and disbanded the royal court structure that gave Nayef access to the king, forcing him to go through his deputy but in reality main rival, Mohammed bin Salman.
There is considerable opposition to the Salman succession, and it is beginning to look as if the King may be deposed.  An unprecedented call for the king to be removed was made by a senior Saudi prince. 
"The king is not in a stable condition and in reality the son of the king [Mohammed bin Salman] is ruling the kingdom," the unnamed prince said in September in conversation with Guardian reporter Hugh Miles.
"Four or possibly five of my uncles will meet soon to discuss the letters. They are making a plan with a lot of nephews and that will open the door. A lot of the second generation is very anxious."
"The public are also pushing this very hard, all kinds of people, tribal leaders," the prince added. "They say you have to do this or the country will go to disaster."