Ecuador's fickle leadership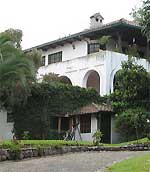 Left-leaning Rafael Correa was inaugurated in January 2007 as the newest addition to the growing list of presidents Ecuador has put in office. From 1996 to present, Ecuador already had seven presidents, one of whom only lasted three days. During the past decade, no president ever lasted to serve full term.
The smallest country in the rugged Andean highlands, Ecuador has an array of vibrant indigenous cultures, well-preserved colonial architecture, volcanic landscapes and dense rainforest.
Ecuador prides itself on the Galápagos Islands, its interesting volcanic formations, as well as its rich flora and fauna have been admired and studied by numerous travelers, scientists, and nature-lovers.
However, Ecuador has plenty of internal problems. Political troubles never seem to end in this country.
Persistent political turmoil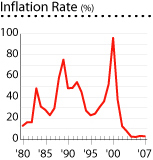 On March 7, 2007, the Supreme Electoral Tribunal dismissed 57 lawmakers who sought for the impeachment of four tribunal members. The call for impeachment was seen by the tribunal as unconstitutional, because it supposedly tries to interfere with the national referendum to be held on April 15, 2007.
President Correa is pushing to create a constitutional assembly to rewrite Ecuador's constitution, and a referendum to vote on its formation was approved by the Congress. The approval has been challenged by the many opposition lawmakers who walked out before the voting took place.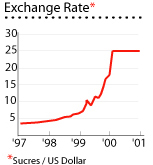 Without political party backing in the Congress, Correa expressed desire to restructure or even dissolve it. He has called the Congress 'a sewer of corruption'. He wishes to limit the power of traditional parties, which he blames for Ecuador's ensuing poverty and corruption problems.
In addition to constitutional change, the leftist president promotes other radical reforms as well. He has openly declared not getting into any free-trade agreements with the US. Likewise, he stated that he will not renew the lease contract with the US on the Manta base when it expires in 2009. Correa also seeks more state control over the oil industry through higher charges on foreign oil companies.
Intelligent tourism
Aside from foreign investment, Ecuador is also starting to take advantage of its natural resources for eco-tourism programs. A pioneering example is the Kapawi Ecolodge, south-east of Quito, the capital. Kapawi provides the way into the Amazon Basin rainforest near the Peruvian border.
While promoting eco-tourism in Ecuador, this community-based project also helps the Achuar tribe, which lives in the area. The Kapawi venture helps them by providing jobs and preserving their ancestral lands. Additionally, it is a better alternative to oil exploration in the area.
By 2011, this project will be solely owned by the Achuar people.
Quito (pop. 1.8 million) is described by travelers as the one of the most attractive cities in South America. Its elevation and location near the Equator creates a climate considered as eternal spring.
The old town, called Old Quito, is filled with old churches, buildings and houses. In 1978, Old Quito was declared a World Heritage Site by UNESCO.
However, undoubtedly Ecuador's most beautiful city is Cuenca, also designated by UNESCO a world heritage site. Surrounded by fertile valleys, this colonial town has narrow cobbled streets, quiet plazas, 19th century architecture and domed churches.
The nearby Inca ruins of Ingapirca are the largest in Ecuador and the most intricate, featuring a sun temple, and some of the finest Inca stonework. The nearby El Cajas National Park is said to resemble parts of Scotland and has great scope for outdoor activities such as walking and hiking.
Best choice in South America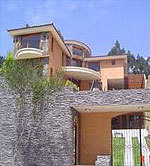 "In South America, we are the best choice," says Mathieu C. Guillory, who runs Quito's sole foreign-oriented real estate agency, Colonial Ecuador.
"We are closer to the U.S., four hours from Miami. Peru does not attract, for some reason, although it is very interesting. Venezuela is out, just now, for political reasons. Chile seems a different world, and Brazil – well, the language gets people. So we are at the top of the list in South America!"
"Ecuador is very easy to live in. It is not pro-expat like Panama, but it is very investor-friendly. The climate is wonderful for retirees," boasts Guillory.
Quito has largest colonial area in the Americas, dating from the 16th and 17th century. "It is just awesome," says Guillory. The sheer size of the colonial area is the main reason why it is only being slowly developed.
"A 20,000-sq. ft. house (1,860 sq. m.) close to the Plaza Grande would cost US$125,000. It would need serious restoration - but the aesthetics you cannot reproduce." A modern 2/3 bedroom condominium in a refurbished building might sell for US$60,000.
Undeveloped coastlines
Equador has one of the most undeveloped coastlines in the world. There are miles of empty beaches, with a range of climates to choose from, from dry and temperate beaches in Guayas province and in Manabi province, to the hotter more humid beaches of Esmeraldas province in the North. Everywhere there is a gentle wind coming off the sea. There are also highly developed beaches such as Salinas, with its high rises, supermarkets and yacht club.
"Last year there was a large influx of Americans and Europeans moving,buying in Salinas," says David Smith of www.thebestofecuador.com. "Rents have gone up in the past five years by over 40%, and property has increased in value up to 12% per annum on average."
However, foreign investors are warned that because of the problems with corruption, gaining protection for property rights from the local court system has at times been complicated or unsatisfactory.
Shelter to refugees
Adding to its domestic woes, Ecuador now also needs to take care of its neighbor's people. Colombians have been seeking refuge in Ecuador to run from poverty and violence in their own land. However, despite the estimated 400,000 Colombians that are said to be living in Ecuador, not all of them are recognized by the Ecuadorian government as refugees. In fact, only very few of them have the right to live and work in Ecuador.
Aside from starting new lives in a different country, Colombian refugees also face discrimination and hostility in Ecuador. They are, after all, trying to grab a share of what is provided by a small country with many poor people.
Despite a steady GDP per capita growth average of 2.96% in the past five years, and a GDP per capita of US$3,081 in 2006, inequality in Ecuador is high.
Ecuador - More data and information