Property in the Baltics, till recently Europe's hottest residential investment destination, is now expensive. Apartments in the capital cities of Baltic countries are priced at around the same level as Copenhagen, Helsinki and Stockholm, according to research by the Global Property Guide they've become 'Scandinavian' in terms of dwellings prices.
Why have Baltics' property prices surged so strongly? Research suggests that long term property price rises are strongly correlated with high GDP growth rates (though there are many other additional factors). The list of European countries which in the past five years have experienced high per capita GDP growth is, unsurprisingly, headed by Latvia, Estonia and Lithuania which all experienced above 8% GDP per capita growth (as did Belarus, where however foreigners cannot buy).
While the Baltics' continued strong GDP growth suggests continued good news for residential investors (Latvia returned 10.7% GDP growth in the first quarter of 2007), one trend is worrying for investors income returns on property investment in the Baltics are falling.
Estonia. In Tallinn, city centre prices increased, in the two years to end-2006, from around €1,358 per sq. m. in December 2004 (average of all apartment sizes), to around €2,432 at end-2006, according to Global Property Guide estimates an increase of around 79%.
However, monthly rents did not move much upwards. They increased from an average of €9.8 per sq. m., to around €11.6 per sq. m.(according to Global Property Guide estimates) - an increase of only 18%.
Tallinn's average rental yields have therefore fallen significantly, from around 8.47% to an average of 5.77%.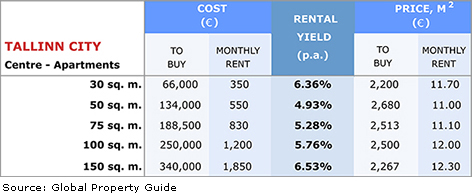 Latvia. In Riga, city centre average prices rose from around €1,264 per sq. m. in August 2004, to around €3,011 at end-2006 - a 138% increase in just over two years.
Meanwhile, in Riga average monthly rents have risen, but not nearly so much, from around €8.20 per sq. m. to around €12.64 per sq. m. - an increase of around 54%. Riga rental income returns (average for all sizes) have therefore fallen over the past two years, from around 7.85% to an average of 5.04%.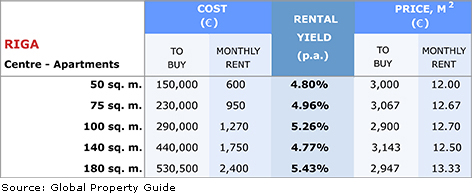 Lithuania. The country's growth spurt started more recently than Estonia's. But Lithuanian house prices have recently been rising rapidly. Central Vilnius city centre prices rose from an average of €1,808 per sq. m. in January 2005 to around €3,318 per sq. m. at end-2006, according to Global Property Guide figures - a rise of 83.5% in just under two years.
Meanwhile in Vilnius average monthly rents have increased, but again not by nearly so much. In the past two years average rents have increased from around €9.70 per sq. m. (average of all dwelling sizes) to around €12.34, according to Global Property Guide research - an increase of around 27%. Vilnius average rental returns have therefore fallen over the last two years from around 6.45%, to around 4.39%.

All yields figures are gross, i.e., before any costs, taxes, etc. These falling yields suggest trouble ahead. Several writers have already warned of the potential for an Asian-style property-led crisis in the Baltics (see Vilhelm Konnander).
If rental returns are falling in the Baltics, are there other countries which are more attractive as residential investment destinations?
Since our criticism of the Baltics is their low (and falling) yields, the natural place to start is with the countries with the highest rental yields in Europe. Perhaps this will produce some extra hints as to what might be a satisfactory investment choice.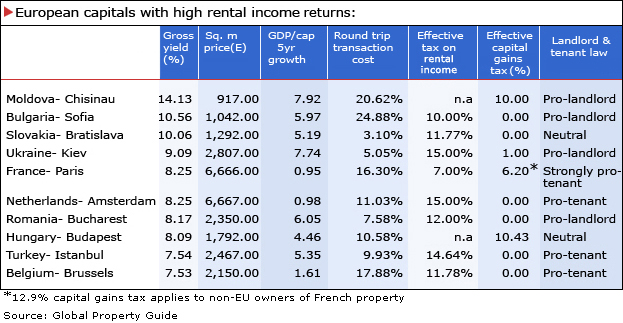 Notice that the top of the table - countries where residential property generates high yields, there are several countries with high GDP growth rates. Some of these countries also have Europe's lowest per square metre prices, making them especially attractive. Conversely, the table contains some high-yielding countries with very low rates of GDP growth, such as France and the Netherlands.
The East and the South
Let us look more closely at the eight countries which are in Eastern and Southern Europe. We rank them in order of our rating:
| | | |
| --- | --- | --- |
| Slovakia | | Still the most attractive, inexpensive, very high GDP growth |
| Turkey | | Strong GDP growth, housing market dynamic |
| Bulgaria | | 10.56% yields, reform on track |
| Romania | | 8.17% yields, strengthening economy |
| Hungary | | Weak economic growth, but relatively low prices |
| Moldova | | 14.13% yields, but country is very poor, and politically vulnerable |
| Ukraine | | Rapid growth, but high prices and real political problems |
Slovakia is still Eastern Europe's most attractive investment destination, despite the election in June 2006 of a coalition government allying extreme right-wing nationalists and populist socialists, reflecting a 'protest' vote by those left out of Slovakia's economic growth. The government's gut instincts are to undo the reformist good work of the past eight years. It has also been stirring up nationalist feelings against the Hungarian minority.
Slovakia's GDP growth reached a stunning 8.7% in 2006, following 5% for 2005, and 5.5% for 2004. Unemployment is down to 9.4%, from 16.5% at the beginning of 2004. This is the kind of growth which pushes up house prices.
Other conditions are good. The law is neutral between landlord and tenant. Round-trip buying costs are very low, at 2% to 5.5%. Rental income tax is low, and capital gains tax does not apply on real estate held for more than five years. In addition, the Krone has been appreciating rapidly - another source of capital gains for buyers.
Central Bratislava's yields are high. Based on published buying and rental offers, the Global Property Guide estimates 9.47% gross yields on 75 sq. m. and 10.06% yields on 120 sq. m. apartments in prestige central Bratislava areas. Lower yields are available for brand new houses in exclusive suburbs, at around 8%-9.2%.
Turkey's house prices have risen sharply over the last few years, though in the absence of statistics it is difficult to say by how much. A significant boost was given to the market by Law No 5444, adopted in December 2005, which makes foreign real estate purchases much smoother than before. Last year, real estate purchases by foreign investors exceeded US$2.5 million, having doubled in the past two years, and increased five times in four years.
The domestic market is extremely vibrant. Domestic housing loans have risen from 2% of GDP two years ago, to 14.4% of GDP by end-December 2006.
Properties in central Istanbul offer gross rental returns (yields) of 6%-7.6%, while yields in coastal areas can be higher (but are predominantly seasonal). Turkish laws are mildly pro-tenant; transaction costs are in the mid-range. Capital Gains Tax does not apply to property held more than four years. Income tax is around 15% on the first €1,500 per month, though higher on higher incomes.
The Islamist Justice and Development Party government was elected in November 2002. Recently its foreign minister Abdullah Gul stood for president, but was blocked on constitutional grounds by fierce opposition from the current president, the army, and the secular elite. Parliament brought forward national elections to 22 July to try end the standoff.
The Justice and Development Party's strong point has been sound economic management. Turkey has long had a history of economic instability. Yet runaway inflation was successfully brought down from a decade's old double-digit levels to a more acceptable 8.6% in 2004, and 8.2% in 2005. Recently Turkey economic performance has been strong GDP growth to the third quarter of 2006 was 5.9%, after 7.4% GDP growth in 2005.
Bulgaria's transition from communism only began in earnest in 2001-2005 when former king Simeon II became prime minister.
King Simeon's government pushed market reforms. The economy grew remarkably, with unemployment falling to just 14.3% in 2003 from a high of 20% - a big change from the previous stagnation. Inflation was reduced to 2.3% in 2003, down from 8.2% in 2000.
The 2005 election led ultimately to a coalition government with the majority Socialist Party providing the new prime minister (Sergei Stanishev) in alliance with the liberal Movement for Simeon II (NMS) and the ethnic Turkish Movement for Rights and Freedoms (MRF).
The EU's tough list of requirements for accession in January 2007 kept reform on track. In Sofia, rental returns are good, at 10.5%.
Buying prices are still low, at €1,042 per square metre, capital gains tax is zero, and rental income taxes are in the middle range. But transaction costs are very high, at 24.8 to 26.6%, to which must be added the costs of forming a company, since foreigners cannot yet buy property directly.
Romania (7.83% yield on 100 sq. m. apartment) had been moving in a positive direction. But recent political upsets have put this in doubt.
Since the beginning of 2007 the two former political allies, the president and the prime minister, have been locked in conflict. The November/ December 2004 elections were won by an alliance of liberals and democrats headed by president Traian Basescu and prime minister Calin Tariceanu, in a reaction against the previous stagnation.
Tariceanu had a successful business career before entering politics. The reform momentum was supported by the EU bid and subsequent entry in January 2007. However relations deteriorated, and in April-May Tariceanu suspended the president, and mounted a referendum to impeach him. Around 74% of Romanian electors noted against impeachment. The result is a difficult impasse.
Romania has a long way to go. The early 1990s saw almost total stagnation under ex-communist Ion Iliescu and the National Salvation Front.
Romania has become bracketed as the land of opportunity alongside Bulgaria for British property buyers. Round-trip transaction costs, i.e. the total cost of buying and selling a property, are around 7.10% to 12% of the property value. The greatest cost is the real estate agent's commission of 6%, half paid by the seller and the other half by the buyer.
Gross rental income is taxed at an effective rate of around 12%. There is no capital gains tax.
There was a 13.2% rise in prices of existing apartments in Budapest in 2006, a significant pickup after price rises of only 4.17% in 2005.
There has been a lot of new construction during Hungary's real estate boom, which has lasted six years. Half a million people took out housing loans between 2000 and 2005. Bank surveys suggested that back in 2004, 15% of buyers in the capital were buying purely for investment purposes.
Yet gross residential rental earnings (yields) are quite good in Budapest, and buying prices are still quite reasonable, at €1,792 per square metre. Capital gains taxes and transaction costs are in the middle range.
Hungary faces serious economic problems. The country's budget deficit is 8% of GDP, the largest deficit in the European Union. There is stagflation. The admission by Hungary's Prime Minister Ferenc Gyurcsany late in 2006 that he lied to voters is symptomatic of the political classes' unwillingness to tackle the persistent problem of excessive social spending and budget deficits.
The government was forced to draft a package of emergency austerity measures in 2006 to get its finances back in order. Base long-term interest rates have risen within the past year from 6% to 8% (as of October 2006). Therefore caution on Budapest is necessary.
Moldova is a success story, although ruled by a Communist Party. Between 1999 and 2005 the poverty level fell from 73% to 28.5%, the largest decline in Europe and Central Asia. During 2001-2005 the government achieved average GDP growth of 6.8% per annum (2006 will fall far short).
Real estate in Moldovais inexpensive, at €917 per square metre for central Chisinau apartments, though that price has almost doubled in the past two years.
However Moldova is very vulnerable. In 2006 Russia temporarily banned imports of meat, wine and crops, and doubled energy prices, halving Moldova's rate of economic growth. The country is the second poorest in Europe, after Albania, and has heavy (though declining) debt. Recently the pace of reform has slackened, with press censorship worsening. Moldova's Transnistrian separatist issue is still unresolved.
Transaction costs are high, at the minimum 20.6%.
There is also a burdensome tax regime. Renting or leasing is VAT-taxable at the 20%, and non-residents are taxed an additional 10% on net rental income (a withholding tax at 5% is applicable for leasing and rental services). Capital gains are taxed at 10%.
House prices in the Ukraine have been rising continuously since the early 1990s. Price rises have been highest in Kiev, Odessa, Liviv and the resort areas of the Crimea. We believe that Ukraine's €2,807 per sq. m. prices are unsustainable in the long term, although no doubt Ukraine's present boom will bubble along furiously.
As in other post-Soviet countries, people have been enthusiastically moving out of Soviet-era housing into modern flats and houses. Rising income levels in the cities, migration, lack of investment alternatives and distrust of the banking system have all pushed prices up.
There is a shortage of new housing due to the relatively collusive nature of the construction industry. For example, nearly 70% of the new residential buildings in the capital are built by companies belonging to the KyivMiskBud holding company in which the Kyiv City State Administration has a large stake, and the same phenomenon is observed in other cities. Companies pay large bribes to get land allocations. There are few builders, and at the moment demand greatly exceeds supply.
Ukraine has a GDP per capita of US$2,021, the second lowest in Europe. Average GDP growth was 7.9% annually between 2000 and 2005. After Ukraine's independence in 1991, it experienced no economic growth until 2000.
Ukrainehas deep political fissures. A bitter confrontation has erupted between pro-Western President Viktor Yushchenko and the loser of the 2004 Orange Revolution, Viktor Yanukovych, who became prime minister in August 2006. This reflects tensions between the country's pro-Russian East and pro-Western West. The rivals have now agreed to elections on 30 September.
Taxes are high in Ukraine. While the 15% flat tax on rental income can be mitigated by registering as an entrepreneur and instead paying a flat rate of US$40/month, there is 20% VAT on rental income.
Western Europe
What about the West European countries in our table? Some also yield good rental incomes for residential investors, including France or the Netherlands (though at best they yield 2% - 4% less than the very highest yields Eastern European countries).
The problem is that they have quite substantial disadvantages as investment destinations:
Western European property is expensive, in sq. m. terms.
The high yielding Western European countries have significantly lower real GDP growth (see GDP/cap Growth 5 Years) than their Eastern counterparts. Not just lower growth dramatically lower growth.
Nevertheless, France, Netherlands and perhaps particularly Belgium all seem attractive because of their combination of high yields and stability. We give them each a 3-star rating.
Conclusion:
The profit-making opportunities presented by Eastern Europe's combination of high yields, relatively low costs, and high growth rates is obvious. The property-buying public is not wrong to be interested in these opportunities.
At the same time, it would be dangerous to ignore the potential for hiccups along the road to reform in the region's poorer countries, such as Moldova and Ukraine. Those who live in developed economies often find it difficult to conceive of the very many obstacles to reforms which exist in poorer, less institutionally developed countries, where corruption is high and the legitimacy of institutions is under challenge. These issues can take a surprisingly long time to sort out, and leave over-optimistic investors very disappointed.
The Baltics are much more stable. They are also less highly taxed, and tend to have lower transaction costs.
Nevetheless, though the East has many problems, over the next decade we believe that in some Eastern European markets, investors stand a good chance of replicating the spectacular gains of the past decade.
Notes:
Our investment matrix.
The Global Property Guide breaks down the investment decision into separate elements, looking at countries where there are:
High gross rental yields in the capital city. Rental income returns are important not only for those investors who want income, but because in the long run, they signal that a market is capable of being upwardly re-reated. Among the 12 capital cities of countries studied in this report, residential property returns are best in Moldova's Chisinau (gross rental yields of 14%), Bulgaria's Sofia (10.6%), and Slovakia's Bratislava (10%).
Low square metre prices. Chisinau, Moldova has the lowest sq. m. costs for apartments in a capital city, at only €917. Close behind are Sofia (€1,042) and Bratislava (€1,292).
High GDP per capita growth. Economic growth is a major determinant of house price rises. Most Western European countries enjoy only very slow economic growth. Much higher economic growth rates are available in Eastern or Southern Europe, examples being Slovakia, Russia, Turkey, Ukraine and Bulgaria.
Low round-trip transaction costs. Total costs of buying and selling a property are an important part of the investment decision. High total transaction costs may never be recouped. Slovakia has particularly attractively low total round trip transaction costs of around 3.10%, including realtor's fees. High transaction costs exist in Moscow (25%), Sofia (24.88%), Belgium (17.88%) and Paris (16.30%).
Low capital gains taxation. Just like transaction costs, capital gains taxes can be punitive. Fortunately, an increasing number of countries have moved to zero capital gains tax, including Bulgaria, Slovakia, Russia, Romania, Netherlands, Germany, Turkey, and Belgium (data based on standard case where the property is held for 10 years or more).
Low taxation on rental income. All the countries in our study tend to have some rental income tax. The highest tax on rental income occurs in Russia and in Moldova, at 30% of gross income.
Pro-landlord laws on rental contracts. Ex-Communist countries, Russia excepted, tend to be more friendly to the landlord, and therefore to the investor, than the countries in Western Europe.
Related Links