Asian property markets, though still relatively unaffected by the credit crunch, will soon be affected by inflation and higher interest rates because of rising food, fuel and other commodity prices.
Higher food, fuel and other commodity prices affect the housing market negatively in several ways.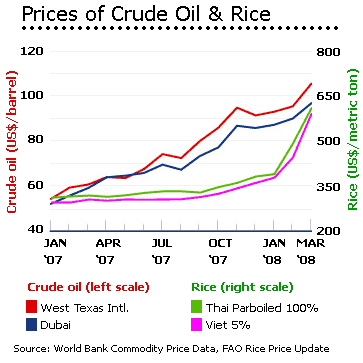 At the micro level, households may postpone their decision to purchase a new house or spend on renovation if they anticipate higher prices. At the macro level, higher food and fuel prices push inflation up. Monetary authorities typically raise key interest rates to stem inflationary pressure.
Asian households are particularly vulnerable to recent rises in food prices. The price of rice, the staple in Asian diet, has risen by more than 90% during the last year to March 2008, according the UN Food and Agriculture Organisation (FAO).
 The price of other food also has increased significantly. Wheat was up 160% in March 2008 on a year earlier; soy bean oil by 104%, corn by 37%, and sugar by 26%.
Food prices are a key component in the Consumer Price Index (CPI). Their proportional weight ranges from 28% in Singapore, to 33.2% in China, to almost 50% for urban workers in India. High food prices will persist until 2009, according to reports by the FAO, World Bank and the International Rice Research Institute.
ANNUAL HOUSE PRICE CHANGE (%) END-2007

China (Shanghai)
35.43%
Singapore
31.18%
Hong Kong
24.95%
Philippines
15.15%
Japan (6 major cities)
8.40%
South Korea
3.08%
Source: Various Sources
The price of almost all commodities is increasing, not only food. The price of light sweet crude oil surged to US$115 a barrel in April 2008, up almost 80% from a year earlier. NYMEX crude oil has been above US$100 per barrel since March 2008.
Many Asian economies which have recently experienced residential real estate price surges such as China, Singapore, Philippines, Hong Kong and India (all of which registered double-digit house price increases in 2007) are under significant inflationary pressure (see table).
Higher inflation and interest rates
Monetary authorities typically raise interest rates to combat inflation. They can also increase the cash reserve ratio (CRR) of banks or sell bonds or other financial instruments to reduce money supply.
The Reserve Bank of India (RBI) raised the cash reserve ratio by 50 basis points in two stages to mop excess liquidity and contain inflationary pressures. The CRR will be 7.75% effective April 26 and 8% by May 10, 2008.
INFLATION (%)

COUNTRY
2008
(LATEST)
2007
(SAME PERIOD)
ASIA
 
 
China
8.3% (Mar)
3.3%
Hong Kong
6.3% (Feb)
0.8%
India*
7.4% (Mar)
5.9%
Indonesia
8.2% (Mar)
6.5%
Japan
1.0% (Feb)
-0.2%
Pakistan
14.1% (Mar)
7.7%
Philippines
6.4% (Mar)
2.2%
Singapore
6.5% (Feb)
0.6%
South Korea
3.9% (Mar)
2.2%
Thailand
5.3% (Mar)
2.0%
Non-Asia
 
 
Euro area
3.6% (Mar)
1.9%
New Zealand
3.4% (Q1)
2.5%
South Africa
9.8% (Feb)
5.7%
UK
2.5% (Mar)
3.1%
US
4.0% (Mar)
2.8%
* Wholesale Price Index
Source: National statistics
The RBI, similar to other central banks in Asia, left key interest rates unchanged during the first half of April.
However, most analysts indicate the key rates might be hiked in May if inflation continues to be above the official targets.
Fears of interest rate hikes cropped up in several Asian countries, particularly in Indonesia and China.
High interest rates affect housing markets in two ways:
By discouraging investment and consumption and causing the economy to slow, higher interest rates reduce people's willingness to spend on housing
Higher interest rates discourage borrowing for housing loans.
The situation is unfortunate because some Asian housing markets have not yet fully recovered from the effects of the 1997 Asian Financial Crisis.
Even with strong house price gains in 2007, property prices in Asia are still below their pre-Asian Crisis peak levels. Despite 31% nominal rise in the over-all residential property price index, Singapore's prices are still about 10% to 20% below their pre-Asian crisis peak level in real terms.
In the Philippines, even with the 15% increase in condominium prices in 2007, it is still about 47% below its peak level in real terms.
The housing markets most likely to be affected by monetary tightening seem to be China, India, Singapore, Philippines and Thailand, which have experienced the largest increases in inflation.
Will Asia tango together?
"With global financial markets interconnected, the world's economies tend to move together. The synchronicity was observed with the global housing boom - never before in recorded history did so many countries experience so much house price growth all at the same time," notes Prince Christian Cruz, senior economist of the Global Property Guide.
"The housing market slowdown may also be synchronized," he adds. "Inflationary pressures are likely to cause Asia's central banks to raise interest rates, and slow their housing markets," he says.
However convergence will not be universal. Where currencies are pegged to the US, housing markets are likely to diverge somewhat from the global adjustment.
Countries such as Hong Kong and the Gulf must follow US interest rates. Unless those countries re-peg their currencies, their central banks cannot raise interest rates. This may lead to higher inflation including in the housing market.