COSTS & RENTAL YIELDS OF PROPERTIES

Properties are 120 sq. m. condominiums in city centre
CITY, COUNTRY *
PRICE PER SQ. M. (US$)
MONTHLY RENT (US$)
RENTAL YIELD
Cairo (Maadi), Egypt1
406
576
11.35%
Amman, Jordan
1,261
1,213
9.62%
Istanbul, Turkey
1,356
1,094
8.07%
Dubai, UAE
4,066
3,140
7.72%
Marrakech, Morocco
1,973
1,511
7.66%
Beirut, Lebanon1
1,237
1,154
7.46%
Cairo (Zamalek), Egypt1
732
616.5
6.74%
Tel Aviv, Israel
5,021
3,083
6.14%
Tunis, Tunisia
2,667
1,500
5.63%
London, UK
24,250
12,989
5.36%
New York, US2
15,933
7,976
5.01%
Cape Town, South Africa
2,784
1,221
4.39%
Paris, France
13,826
5,560
4.02%
Mumbai, India
10,222
3,380
3.31%
Barcelona, Spain
7,021
1,883
2.60%
Click on a country name to view more details of Rental Yields.
1 Based on 150 sq. m. apartments
2 Upper Manhattan

Source: Global Property Guide
As US and European housing markets slow, investors are increasingly looking further afield. The Middle East's housing markets have been rapidly opening - and both opportunities and dangers await property investors. Buy-to-let investors, particularly, should consider the Middle East.
Dubai, the most progressive emirate of the United Arab Emirates (UAE), started it all.
In 2002, the Dubai government announced that foreigners of any nationality would shortly be able to own freehold residential titles to these properties.
Soon, other countries in the Persian Gulf followed suit: Bahrain, Qatar and Oman.
Some property investors shy away because of the perceived political and security risks. However, good rewards await those who are willing to do their homework and explore the market better. Since the Gulf's 'for foreigners' market is still at its infancy, most properties sold to foreigners are off-plan. This has advantages and disadvantages. One advantage is that the buyer saves on the real estate agent's fee and legal fees, and the developer takes care of the property transfer procedure. In most cases, the developer also takes care of all maintenance and utilities like water, telephone and electricity connection.
The Middle East has low prices...
Because of their early stage of economic development, many Middle Eastern markets' property is still undervalued, leaving room for capital growth.
Property prices in the Middle East are highest in Tel Aviv at around US$5,000 per sq. m., followed by Dubai at around US$4,000 per sq. m.
Properties in Egypt are quite cheap from a foreigner's point of view; prices range from US$400 to US$1,400 per sq. m.
Property prices in Jordan, Morocco and Lebanon range from US$1,300 to US$1,900 per sq. m.
Similar properties in Southern Europe would be two to three times more expensive. For instance, apartments in Barcelona, Spain cost around US$7,000 per sq. m.
...high rental yields...
Rental yields in the Middle East are also quite high.
For instance, yields in Cairo's Maadi district are typically in double digits, with earnings of up to 17% achievable on 250 sq. m. apartments. The tax environment is also extremely accommodating.
In Amman, Jordan, rental yields are around 9.6% for 120 sq. m. units. In Dubai, rental yields can reach up to 10.2% for 50 sq. m. units; in Marrakech, Morocco up to 8.86% for 60 sq. m. units.
Due to rapid price increases over the past few years, rental yields in Europe have fallen to relatively low levels. Properties in Central Paris earn yields of no more than 4.4%. In Spain, gross rental yields hover from 2% to 4% only, barely covering costs.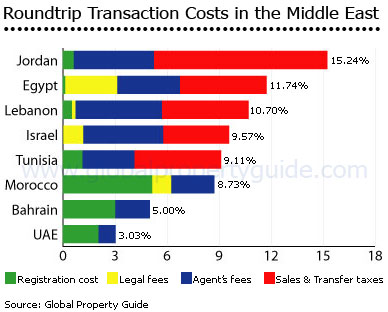 ...and low property transaction costs
Investors will find that housing transaction costs are generally low to moderate in the Middle East.
The roundtrip transaction cost, i.e. the total cost of buying and re-selling a residential property, is highest in Jordan (at around 15%) and Egypt (11.7%).
On the other hand, transaction costs are lowest in Dubai (at only 3.03%) and Bahrain (at 5%).
Roundtrip costs in Lebanon, Israel and Tunisia are around 10%.
Real estate brokerage fees are lowest in Dubai (1%), Bahrain (2%), and Morocco (2.5%).
In Lebanon, the agent's fee is typically 5%, split evenly between buyer and seller. In Jordan, the fee is 4%, plus 16% GST. In Israel the agent's fee is 4%, plus 15.5% GST.
Foreign ownership restrictions
Not all the Middle East is 'open' Prospective buyers must check if they can buy in the country of their choice.
Members of the Gulf Cooperation Council (GCC) have already harmonized the rules for property ownership among their citizens. i.e. citizens of any GCC country can freely buy property in any GCC country. Bahrain, Oman, Kuwait, Qatar, Saudi Arabia, and UAE belong to the GCC.
For other nationalities, there are some ownership restrictions.
Free of restrictions:
Morocco allows foreign ownership of residential and commercial real estate without any conditions or prior approval from the government (though foreigners cannot own agricultural land).
Liberal entry to foreign buyers:
Tunisia, Israel, Jordan and Lebanon are generally liberal towards foreign ownership, though there are minor ministerial or regulatory procedures; Egypt is a little more complex.
Until recently, government officials in Tunisia discouraged investment in the real estate sector. Nonetheless, this policy seems to be being relaxed, though all real estate transactions are still subject to approval.
In Israel, foreigners can only own private land in Israel, and only 7% of all the land in Israel is privately owned. The remaining 93% is state-owned. State-owned lands can be leased for 49 years, which can be extended another 49 years.
In Jordan, foreigners can buy housing and land, provided Jordan and the buyer's country of residence have a reciprocal relationship, and that the approval of Council of Ministers is obtained. In the past, permission procedures were lengthy, but now approval can be obtained in just 10 days. Foreigners can only sell the property five years from acquisition.
In Lebanon, foreigners can acquire up to 3,000 square meters (sq. m) of land. Any bigger than this, a prior decree from the Council of Ministers is needed.
A new law passed in 2001 allowed foreigners to acquire 3% of the total area of Lebanon regardless of the geographic location subject to one condition: foreigners can acquire no more than 3% of the total area of a caza. In the case of Beirut, foreigners can acquire up to 10% of the total area of the city. This creates complication because the buyer must acquire a search clearance from all Districts in Lebanon verifying the amount of foreign-owned property they have. The search fees can add about US$2,500 to the buyer's cost.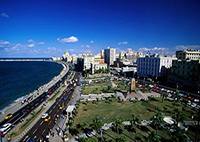 Foreigners cannot buy more than two pieces of real estate in Egypt, the size of which cannot exceed 4,000 square meters (sq. m.), and their purpose must be for a family member to live in the property. The purchase must have the approval of the Council of Ministers, which takes around two months. If registered, the property cannot be sold or rented for five years. Finally, the property must be rented furnished after the 5 years period, which has tax disadvantages.
There is a way for foreigners in Egypt to go around these restrictions, a process which allows resale or rental of the property immediately. Through the 'signature validity court verdict' process, purchasers issue a power of attorney to their lawyer. The lawyer files a legal suit to obtain a court verdict certifying that the signature on the sale / usufruct contract truly belongs to the seller (this is the 'signature validity court verdict'). But this process requires patience (this suit will take between 6-8 months), the investor's full trust of his Egyptian lawyer (only Arabic contracts are recognized in courts).
ROUNDTRIP TRANSACTION COSTS

Properties are 120 sq. m. condominiums in city center
COUNTRY
TOTAL ROUNDTRIP
TRANSACTION COSTS1
BUYER
PAYS
SELLER
PAYS
Bahrain
5.00
4.00
1.00
Egypt
10.85 - 12.30
3.10 - 4.00
7.75 - 8.30
Iran
3.55 - 5.602
3.55 - 5.60
0.00
Israel
9.28 - 11.93
6.97 - 9.62
2.31
Jordan
15.24
8.92
6.32
Lebanon
10.50 - 11.00
8.00 - 8.50
2.50
Morocco
8.60 - 13.50
8.60 - 13.50
0.00
Oman
3.012
3.01
0.00
Tunisia
9.11
9.11
0.00
Dubai, UAE
3.01 - 7.05
1.01 - 1.05
2.00 - 6.00
1 The Roundtrip Transaction Costs include all costs of buying and then re-selling a property lawyers fees, notaries' fees, registration fees, taxes, agents' fees, etc.
2 No data for real estate brokerage fees.

Source: Global Property Guide with inputs from local real estate agents.
Foreign buyers allowed in selected areas:
Qatar, Bahrain, Dubai, and Oman allow freehold ownership in selected areas, especially developed or designated for foreigners. Foreigners who buy in Qatar, Bahrain, Dubai, and Oman are automatically granted residency, which extends to the owner's family, for the whole duration of the ownership.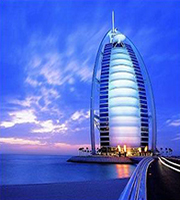 As the pioneer, Dubai offers the widest range of choices for property ownership. Some of the developments available for foreign freehold ownership are: The Palm, Jumeirah, Emaar Towers, The Greens, International City, and others.
The six other emirates in the UAE are following Dubai's initiative. They have set aside special enclaves for foreign ownership.
In Bahrain, foreign ownership of land and real estate is allowed in the following residential and commercial zones: Seef Area, North Sanabis, Ahmed Al-Fateh District, Hoora District, Bugazal District and North Manama District, including Diplomatic Area.
Foreign ownership of residential properties in Bahrain is also available in Durrat Bahrain, Amwaj Islands, Bandar Al Seef, Riffa Views, Bahrain Finacial Harbor, Lulu Islands and Danat Hawar. In Oman, foreign ownership is allowed in Integrated Tourism Complexes or ITC. Current ITC areas are in the capital, Muscat and the Greater Muscat Area. In the future, the southwest Dhofar region is expected to be an ITC.
In Qatar, the foreign ownership is allowed in The Pearl, West Bay Lagoon, and Al Khor development. However, In Qatar ownership is actually a 99-year renewable usufruct.
Since the market is still at its infancy on most of the Gulf countries, almost all properties are bought directly from the developer. Almost all properties sold are off-plan. This has certain advantages and disadvantages. One advantage is that the buyer saves on real estate agent's fee and legal fees. The developer also takes care of the property transfer procedure. In most cases, the developer also takes care of all maintenance and utilities like water, telephone and electricity connection.
However, there is also uncertainty on how much capital appreciation the buyer can get from the investment. In Qatar, the developer has the right of first refusal for property re-sale.
Not for buy-to-let: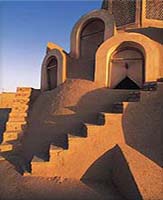 In Saudi Arabia, foreigners are allowed to own real estate, subject to approval of the licensing authority. However, foreign ownership is forbidden in Mecca and Medina, except through inheritance.
In Iran, foreigners may own or lease property provided such property is for commercial or industrial use, or for a personal residence. If a foreign resident changes his domicile, he is required to transfer the title of his immovable property to an Iranian or a duly qualified foreigner within six months of departure, to prevent adjudication by the Land Registration Office.
Property Rights and Titling Issues
Buyers also need to be very careful when purchasing property. Most countries in the Middle East are ranked lowly in terms of property rights.
In the Medina in the old-walled district of Fez, the third largest city in Morocco, houses do not have titles. Instead, an official scribe 'adoul' writes scrolls to document the ownership of the houses. These scrolls can date back hundreds of years.
In Egypt, about 92% of urban and 87% of rural properties is not officially registered. A study in 1997 by Peruvian Economist Hernando de Soto showed that it can take 6 to 14 years to buy desert land, build a house and register the property following all the legal procedures. The entire process required the individual to carry out 77 bureaucratic procedures in about 35 different private and public offices.
Related Links