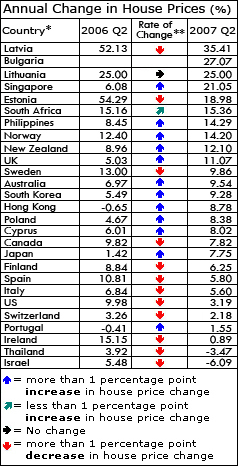 *Some data are not national prices.
**Rate of change compared to last year
Source: Various series,
list of house prices, data and sources here
Europe's house price growth continues to moderate, whereas prices in Asia-Pacific are heating up, according to indices assembled by the Global Property Guide (www.globalpropertyguide.com), based on country sources, for the second quarter (Q2) of 2007.
House prices in the Baltics skyrocketed in 2005 and 2006. Latvia, Lithuania and Estonia experienced at least 25% annual increases during 2005-2006. House price growth peaked at 71% y-o-y to Q1 2006 in Estonia.
Despite the slowing of house prices in the Baltics in Q2 2007, over the past year the Baltic countries were still among the top five performers in the world.
In Latvia, house prices started dropping in June 2007, according to Latio, Latvia's leading research-oriented realtor. Over the year, house price growth slowed to 35.41% in Q2 2007, from 52.13% y-o-y to Q2 2006. Latvia's economy is the fastest-growing in Europe but signs of overheating have been observed.
Estonia's slowdown was in evidence early this year when a meager house price increase of 5% y-o-y to Q1 2007 was revealed. House prices rose by 18.98% y-o-y to Q2 2007, still inferior compared to the 54.29% increase y-o-y to Q2 2006. Higher interest rates and stricter mortgage policies contributed to the slowdown.
Lithuania's house price growth remained at 25% y-o-y to Q2 2007. Indicators suggest Lithuania is the most economically stable among Baltic countries.
The US housing crisis
In the US, house prices have increased by only 3.19% y-o-y to Q2 2007, down from 9.98% y-o-y to Q2 2006. This is the lowest annual growth recorded in almost ten years. Compared to Q1 2007, house prices were up by only 0.1% in Q2 2007.
According to OFHEO, house prices have dropped between Q2 2006 to Q2 2007 in five states, namely Nevada, Michigan, California, Massachusetts and Rhode Island. These states experienced dramatic house price increases during the housing boom.
Inflationary pressures from oil prices and other commodities have elevatedinterest rates. The US Federal Reserve has progressively pushed up rates, from a low of 1% in 2004 to 5.25% in June 2006. The most recent hikes caused many subprime borrowers to default on their payments, and consequently, file for foreclosure.
In an effort to control possible damage brought by the subprime crisis to the economy, on September 18, 2007, the Fed slashed interest rates by 50 basis points to 4.75%. The world has yet to see whether this cut will protect the US economy from recession.
Canada, on the other hand, has experienced a 7.82% house price increase y-o-y to Q2 2007, only a slight slowdown from 9.82% y-o-y to Q2 2006. Canada's solid economy and strict mortgage policy are expected to guard the country from the malaise experienced by the US. No further slowdown is expected in the next few quarters.
Higher interest rates slow Europe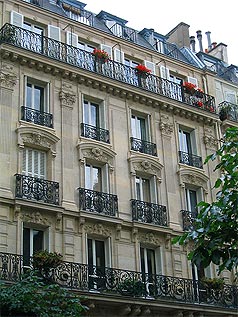 Many European housing markets have continued to cool as higher interest rates bit in Q2 2007. The European Central Bank raised key interest rates to 4% in June 2007, the highest level for six years.
A notable slowdown was experienced in Ireland where house prices rose by only 0.89% y-o-y to Q2 2007, a dramatic decline from 15.15% growth y-o-y to Q2 2006. Ireland's monthly house price index has been dropping since March 2007 by an average of 0.6% per month.
Spain experienced its lowest house price increase in nine years. House prices rose by 5.80% y-o-y to Q2 2007, from a peak of 17% in 2003. Most house purchases in Spain are made with variable- rate mortgages, making the market vulnerable to interest rate changes.
Other European countries that so far this year experienced lower house price increases than in 2006 were Sweden, Finland, Italy and Switzerland.
Bulgaria experienced a remarkable house price increase of 27.07% y-o-y to Q2 2007, ranking second in the global house price growth list behind Latvia.
House prices in Norway and the UK registered double-digit growth. In Norway they rose by 14.20% y-o-y to Q2 2007.
UK house prices increased by 11.07% y-o-y to Q2 2007, up from 5.03% y-o-y to Q2 2006. They rose by an average of 19% per year from 2002-2004. At the end of 2004, growth started to slow in response to rising interest rates; up five times to 4.75% in August 2004, from a low of 3.5% in July 2003. At the end of 2005, the rise in house prices resumed despite continued interest rate hike.
Poland and Cyprus both experienced house price increases of 8% y-o-y to Q2 2007.
Asia-Pacific maintains momentum
Singapore led the charge in Asia with remarkable house price growth of 21.05% y-o-y to Q2 2007, up from 6.08% y-o-y to Q2 2006. Thanks to its booming economy, Singapore's housing market has recovered from an 8- year house price slump.
House prices in the Philippines rose by 14.29% y-o-y to Q2 2007, up from 8.45% y-o-y to Q2 2006. Strong economic growth and the continued inflow of remittances from Overseas Filipino Workers have been fueling the housing market in the Philippines.
Hong Kong is also well on the way to recovery from its recent house price downturn. House prices rose by 8.78% y-o-y to Q2 2007, after a decline of 0.65% y-o-y to Q2 2006, despite relatively high interest rates (HK$ interest rates follow US rates). The interest rate cut in the US is expected to push Hong Kong's house and apartment prices up further.
In Japan's six major cities, land prices increased by 7.75% y-o-y to Q2 2007. This shows conclusively that Japan has recovered from its 15- year house price downturn.
Australia's house prices rose by 9.54% y-o-y to Q2 2007, after a rise of 6.97% y-o-y to Q2 2006, despite the higher interest rates set in November 2006.
New Zealand's house prices rose by 12.10% y-o-y to Q2 2007, despite the Reserve Bank of New Zealand's effort to moderate recent sharp house price increases. Interest rates on mortgages shot up to 10.54% last August, the highest rates seen since 1999.
Unlike most Asian countries, Thailand saw a drop of 3.47% y-o-y to Q2 2007, from a rise of 3.92% y-o-y to Q2 2006. As with Israel (whose house prices also declined), political turmoil has taken a toll on its housing markets. Israel's house prices fell by 6.09% y-o-y to Q2 2007, after a rise of 5.48% y-o-y to Q2 2006.
On the other side of the globe, South Africa's house prices continue to heat up. House prices rose by 15.36% y-o-y to Q2 2007. However, South Africa's house price growth is expected to moderate in the next few quarters because banks have increased their mortgage rates to 13.5% after the South African Reserve Bank's decision to raise the repo rate to tame inflation.
Related Links: