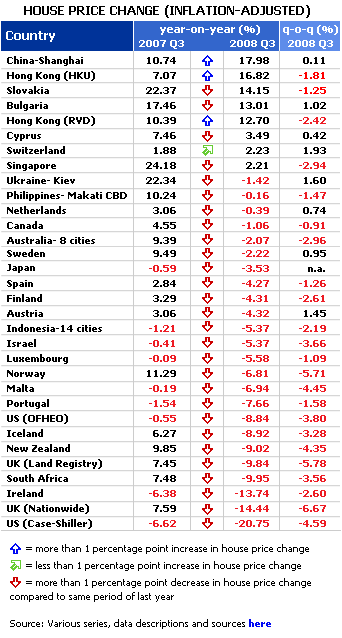 The Global House Price Slump
In 2008, the crash of the world's housing markets, which began in the US in 2007, precipitated the world's most severe economic crisis since the Great Depression.
Inflation-adjusted house prices fell in more than 21 countries out of the 29 for which Q3 figures are available. In no country is there cause for strong optimism. The latest quarterly figures bring grim news, even in countries which recently saw price rises.
House prices fell by more than 10% in the UK, the US and Ireland during the year to end-Q3 2008. House prices also fell in Austria, Japan, Luxembourg, Israel, Norway, Malta, New Zealand, and Portugal. Although the latest figures are not yet available, house price falls are also expected in economic powerhouses such as France, Italy, Germany, South Korea and Russia.
House price falls in Europe are widely anticipated to worsen, including those in Estonia, Latvia, Slovenia and Greece.
When house prices are adjusted for inflation, countries with house price declines include South Africa, Iceland, Indonesia, Finland, Spain, Sweden, Australia, Canada, the Netherlands, and the Philippines.
Compared to the previous quarter house prices have also fallen in Hong Kong and Singapore in Q3 2008, which saw strong rises late last year
The core of the crisis
The core of the crisis is the United States, where house prices fell 20.75% during the year to end-Q3 2008 in inflation-adjusted terms according to the Case-Shiller house price index. This was after a 6.62% fall during the same period last year. Prices in many regions, such as Arizona, Nevada, California and Florida, have fallen much more.
In the United Kingdom, house prices fell 14.44% during the year to end-Q3 2008 in inflation-adjusted terms, after rising 7.59% during the same period last year.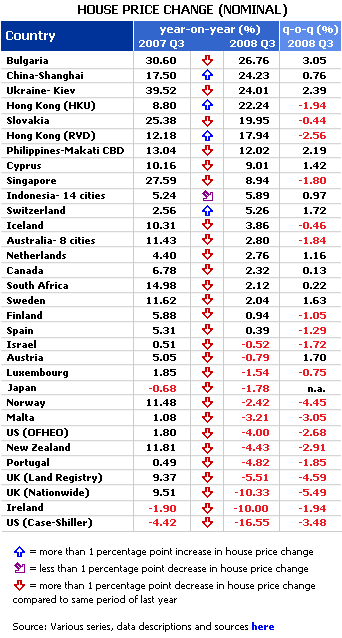 House price falls in the UK seem to be accelerating. The figures show house price declines of 6.67 % (inflation-adjusted) during the latest quarter in the UK. This is the largest quarterly fall among the countries where data is available.
Ireland saw its second year of falling house prices, with a decline of 13.74 % in inflation-adjusted terms, after a 6.38% fall last year.
House prices were significantly up on the year to end-Q3 in Slovakia and Bulgaria. But in each case, prices were stagnant or fell slightly during the latest quarter, in inflation-adjusted terms.
Synchronized housing markets
The entire world's property markets now move in a synchronized manner, highly affected by the US economy and US interest rates. This is the culmination of a process which began in 1971, with the end of the Bretton Woods fixed exchange rate system.
The global housing slump comes on the heels of a decade-long house price boom, unprecedented in terms of synchronicity and magnitude, caused mainly by loose monetary conditions. Now that global credit markets are frozen, housing markets around the world are suffering.
Housing markets around the world can broadly be classified into two: 1) those where house price falls led to economic recession and 2) those where the global economic slowdown led to house price falls. The first group include countries such as the US, the UK, Ireland, Spain and Estonia. These countries suffered from excessive house price bubbles which triggered the global credit crunch and a financial meltdown.
Housing markets in the second group, on the other hand, have stronger economic and financial market fundamentals. Their economies and housing markets suffered mainly from contagion and the confidence crisis which have afflicted almost all housing markets. These countries include Canada, the Netherlands, and Norway.
Nevertheless, there are several countries which cannot be classified into the two groups above. There are countries with structural problems in their economy, the housing markets and/or the financial system, making them vulnerable to external economic shocks. These problems were magnified with the global financial meltdown. They include Japan, South Korea and Germany.
Interest rates
In response to the crisis, central banks have been rushing to drop interest rates:
On October 29, the US Federal Reserve dropped rates to 1%, the latest in a series of cuts which have reduced rates from 5.25% in September 2007;
On October 31, Japan cut its interest rates for the first time in seven years, to 0.3%;
On November 25, the People's Bank of China cut its main borrowing rate by 1.08pc points to 5.58%, its fourth interest-rate cut in 10 weeks;
On December 2, the Reserve Bank of Australia cut its cash rate to 4.25%, its fourth cut in four months;
On December 4, the European Central Bank, the Bank of England, Sweden's Ricksbank, and the Reserve Bank of New Zealand all slashed their interest rates – to 2.5%, 2%, 2% and 5% respectively;
On December 6, the Reserve Bank of India cut interest rates for the third time in less than two months, bringing its repo rate down to 6.5% from 7.5%.
In addition, very significant fiscal stimuli are planned for the US, UK, China and several Eurozone countries.
Forecasts for 2009
The Global Property Guide expects 2009 to be a deeply unpleasant year. Research shows that house prices are most affected by three influences: economic growth, momentum, and interest rates. Unfortunately, all these 3 influences are moving in the same direction – downward.
Economic growth. The deep recession now beginning will have strongly negative effects on house prices. Not only do people have less disposable income, but the uncertainties are pushing them to raise their saving rates – leaving less money available for spending on houses.
Expectations and price momentum are strongly down in many major markets. People tend to derive their impression of what is likely to happen to house prices, from neighbours and from the news, and the news is bad. This increases the likelihood that things will, actually, get worse, on the (well-established) basis that one of the strongest predictors of property price movements in Period T, is what happened to property prices in Period T-1.
Interest rates. Base rates have been reduced, but mortgage lending rates have not fallen. The UK is typical here. Banks and building societies are refusing to lower mortgage interest rates, despite the Bank of England's base rate cuts.
The two areas where the Global Property Guide is most optimistic about are Latin America and the Middle East, because gross rental yields in both these regions are still high. Yet because both regions are highly dependent on commodity sales (which suffer in recessions) even here, caution is required.
Regional forecasts
EUROPE
The Global Property Guide continues to be very negative on Europe, almost in its entirety, with the exception of Macedonia (where yields are good), and possibly Moldova. The feels the continent is entering a longish period of downward house price adjustment.
Price/rent ratios need to fall significantly before a recovery in prices takes place in Europe.
The Global Property Guide expects strong price declines to continue in the UK, Ireland, and Spain. Recovery for much of EU will depend upon the effectiveness of the planned €200 billion stimulus package.
The UK is expected to go into recession in 2009, with an economic contraction of 1.5%. However house prices may bottom in 2010, the big hope being that construction spending for the 2012 London Olympics may help propel the economy and the housing market to recovery.
Among developed economies in Europe, house prices rose most in Ireland and Spain. In turn, these two countries have also been among the worst affected by the global house price slump. Housing gluts in Madrid and in coastal areas of Spain continue to pile up. Ireland is expected to stagnate longer as the government is focusing more on balancing the budget, than on stimulating the economy.
The Global Property Guide expects growth throughout Eastern Europe to be impacted by the recession in developed countries in Europe. There are two islands of good value in Eastern Europe. In Chisinau, Moldova, apartments can return high rental yields, in the mid-teens. However, the risks are high.
A more likely prospect for most buyers is Macedonia, which has been enjoying a house price boom, thanks to a stronger economy and a more stable political environment. Gross rental yields in the capital, Skopje, are around 10%.
ASIA
Prices fell in most of Asia in the second half of 2008, because of inflation, interest rate increases, and contagion from the financial crisis. The Global Property Guide believes that the downward trend will continue in 2009.
In China, the post-Olympic slump has added to the overall economic slowdown. Plummeting sales figures are reported, although official and unofficial statistics provide conflicting views.
In Shanghai, newspapers report huge discounts. However, figures from e-homeday still show an impressive 24% y-o-y house price increase from a year earlier. We believe that house prices will continue to fall, as rental yields in China are moderate, according to Global Property Guide research.
Japan and South Korea are both quite dependent on electronic and automobile exports to Europe and America, and their economies are now in recession. The situation is expected to deteriorate in 2009, and house prices expected to fall further.
In Hong Kong and Singapore, finance-related job cuts are following the collapse of major US and European financial institutions. Local demand is also likely to weaken as exports fall. Dwelling price falls are expected.
In the Philippines, the real estate boom at the top-end of the market was financed by Overseas Filipinos, mainly those in the US, Europe and Japan, now in recession. A significant amount of new supply is expected to be completed in 2009, which may lead to overhang and more price falls.
In Vietnam, Cambodia and Indonesia, a construction boom financed by South Korean firms has abruptly stopped as South Korea enters recession. The South Korean won is Asia's worst performing currency, and Korean firms have been asked to pull out their foreign investments. Risky real estate investments in Southeast Asia have been among the first to be withdrawn. These countries are also prone to be affected by the global economic slowdown.
In Thailand and Malaysia, political problems are pre-occupying governments. Although the situation in Bangkok is much worse than in Kuala Lumpur, the political uncertainty has frozen the housing markets in both countries (and will continue to keep housing markets frozen for some time).
In India, the recent attacks in Mumbai will muddle the situation for some time but housing markets will definitely suffer. The overall economic slowdown it likely to hurt luxury house prices in several other key cities, such as Bangalore and Chennai.
US AND CANADA
House prices in the US are likely to fall further until end-2010 or mid-2011. Coastal states with huge housing overhang such as Florida and California are likely to experience the most prolonged house price slump.
The housing market's recovery will depend a lot on the effectiveness of the government of the incoming president Barack Obama in dealing with the crisis.
Canada's economy is in better shape than that of the US, but is still expected to fall into recession from Q4 2008 to Q1 2009, due to financial market turmoil, declining exports and weaker commodity prices. Nominal house prices are expected to start falling in Q4 2008, and to continue falling until 2010.
The previously hot markets of Western Canada, including Calgary, Edmonton and Vancouver, will experience the largest drop in sales and house prices in 2009.
PACIFIC
Both Australia nor New Zealand are likely to see house price declines in 2009. Both countries have had significant house price booms, so that houses are now on relatively low yields.
MIDDLE EAST AND AFRICA
Dubai is a great idea, superbly executed and publicized. But four factors militate against it just now:
Gross rental yields have already fallen from 10% to 5% over the past 18 months, according to Global Property Guide research. Dubai property was undervalued 18 months ago, in fundamental terms. No longer.
Many Dubai residents have lost a lot of money in the Indian or regional stock market crashes, or are feeling poorer as a result of the oil price falls.
The luxury segment demand from Europe and America has been severely affected by the global credit crunch and the economic slowdown.
Dubai is a trading centre, and will be impacted by the global downturn.
Dubai is a front-runner: whatever Dubai does, other countries in the Gulf will likely emulate. However, we believe that Abu Dhabi, Kuwait, and Saudi Arabia are in a much stronger position, as there are severe housing shortages in all these locations.
Yields also continue to be spectacular in parts of Cairo, Egypt (12% in Maadi), strong in Amman, Jordan (around 8.5%) and in Morocco (Marrakesh apartments yield around 7%). The Guide believes these Middle East housing markets are relatively secure, for the moment.
Global Property Guide recommends investment in Cairo, Egypt although foreigners may encounter some difficulty acquiring property.
LATIN AMERICA
Many Latin American countries are significantly less expensive than 3 months ago, due to currency declines - Mexico, Brazil, Chile, Uruguay, and Colombia, particularly. There have been more moderate currency declines in Peru, Argentina, and Guatemala.
The danger is that Latin America's strong economic performance may have been an end-of-cycle growth spike. Yet yields are excellent in many Latin American countries, such as Panama, Peru, Uruguay and Argentina. This is still a good opportunity to buy.
Panama is widely believed to be overbuilt, a mini-Dubai in the making. But Panama's gross rental yields average 10.6% (inland apartments) and 9.9% (beachfront apartments), according to Global Property Guide research. When property is producing such good returns, it rarely happens that investors completely desert a market.
Argentina's capital Buenos Aires has very high rental yields, ranging from 8% to 10.75%, but a fiscally irresponsible government.
Peru's capital Lima enjoys spectacular yields of 10%-12% in prime areas such as Barranco, Chorrillos, La Molina, Miraflores, San Isidro, and Santagio de Surco. It has also experienced 3 years of strong economic growth, with annual GDP growth rates nearing 10%. The government has become increasingly unpopular, however, which is dangerous.
Uruguay's capital Montevideo enjoys high average gross rental yields of 7.8% for apartments, and 8.9% for houses, according to the latest Global Property Guide research. There was a 13% rise in the average price of apartments in Montevideo in 2007, according to the Buenos Aires research house Reporte Inmobiliario. More rises in value are likely.
Colombia's yields are quite good (average gross rental yield of 7.62% in upscale districts of Bogota). Yields in Brazil's Rio and Sao Paolo are good, but not spectacular.
In summary, Uruguay, Panama, Peru, and Colombia continue to be recommendable.
CARIBBEAN
The Caribbean seems likely to take a pause this year, as demand for high-end Caribbean high-end housing is mostly in the hands of US buyers, who are most affected by the housing crisis and the stock market fallout.