Table 1. Annual House Price Change

COUNTRY
2004
2005
2006*
Denmark
11.76
18.70
23.61
Ireland
8.61
8.37
15.54
France
15.92
14.76
14.31
South Africa
32.92
20.62
13.54
Sweden
10.03
10.50
13.00
Norway
10.62
7.91
12.42
New Zealand
12.20
15.33
12.28
Spain
17.22
12.75
10.81
Canada
5.27
4.69
10.81
US
11.92
13.36
10.06
Finland
5.59
9.29
8.76
Lithuania
8.04
6.62
8.38
Australia
5.44
3.15
7.18
UK
12.68
4.68
6.62
Italy
8.71
7.10
6.60
Singapore
0.89
3.87
6.08
Netherlands
2.27
5.34
5.03
South Korea
-2.10
-1.30
4.80
Belgium
5.36
3.73
4.19
Austria
-0.47
1.80
3.41
Switzerland
4.28
3.51
3.36
Luxembourg
3.60
2.94
2.90
Portugal
3.16
2.32
2.17
Germany
1.80
0.59
1.57
Hong Kong
27.37
23.90
-3.73
Japan
-6.04
-4.67
-3.88
* Latest Data Available
Source: BIS, OECD, ABSA, OFHEO, URA, RVD, Government Statistics
See: Houses Prices: Data and Sources for specific country notes
The housing boom party continues in full swing in 2006. Even in the U.S. where house prices have softened, prices are up on the year. In the first half of 2006, countries which were gainers (which had higher price rises than in 2005) outnumbered losers (lower price rises than last year).
2006 gainers were led by Denmark, which had 23.6% house price growth. Irish house prices also went through the roof, with a 15.45% y-o-y increase, higher than 2005's 8.4% increase.
Other countries which saw double digit house price rises in the first half of 2006:
France(14.3%)
South Africa (13.5%)
Sweden (13%)
Norway (12.4%)
New Zealand (12.3%)
Spain (10.8%)
Canada (10.8%)
US (10.06%)
US housing market slowdown
However the US housing market, where prices have been rising in earnest since 1995, is experiencing a slowdown after successive interest rate increases by the Fed (Federal Reserve Board, US's central bank). Second quarter of 2006 house prices registered their lowest rate of quarterly increase since 1999, at 4.68%.
There have also been dramatic slowdowns in the UK and Hong Kong. Annual house price growth in the UK was only 4.7% in 2005 and 6.6% in Q2 2006, down from 12.7% in 2004. The UK experienced 15% house price rises on average during the past five years.
Hong Kong's house prices actually declined in 2006 (-1.94) after impressive 27% and 24% annual increases in 2004 and 2005, respectively.
Conversely there are signs that the frozen property markets of Japan and Germany are finally thawing. However, the price movements were mainly in the upper market, and are not yet reflected in current indices. In 2005, Japan's urban land price index declined by a 4.67%, while Germany's house price index increased by 0.73%.
An extraordinary decade
It has been an extraordinary decade. House prices in Ireland rose 270% over the ten years 1995-2005, UK house prices by 209% and Spanish house prices by 166%.
Other countries that experienced a doubling of prices over the ten year period were: Australia 155.4%, Norway 137%, Denmark 130%, France 121%, Finland 118%, Netherlands 116%, New Zealand 110%, and the US 101%. Continuous house price rises from 2000 to 2005 in South Africa have led to a remarkable 178% price increase (the series is not long enough to display the growth for 10 years).
Asian countries are joining the boom. Singapore has begun a recovery from the price declines that started with the Asian Crisis of 1997. From June 2000 to 2005, house prices declined by 18% but house price figures for 2Q 2006 show 6% y-o-y growth, on top of the 3.87% growth recorded in 2005.
South Korea's house prices are also rising despite the government's attempts to suppress prices.
Some recovery is observable in other countries affected by the Asian Crisis such as the Philippines, Malaysia, and Thailand.
Eastern Europe has seen remarkable increases, exceeding most of the developed world's price growth, spurred by the entry of fresh capital from EU citizens. Estonia's house prices, for instance, rose 67% y-o-y in 2005 and 77.5% y-o-y in 2Q 2006.
Not to be outdone, the Middle East is in the midst of a building boom. One by one, property markets in the Middle East are opening up to foreign investment. The trend was initiated by Dubai of the United Arab Emirates, but Qatar, Bahrain and Oman have followed suit and are now open to foreign ownership. Despite the recent war in Lebanon and Israel, demand for property is still strong in the region.
Strong Economy, Low interest rates
Two reasons are commonly cited for the impressive house price booms:
Low interest rates
Strong economic growth
Interest rates have fallen to historic lows in most boom countries. In the Euro zone, short-term interest rates fell from 11.2% in 1992, to 2% in 2004. This rate, the lowest for 25 years, has been unchanged for 31 months. Similarly while South Africa's short-term interest rate is apparently high at 7%, this is the lowest rate in South African history.
Fig.2 Short Term Interest Rates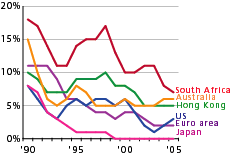 SOURCE: OECD, HKMA,SARB
Households can now service much more debt because of the fall in interest rates, greatly enhancing their purchasing power, and enabling them to buy more expensive houses.
Strong GDP growth
Strong economic performance is equally important. It boosts purchasing power, and also makes people more optimistic.
Ireland's strong house price growth has been, for example, clearly linked to its strong economic performance. Irish economic growth has been unparalleled in Europe, averaging a spectacular 9.8% over six years (1995-2000), with strong growth since then. One consequence has been 17 unbroken years of house price appreciation, with an increase in housing values of 253% between 1995 and the present.
Strong economic growth has also been arguably a major reason for house price booms in China, Spain, Australia, Denmark, Canada, and New Zealand.
Fig.3 Annual GDP Growth Rate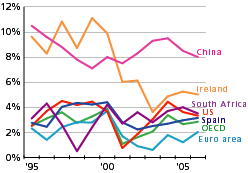 SOURCE: OECD, IMF
Sociology, demographics, taxation
Changes in demography, sociology, and tax structures complete the picture of the factors behind the house-price rises.
South Africa is a good example. A key result of the end of apartheid was the birth of a financially stable black middle class, which is now the housing sector's main growth engine, and has greatly broadened the housing market.
France and Italy have experienced anemic economic growth, but seen substantial house price rises. In France, house prices have also been boosted by purchases by non-residents, especially Britons. In 2003 foreigners brought €9.2 billion into the French housing system. Similarly in Spain, foreign buying has had an appreciable impact.
Italy's house price rises have been due to another shift, the increasing popularity of owner-occupancy. The Italian tax system is generally biased in favor of ownership, but demographics have also played a role, because the increasingly aging population tends to prefer house ownership over rental (this demographic effect on house ownership can also be seen in other European countries).
Tax regimes can play a central part too. An important factor in the increased popularity of buy-to-let properties in Australia has been the tax treatment of negative gearing, allowing rental investment losses to be offset against an individual's principal source of income.
Mortgage market liberalization
The countries with the greatest house price rises have noticeably been those with variable mortgage rates: Ireland, Spain, and the UK. Outside the EU this correlation also holds - Australia, Hong Kong, and New Zealand have variable mortgage rates, and strong house price growth. The exception which proves the rule is the US, where almost 82% of mortgages are fixed-rate.
Mortgage market liberalization is another factor. Mortgage market reforms have notably taken place in Hong Kong, Spain, South Africa and South Korea.
In Spain, the liberalization of the mortgage market began with the privatization of Banco Hipotecario in 1981. Other reforms followed. Competition increased greatly. Foreign banks stimulated innovations in the market. The 1991-1992 securitization law significantly reducing spreads. Mortgage lending increased from 13% of bank assets to 28% in 1996. The mortgage loan to property value ratio rose from 50% to 80%, while loan maturities also increased from 5 to 15-20 years. In 2004, additional reforms allowed borrowers to switch mortgage providers without penalties. The result has been unbridled Spanish house growth for more than a decade.
A similar house market boom also occurred in Sweden after mortgage finance was iberalized in 1980s followed by an almighty housing market crash.
Another innovation, mortgage loan refinancing, has helped US households take advantage of falling interest rates and shielded them from rising rates, and is a significant part of the explanation of the US housing market's slow response to interest rate rises (See How the US housing market long defied the Fed)
Table 2. MORTGAGE AND HOUSING MARKET INDICATORS

COUNTRY
Residential Mortgage Debt (% of disposable income)*
Typical loan-to-value ratios of new loans (%)
Typical
loan
term
(years)
Mortgage
market
structure*
Securitisation
of
mortgages
Home ownership rate*
Australia
120
90-100
25
73% variable

Yes
70
Austria
..
60

20-30
mostly fixed
Yes
56
Canada
77
70-80
25
75% fixed
Yes
66
Denmark
188
80
30
85% fixed
Yes
51
Finland
71
75-80
15-18
97% variable
Limited
58
France
40
80
15
80% fixed
Limited
55
Germany
83
70-80
25-30
72% variable
Limited
42
Hong Kong
..
60
20
mostly variable
Yes
56
Ireland
106
70-100
20
85% variable
Limited
77
Italy
20
50
15
56% variable
No
80
Japan
58
80
25-30
mostly fixed
No
60
Netherlands
208
87
30
85% fixed

Yes
53
New Zealand
129
60-80
30
85% fixed

Yes
65
Norway
24
70
15-20
..

No
77
Portugal
33
90
15
mostly variable
..
64
Singapore
..
80
30-35
..

..
92
South Africa
54
80
20
most variable
Limited
77
South Korea
..
..
..
most variable
Limited
54
Spain
67
80
15-20
75% variable
Yes
85
Sweden
98
80-90
<30
62% fixed
Limited
61
UK
105
75
25
72% variable
Yes
69
US
78
80
30
88% fixed
Yes
68
* Latest data available
Source: OECD, BIS, Fannie Mae, ABSA, RBNZ, HKMA, MAS
Marching in step
The recent house price boom has been the biggest in history, both in magnitude and extent and above all in its synchronization. This really is a world-wide phenomenon.
One reason is the internationalization of the financial markets. Interest rates around the world now move in tandem, at least in the developed world. In the EU, particularly, the creation of the Eurozone has resulted in an enormous block of countries with structurally unified interest rates. The US, at the center of the world's economy, is in a curious position, because the US housing boom has been boosted by low interest rates resulting from the insatiable demand for T-bills of the Chinese government and Chinese investors.
SOURCE: Various Sources
Fig.4 House Price Index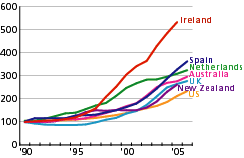 A second reason is that labour and residence markets are also beginning to internationalize.
On the demand side, there has been a significant increase in international mobility. In the euro zone, families are increasingly moving from one country to another to find new jobs. Retirees and holiday-markers are now much more willing to buy houses in other countries. Migration to developed countries has also increased. Demand for housing the newly-arrived has been significant in the UK, New Zealand, Australia and Canadian booms.
Looming banking crisis?
In country after country, at the tail-end of housing booms, a catastrophic scenario repeats itself. As house-prices fall, severe problems emerge in the banking system. A large collection of individuals with negative equity are unable to repay their debts, which translates into a banking system crisis. Because banks in crisis are reluctant to lend, housing market downturns routinely stall economies.
Japan's stagnation of the past 15 years was preceded by a stock market and property market bust. This would not have been so devastating had the bubble not been financed through heavy borrowing using overvalued land as collateral. Many loans to small businesses were backed by property, and three quarters of the local banks lending was to these small businesses.
For the reasons stated above, central banks have increasingly asked whether they should focus only on general price stability, or monitor real estate price movements (see Should Central Banks burst housing bubbles?). Yet the general consensus among central bankers is still that monetary policy should not target specific markets and intervention should come only if asset inflation spills over into general inflation.
However, even if monetary authorities deny that they target the real estate market experience shows otherwise. When the monetary and housing authorities feel that there is overheating in the housing sector, interest rates are gradually increased.
Fig.6 Key Interest Rates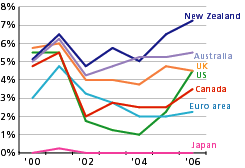 SOURCE: SOURCE: RBA, Bank of Canada, ECB, RBNZ, Bank of England, Fed, Bank of Japan
Interest rate hikes
In Australia, between December 2003 and March 2006, rates moved up from 6.8% to 7.55%. Those small changes were sufficient to curb rising house prices.
In New Zealand the variable mortgage rate inched up to 9% in March 2005 and to 9.6% in December 2005. The Reserve Board of New Zealand (RBNZ) warns that further increases in interest rates are imminent.
In the US, the Fed kept the key interest rate at 5.25% (as of Sept 2006), ending a two year cycle of hikes. Finally, the housing market is responding to the medicine.
Following the US lead, interest rate increases have also taken place in Canada, Hong Kong, Singapore, South Korea and several south-east Asian countries. Even Japan has abandoned its five-year strategy of zero-interest rates, by increasing key rates to 0.25% in July 2006.
Euro zone interest rates have also increased. After remaining fixed at 2% from June 2003 to Dec 2005, the European Central Bank's key lending rate was hiked four times to 3% in Aug 2006. The UK's key interest rate was likewise hiked by 0.25% to 4.75% in July 2006.
Don't buy yet
A period of rapidly rising house prices is not the best time to buy houses, either for investment or owner occupancy.
House prices are cyclical, and a correction is likely to occur afterwards. Be warned.