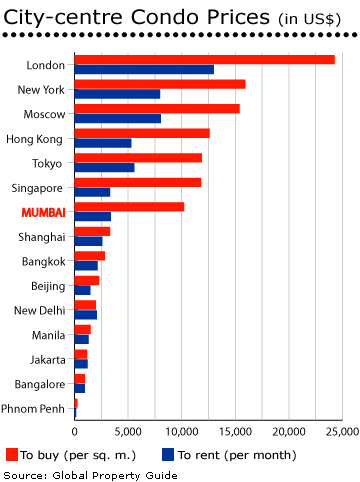 Mumbai, India's financial capital is one of the most expensive places in the world to buy a condominium unit, according to a Global Property Guide survey.
Apartments in South Mumbai cost around US$9,000 to US$10,200 per square metre. "Such stellar prices can only be found in the world's leading cities," says Yasmin Rahman, yields and valuation analyst at the Global Property Guide.
Property prices in other cities in India are significantly cheaper than in Mumbai. In New Delhi, the administrative capital, used apartments cost around US$2,000 to US$3,000 per sq. m. In Bangalore, India's Silicon Valley, prices are around US$950 to US$2,000 per sq. m.
These prices are exceptionally high for a country with a GDP per person of only US$770 in 2006. Even for highly paid call centre agents with annual income of around US$3,000 to US$4,500, these condominiums are still unaffordable.
Remarkable growth
Residential property prices in India have been rising remarkably during the past years, boosted by the IT industry's expansion and by rapid economic growth. IT and IT enabled services (ITES) firms have gobbled up new property offerings in several cities. There has also been a continuing move toward suburban business districts (SBD) in Mumbai, Delhi, Bangalore and Chennai.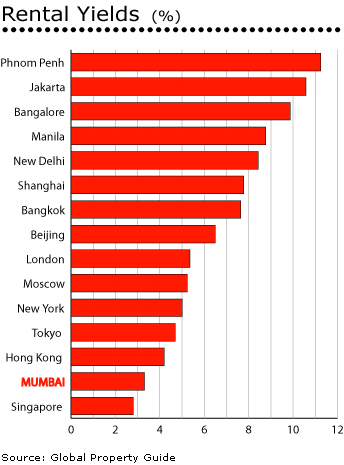 Indian cities are have struggled to accommodate the influx of people from rural areas. Public infrastructure such as roads, bridges and trains are filled to the brim. Congestion and traffic jams are part of business-as-usual environment.
Demand for quality accommodation of expatriates and 'mass affluent' individuals outstrips supply. The government is encouraging the development of new residential complexes with world class amenities and facilities.
Low yields because of rent control
India's rental market is still hindered by socialist laws protecting tenants. Although these laws are slowly being replaced by more market oriented laws, the rental market's full potential has yet to be realized.
Ironically, these rent control laws help create a housing shortage which pushes up prices. Monthly rents in Mumbai are expensive at US$8,000 to US$10,000. Nonetheless, yields are low, at 3 to 4.7%.
In Delhi, the maximum annual rent is capped at 10% of the cost of construction and the market price of the land. However, the cost of construction and the price of land are both based on historical values and not the current market valuation. So the older your property, the smaller the rent you can charge.
Newer and smaller units in New Delhi fetch on average up to 8.4% rental yields yearly. But generally, yields are low to moderate in Delhi, at 4% to 5.8%.
Bangalore's more laxly-regulated rental market has higher annual yields at 7% to 10%.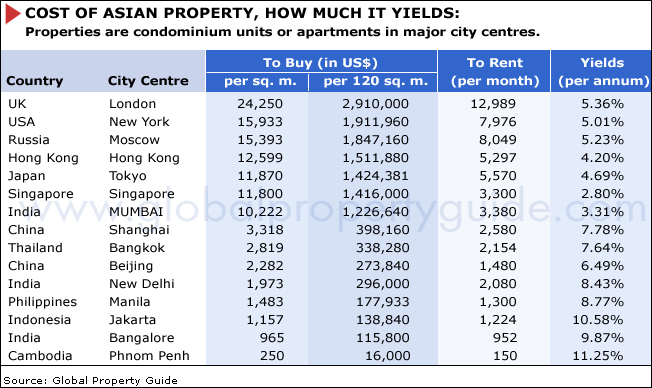 Urban housing problems
In a separate study about housing sales and rental market in Asia, the Global Property Guide finds that high transactions costs and restrictive rental markets are conducive to the creation of urban slums. Roundtrip transaction costs for property purchases in India are moderate to high, ranging from 7.5% to 17% of property value, depending upon the city.
Registering property transactions in India is slow and cumbersome as many properties lack clear titles. Property valuation is not standardized. Such problems encourage the under-provision of housing and the growth of slums.
In 2001 about 55.5% of India's urban population lived in slum areas. The number of slum dwellers in India exceeds 158 million, more than the population of the UK and Germany combined. Dharavi, Asia's largest urban slum area with more than a million people, is located right next to Mumbai's prime business districts, the Bandra-Kurla Complex.
As the Indian economy continues to rapidly expand, its cities will continue to attract investors, expatriates and migrants. The development of India's real estate and rentals industry would greatly benefit from further liberalization of property ownership laws.
Related Links