The latest survey of the Global Property Guide showed that 17 out of 35 countries recorded increases in house prices over the year to end Q3 2010 (based on inflation-adjusted house price changes). Of the 18 countries that experienced house price falls, 11 recorded slower rates of decline.
The Global Property Guide's statistical presentation uses price changes after inflation, giving a more realistic picture than the more upbeat nominal figures usually preferred by real estate agents.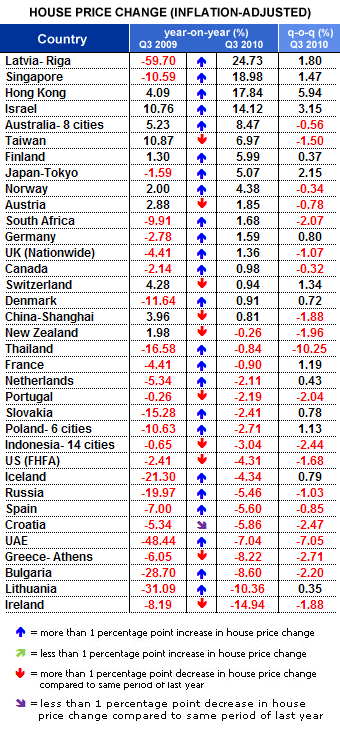 Source: Various series, data descriptions and sources here
Latvia takes a big leap to the top
After a long and sharp housing crisis, Latvia is finally back in the limelight. Latvia outperformed all countries in the GPG survey, recording a house price rise of 24.73% over the year to Q3 2010. This was in sharp contrast to the 59.70% drop during the same period last year. However, the average Riga apartment price at 610 Euros per square metre in Q3 2010, is still 45% lower than the average price in Q3 2008.
Latvia was the only European country that had a double-digit increase. Following Latvia were Finland and Norway with year-on-year increases of 5.99% and 4.38% respectively. House prices in both countries have been rising since Q3 last year.
The rest of Europe remains weak
Germany, the UK, Switzerland and Denmark had modest increases of only over 1% year-on-year to Q3 2010.
Ireland had the worst annual price decline among countries in the survey, with house prices down 14.94% over the year to Q3 2010. Irish house prices have been falling for the past three years, and the declines show no sign of ending.
Lithuania has not recovered yet. The Ober-Haus apartment price index, which reports apartment prices in Lithuania's five largest cities, slipped by 10.36% during the year to Q3 2010. Prices were 39.2% below their peak level in Q4 2008. Nevertheless, the recent year-on-year decline is a big improvement on the 31% fall experienced during the same period of last year.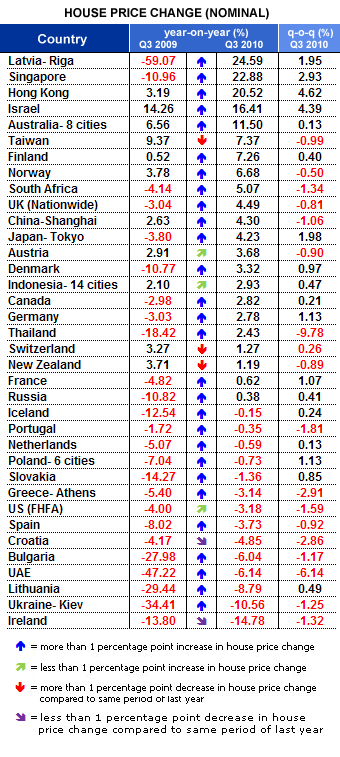 Source: Various series, data descriptions and sources here
US house prices still heading down
Recovery has eluded the US housing market. The seasonally-adjusted purchase-only house price index was down by 4.31% over the year to Q3 2010, worse than the decline of 2.41% during the previous year.
The US recorded a modest increase in house prices (on a quarter-on-quarter basis) in Q2 2010. The tables quickly turned during the next quarter, and prices were down 1.68% during Q3 2010.
Asia surges despite anti-speculative measures
Despite government interventions, house prices in some Asian countries continued to surge in Q3 2010. The rapid economic expansion in Singapore canceled out anti-speculative measures implemented by the government. House prices rose strongly by 18.98% over the year to Q3 2010, even after the imposition of stamp duty, plus tighter financing conditions, and restrictions on home ownership.
Also fuelled by strong economic growth, Hong Kong's house prices surged further in Q3 2010, moving up by 17.84% from a year earlier. Hong Kong had the largest quarter-on-quarter increase (5.94%) of any location.
Taiwan has been successful in taming its rising house prices. On a year-on-year basis, house prices were up 6.97% to Q3 2010, a deceleration from last year's increase of 10.87%. But house prices fell 1.5% during the latest quarter.
Japan has seen house price rises since January 2010. In Tokyo metropolitan area, the average price of existing condominiums increased 5.07% from a year earlier.
Indonesia and Thailand both experienced house price falls during the year to Q3 2010. Thailand had the worst quarter-on-quarter drop of any country.
Middle East contrasts
House prices in Israel have surged continuously since 2009, and in the year to Q3 2010 prices rose 14.12%. This marked the 5th consecutive double-digit quarterly y-o-y rise in prices of owner-occupied dwellings in Israel.
On the other hand house prices in Dubai, UAE slumped 7.04% over the year to Q3 2010. Earlier this year, house prices had gone up. Seasonality and strict lending policies limited the performance of Dubai's housing market, and the latest quarter's figures showed a large price decline of 7.05%