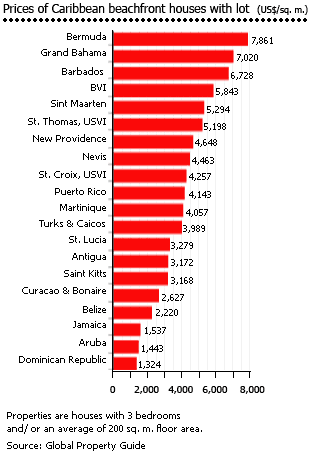 The Caribbean, the playground of the rich and famous, has been getting more affordable. The depreciation of the US dollar against major currencies such as the British pound and the euro, has made Caribbean properties more attractive from a European point of view.
More affordable… but still not cheap! Property prices in more popular and developed islands can easily reach over one million US dollars for a house and lot near the beach.
In its latest survey of Caribbean property prices (March 2008), the Global Property Guide finds that in Bermuda, the average price of a three bedroom house and lot is around US$1.5 million.
In Grand Bahama, Bahamas, a similar property costs around US$1.4 million, according to Global Property Guide figures.
Property prices in highly-developed areas such as Bermuda and Bahamas exceed US$7,000 per sq. m.
Coastal properties in Barbados are also expensive, at around US$6,700 per sq. m. In the British Virgin Islands (BVI), the US Virgin Islands (USVI), real estate prices are around US$5,000 per sq. m. Sint Maarten also has expensive properties at around US$5,300 per sq. m.
Property prices in St. Kitts and Nevis, Puerto Rico, Martinique, St. Lucia and Antigua and Barbuda range from US$3,170 per sq. m. to US$4,500 per sq. m.
The cheapest Caribbean properties are found in Jamaica, Aruba and Dominican Republic, with prices ranging from US$1,300 per sq. m to US$1,500 per sq. m for houses near the beach.
For apartment buyers, Bermuda and Turks and Caicos Islands (TCI) are among the most expensive with prices at around US$5,000 to US$8,000 per sq. m. A two bedroom apartment costs around US$841,000 in Bermuda and US$670,000 in TCI.
Despite these high prices, Caribbean properties are now considerably cheaper than coastal properties in Mediterranean Europe. For instance, apartment prices in Barcelona are around US$10,000 per sq. m., more than twice the price of apartments in Bahamas or Cayman Islands.
Apartments in Jamaica and Aruba are among the least expensive in the Caribbean at around US$1,500 per sq. m. Apartments and condominiums are relatively new features in the Caribbean property market. Most of the properties are new and come complete with amenities.
Risks and Restrictions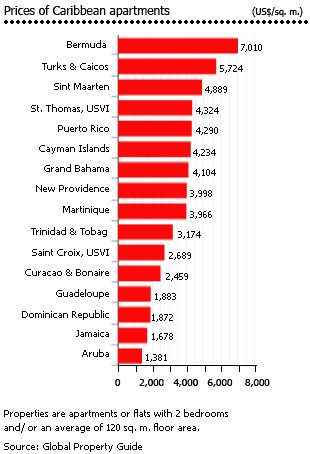 Property buyers, however, should take note that some islands impose restrictions on foreigners or "non-belongers" intending to purchase properties. These restrictions are quite strict in Bermuda, BVI and Tobago. Antigua and Barbuda, Bahamas, Barbados, St. Kitts and Nevis and St. Lucia require a permit or license, and this adds costs.
Bear in mind too that the Caribbean lies within the Hurricane Belt; each year damage by rain, wind, and flood adds to maintenance costs and shortens the lifespan of structures. Only the Dutch islands of Aruba, Bonaire and Curacao (called ABC) are outside the Hurricane Belt.
Three major currencies are used in the Caribbean, the US dollar, the Euro and the East Caribbean dollar (which is pegged to the US dollar at US$1 = EC$2.7).
The US dollar is the official currency in Puerto Rico, USVI, BVI and Turks and Caicos Islands.
The East Caribbean Dollar is used in Antigua and Barbuda, Dominica, Grenada, Saint Kitts and Nevis, Saint Lucia, Saint Vincent and the Grenadines, Anguilla and Montserrat.
The French territories and dependencies use the Euro: Martinique, Guadeloupe, Saint Martin and St. Barthelemy
The Bahamian dollar and Bermudian dollar are pegged at parity to the US dollar.
The US dollar and euro are readily accepted and traded in almost all islands, especially in tourism-related establishments.