After six years of strong house price rises, Australia's housing market is now slowing sharply, mainly due to the introduction of market-cooling measures, including stricter lending restrictions and the imposition of higher taxes on foreign investment in the housing market.

House prices in the country's eight major cities dropped slightly by 0.27% during the year to end-Q2 2018 (-2.3% inflation-adjusted), in sharp contrast with the y-o-y rise of 11.1% a year earlier, based on figures from the Australian Bureau of Statistics (ABS). It was the first quarter of y-o-y house price declines since Q3 2012.

Quarter-on-quarter, house prices fell by 0.6% (-0.95% inflation-adjusted) in Q2 2018.

However, the national figures conceal regional house price variations. Darwin saw the biggest decline, with the established house price index falling by 4.4% (-6.3% inflation-adjusted) during the year to Q2 2018, followed by Sydney (-4.1%) and Perth (-0.4%).

On the other hand, Hobart's local housing market remains robust, with house prices surging by 15.5% (13.2% inflation-adjusted) y-o-y in Q2 2018. Modest house price rises were also recorded in Canberra (3.8%), Melbourne (2.6%), Adelaide (2.4%), and Brisbane (2.1%) over the same period.

The mean price of residential dwellings in Australia was AU$686,200 (US$494,493) by end-Q2 2018, down slightly by 0.3% from the same period last year, according to the ABS.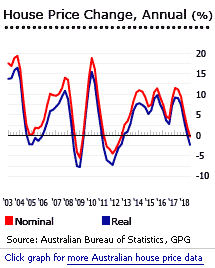 New South Wales, especially Sydney, has the most expensive housing in the country, with the mean house price at AU$889,200 (US$640,779) in Q2 2018, about 30% above the national mean house price. In contrast, Tasmania has the cheapest housing in Australia, at a mean price of AU$403,400 (US$290,700) over the same period.

Acquisition of residential real estate by foreign nationals and corporations is subject to FIRB approval. Foreigners are not allowed to buy an established (previously occupied) house. They may buy an unoccupied new dwelling, but only if the FIRB feels that the purchase will not add to the shortage of properties available to native Australians.


Analysis of Australia Residential Property Market »