Subdued housing market activity in the UK
Maria de Guzman | December 03, 2018

House prices in UK are still rising, at least in nominal terms (i.e. not adjusted for inflation). But uncertainty over Brexit is clouding the market's prospects.

For the fifth consecutive quarter, London saw a house price drop, declining by 0.7% (-3.1% inflation-adjusted) during the year to Q3 2018, with falls of up to 15% for some top-end central London properties. Despite these declines in the capital's house prices, Nationwide's Chief Economist Robert Gardner noted that London's prices are "still more than 50% above their 2007 levels".

The average house price in the UK rose by 2.1% to £216,103 (US$ 279,227) during the year to Q3 2018, according to Nationwide - a slowdown from price increases of 2.2% in Q2 2018 and 2.5% in Q1 2018. However, when adjusted for inflation, house prices actually fell by 0.4% y-o-y.

The highest price rise was in Yorkshire and Humberside, with house prices rising by 5.8% during the year to Q3 2018. It was followed by East Midlands (4.8%), Northern Ireland (4.3%), West Midlands (4.2%), and North West (4.1%).

The Outer Metropolitan Area around London actually fell by 0.4%, while prices in the North dropped by 1.7%. Regions with weaker price rises also included the South West (1.9%), Scotland (2.2%), East Anglia (almost 3%).

In October 2018, national house price growth was at its lowest since May 2013 at 1.6% y-o-y, according to Nationwide's recent report. Aside from economic uncertainty, respondents of the RICS's UK Residential Market Survey in September 2018 also cited stock shortage, affordability constraints, and recent interest rate hikes as factors restraining the market. RICS's survey respondents were pessimistic that sales activity will pick-up in the coming months.

"As we enter quarter four, the market remains suppressed, which is likely to continue into 2019. A deal on Brexit is required to give some certainty, which will then encourage investors and purchasers," said Richard Taylor of London's Surveyors & Valuers.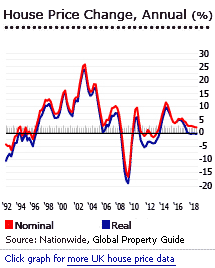 The UK's and particularly London's previous dramatic house price rises were fuelled by four factors:

Immigration and population growth have been strong, especially in London.
Interest rates have been at record lows, with a large expansion of the money supply through "quantitative easing".
The City of London (London's financial centre) continues to boom.
Construction activity remains weak (though this is less true of London).

House prices in the UK are expected to increase by around 1% in 2018, according to Gardner. Activity will likely pick-up if uncertainty clears, but for now weak economic activity, and affordability constraints, are dampening the housing market's activity and price growth.

There are no restrictions on foreign ownership of properties in the UK.


Analysis of United Kingdom Residential Property Market »