Iceland's house prices are now soaring. The nationwide residential property price index surged by 23.15% (21.28% inflation-adjusted) during the year to Q2 2017, almost triple the annual growth of 8.06% the previous year, according to Statistics Iceland - the highest year-on-year increase since Q1 2006.

In Reykjavik, prices of single-flat houses surged by 25.5% (23.5% inflation-adjusted). Prices of multi-flat houses increased 24.5% (22.6% inflation-adjusted) y-o-y to Q2 2017.
Outside the capital, residential property prices increased 15.2% (13.4% inflation-adjusted).

During the latest quarter, Q2 2017, Iceland's house prices rose by 6.53% (5.76% inflation-adjusted).

Currently, the average residential property price in Reykjavik ranges from ISK4o million (US$382,500) to ISK50 million (US$478,130), according to Jason KristinnOlafsson of Miklaborg Real Estata. The central region has seen the highest increase in property prices during the previous year because of limited supply.

Iceland's economy grew by a blazing 7.2% in 2016, after growth of 4.1% in 2015, 1.9% in 2014 and 4.4% in 2013. In 2017,the economy is expected to expand by 6%, private consumption by 6.9% and investment by 9.8%, according to Statistics Iceland.

The continued increase in property demand has been fuelled by booming tourism. In 2016, foreign visitor arrivals rose by 39% to about 1.79 million, according to Icelandic Tourism Board. During the first seven months of 2017, stay-over tourist arrivals increased 33.1% to around 1.25 million people compared to the same period last year.

Most of the tourists come from the United States (27.3%), the United Kingdom (15.6%), Germany (7.2%), Canada (4.7%), France (4.6%), and China (3.7%).

"With increased tourism there are now more foreign buyers every year," says IngólfurGissurarson at Valhöll estate agency. "There are plenty of high-end, centrally-located developments coming on the market."

"Most of the foreign buyers tend to be from the US," says GrétarJónasson of Iceland's Association of Real Estate Agents, "but Icelanders living abroad are now buying second homes in Iceland."

In 2017, about 2.2 million tourists are expected to visit Iceland, more than 20% growth from the previous year.

Despite surging demand, residential construction remains far below peak levels. In 2016, there were just 1,133 dwelling starts in Iceland, down 29.7% from a year earlier and far below the annual average of 3,500 units from 2003 to 2008. Dwelling completions increased 35.1% y-o-y to 1,513 units in 2016 - also far below the annual average of 2,900 units from 2003 to 2008.

"Prices have risen sharply in the recent term because new construction has been unable to keep pace with demand stemming from population growth and the tourism boom," said the country's Ministry of Finance.

The boom seems likely to continue.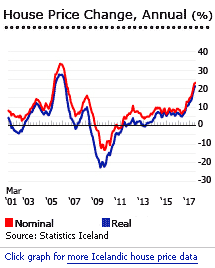 "We expect the housing market to continue along an upward trajectory in 2017 with prices increasing by 14-16% in Reykjavik and vicinity," said SölviBlöndal of GAMMA Capital Management. "Demand will grow, supported by demographic factors and a continued increase in the purchasing power. Supply will remain limited in 2017 but is expected to pick up in 2018."

In a recent reportArion Bank predicts that house prices will rise by about 15% this year, 9.7% next year, and 7.5% in 2019.



northern lights iceland, golden circle iceland, iceland tours, icelandic names, things to do in iceland, blue lagoon iceland, iceland northern lights, guide to iceland, reykjavik, midnight sun, golden circle, justin bieber, iceland golden circle, iceland hotels, northern lights, iceland weather, iceland vacation, things to do in reykjavik, seljalandsfoss, iceland map, thingvellir national park, what to do in iceland, iceland car rental, icelandic women, car rental iceland, gullfoss, iceland in march, landmannalaugar, black sand beach iceland, aurora borealis iceland, the golden circle, iceland travel, reynisfjara, iceland blue lagoon, iceland northern lights tour, skogafoss, best things to do in iceland, map of iceland, weather in iceland, iceland, iceland volcano, diamond beach iceland, iceland waterfalls, iceland tourism, the golden circle iceland, vik iceland, iceland hot springs, golden circle tour, iceland women, jokulsarlon, kef airport, iceland flag, iceland real estate, reykjavik iceland, kirkjufell, where to stay in iceland, secret lagoon iceland, seljavallalaug, icelandic horse, dyrholaey, visit iceland, snæfellsnes peninsula, akureyri iceland, þingvellir national park, iceland vacations, iceland in october, svartifoss, top things to do in iceland, iceland rental car, aurora borealis, akureyri, reynisfjara beach, iceland tour, golden circle tour iceland, fjaðrárgljúfur, trip to iceland, elephant rock, iceland ice caves, camping in iceland, best iceland tours, hotels in iceland, iceland ring road, jobs in iceland, reykjavik excursions, jokulsarlon glacier lagoon, icelandic, iceland black sand beach, icelandic food, glacier lagoon iceland, iceland things to do, dimmuborgir, ring road iceland, reykjadalur, iceland food, driving in iceland, sólheimajökull, lake myvatn, icelandic beer, myvatn, seljalandsfoss waterfall, grjótagjá, thorsmork, keflavik airport, iceland in may, thingvellir, iceland self drive tours, skogafoss waterfall, westfjords iceland, glymur waterfall, siglufjörður, blue lagoon (geothermal spa), snaefellsnes, car rental in iceland, dyrhólaey, icelandic language, ice cave, iceland in september, houses for sale in iceland, skógafoss, iceland in december, what to do in reykjavik, kirkjufellsfoss, langjokull glacier, diamond beach, visiting iceland, golden circle map, tours of iceland, hella iceland, vatnajökull, volcano iceland, iceland golden circle map, icelandic runes, living in iceland, skaftafell, iceland volcanoes, hiking in iceland, gay iceland, the blue lagoon, iceland pictures, stokksnes, iceland in august, food in iceland, golden circle iceland map, dynjandi waterfall, the northern lights, weather iceland, iceland aurora borealis, where to stay in reykjavik, iceland trips, travel to iceland, kerid crater, gullfoss waterfall, bluelagoon, tours to iceland, iceland in november, jökulsárlón, one week in iceland, iceland blog, iceland highlands, iceland mountains, volcano in iceland, tour iceland, iceland in april, northern lights tour, icelandic horses, aldeyjarfoss, black beach iceland, gryla, rental car iceland, hot springs iceland, vatnajökull glacier, elephant rock iceland, iceland in july, hofn iceland, volcano icelan, christmas in ice land, askja, christmas in icland, stokker geyser, johann johannsson cause of death, reykjavik restaurants, iceland whale watching, icelandic holiday, volcano icelandic, glymur, hraunfossar, iceland attractions, dynjandi, iceland in january, things to see in iceland, blue car rental iceland, reykjavik weather, iceland christmas, camping iceland, the blue lagoon iceland, sex in iceland, icelandic national parks, cruise to iceland from us,


Analysis of Iceland Residential Property Market »
Rental income taxes are moderate in Iceland
Rental Income: Nonresidents earning rental income are taxed at a flat rate of 22%. Only 50% of the gross rent is taxable for income earned from leasing residential properties.

Capital Gains: Capital gains are taxed either as business income.

Inheritance: Inheritance, tax is imposed on the share of the beneficiary at 10%, with an exemption for the first ISK1,500,000 (€10,490) of the share.

Residents: Residents are taxed on their worldwide income.
Very low transaction costs in Iceland
Round-trip transaction costs are very minimal from 2.40% to 3.40%. The buyer shoulders all costs when buying property, which include real estate agent's fee, stamp duty, and registration fee.
Robust economic growth, improving public finances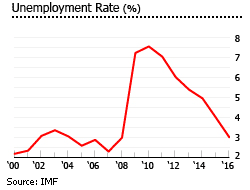 In the first quarter of 2017, Iceland's annual GDP growth was 7.6%. In 2016, the Icelandic economy expanded by a spectacular 7.2%, after 4.1% in 2015, 1.9% in 2014, 4.4% in 2013, and 1.2% in 2012, buoyed primarily by a boom in tourism as well as strong private consumption and investment.
The Icelandic economy is expected to expand by 5.3% this year, and by another 2.6% in 2018, according to the
Organisation for Economic Co-operation and Development
(OECD).
Statistics Iceland
is more optimistic, projecting 6% growth this year. Private consumption is projected to increase by 6.9% this year and gross fixed investment by 9.8%.
From 2004 to 2007, Iceland's average GDP growth was 6.4% annually, partly because the banking sector went on an ill-advised global lending binge.
However during the global crisis, three of Iceland's largest banks-Glitnir, Landsbanki, and Kaupthing-collapsed, defaulting on US$85 billion of debts in 2008. GDP contracted by 4.7% in 2009 and by another 3.6% in 2010, according to the IMF. Iceland's external debt ballooned to ISK14.34 trillion (US$125.6 billion) in 2008, up 93% from a year earlier. It further rose to ISK15.2 trillion (US$133.2 billion) in 2009.
External debt started to fall again in 2010, as the economy recovered. By Q1 2017, the country's external debt was just ISK2.78 trillion (US$26.6 billion), according to the
Central Bank of Iceland
.
In 2016, the Icelandic government recorded a budget surplus of 12.9% of GDP. Inflation remains low at 1.8% in July 2017, according to Statistics Iceland.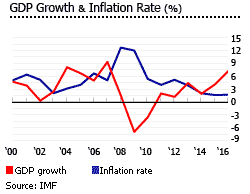 In early-2016, the krona started to appreciate. By July 2017, it had risen in two years by 28% against the US dollar and 22% against the euro.
During the global financial crisis, the value of the krona plunged from ISK62.33 = US$1 to about ISK123.73 = US$1, from December 2007 to December 2008. To stabilize the krona, US$ 2.1 billion was borrowed from the IMF and exchange controls were imposed that were still in place in 2015.
In August 2017, the
Central Bank of Island
kept its benchmark seven-day deposit rate at 4.5%, after cutting it twice in the past three months, in response to the strengthening domestic currency.
In July 2017, the seasonally-adjusted unemployment rate fell to just 1.8%, from 2.9% a year earlier, 4% in 2015, 5% in 2014, 5.4% in 2013, 6% in 2012 and 7.1% in 2011, according to the central bank.
With a population of only 336,000 in 2016, Iceland is one of the wealthiest and most developed countries in the world. GDP per capita was US$59,629 in 2016, according to theIMF. This small country has also low taxes compared to other OECD countries.The economy is heavily dependent on fishing, which provides 40% of export revenues and employs 7% of the workforce. However in recent years, the country diversified into manufacturing and service industries - most notably, tourism.