Thriving Serbian housing market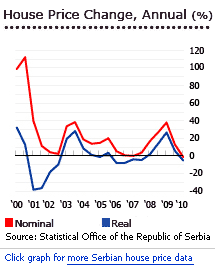 Serbia's house prices rose 6.4% over the six months to December 2010. The average price of new dwellings stood at RSD144,294 (USD1,913) per square meter, up 12% from a year earlier, according to the Statistical Office of the Republic of Serbia.
Belgrade has the country's most expensive housing, at RSD191,650 (USD 2,538) per sq. m. in the first half of 2011, followed by Novi Sad, where the average price of new dwellings  is RSD 109,375 (USD 1,449) per sq. m.  Cuprija has the cheapest housing, at RSD 59,196 (USD 785) per sq. m.
The Serbian housing market has been flourishing for years, and from 2000 to 2010 house prices soared by 265%.
Serbians are now buying larger units. The average area of new dwellings sold in H1 2011 was 58 sq. m., up from 55 sq. m. in the same period in 2010.
Inflationary pressures are waning, and in August 2011 the National Bank of Serbia (NBS) lowered the key policy rate by 25 basis points to 11.5%
Tumultuous times
After the dissolution of Yugoslavia in the early 1990s, Serbia (with Montenegro until 2006) went though a tumultuous decade, including a major civil war during 1991-2000. Hyperinflation ravaged the economy.
Housing construction declined to 10,000 units per year from 1995 to 2000, from 50,000 dwellings annually between 1960 and 1985. Less than 10% of the housing stock was built after 1995, according to the 2002 Housing Census, and 60% of the housing stock dates back before 1975.
Between 1991 and 2000, most dwelling units were privatized. Public rental units were sold to sitting tenants at below-market prices, based on current average monthly wages. Prices rose between October 1993 and January 1995 by 5 quadrillion percent (5 with 15 zeroes after it), but wages (on which privatized house sales prices were based) were pegged to pre-inflation levels, so households were able to buy their houses for next to nothing.
Privately owned housing increased to 92% of the total stock in 2002 (88% owner-occupied and 6% occupied by relatives) from 77% in 1990. Only 7% of the housing stock in 2002 was rental units, 4.9% of which was private, and 2.1% publicly-owned rental units.
Loans market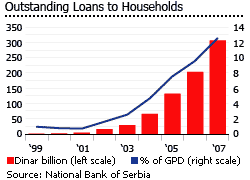 Hyperinflation, in the strict sense of the word, ended in 1995 when Serbia adopted the Deutschemark as an official currency alongside the dinar. But Serbia's inflation rate remained high from 1995 to 2000, at 40% annually. Most real estate transactions were paid in cash, using Deutschemarks, then euros.
With the economy stabilizing after the fall of strongman Slobodan Milosevic in 2000, the financial and housing markets started to recover and develop.
Loans to households, starting from a low base, expanded by more than 50% annually from 2001 to 2007, rising from RSD5.28 billion (€68 million) in 2001 to RSD305 (€3.9) billion in 2007, or from 0.58% of GDP in 2001, to 12.5% of GDP in 2007. About 80% of loans are dominated in euro.
Increased construction activity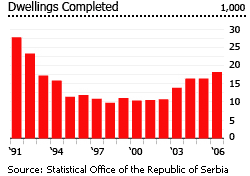 The Serbian residential market has been very active over the past few years, as a result of continued construction activity in Serbia's three largest cities: Belgrade, Nis, and Novi Sad. Around 17,000 dwellings were completed annually from 2004 to 2006. New home construction activity is concentrated in Belgrade: more than 30% of newly built homes and building permits were issued in the capital.
The government's creation of the National Corporation for Housing Loans Insurance was the main driver for this robust activity.
In 2005, there was a shift towards developing low and medium priced apartments, rather than elite apartments or houses offering three or more bedrooms. The share of one to two bedroom apartments as a percent of total development activity has consistently grown, whereas the stock of four bedroom and larger apartments is growing at the lowest rate. This trend is expected to continue.
Steady investment growth is expected as Serbia aligns its policies with the EU in its bid for membership. The introduction of freehold ownership of land and the completion of privatization of the construction sector are expected to bolster the residential property market in the three largest cities.
Rents unchanged
Annual prime rents in Belgrade remained stable at €11 to €12.50 per sq. m. per month in 2007. The centre, Dedinje, Senjak and New Belgrade were the most sought-after rental districts. In these districts wealthy locals buy many high-end newbuild properties, explicitly for the purpose of renting out.
Risk factors
Aside from the oversupply of new units, there are other worries. Since most loans are denominated in euro, the interest rate hikes recently implemented by the European Central Bank (ECB) are expected to slow lending growth and the economy.
In its most recent move, the ECB hiked the key lending rate by 25 basis points to 4.25% in July 2008. The ECB had kept the key rate at 4% from June 2007 to June 2008, after eight successive hikes since Nov 2005, when the key rate was just 2%.
Inflation was down to 6.8% in 2007, the first singe-digit figure for two decades. But inflation was back at 15.9% in June 2008, with full-year inflation expected to reach 11.5%.
After expanding by 7.3% in 2007, the economy is expected to slow in 2008 with a GDP growth rate of 4%. The economy grew by an average of 5.3% per annum between 2001 and 2006.