Housing market in Hungary recovering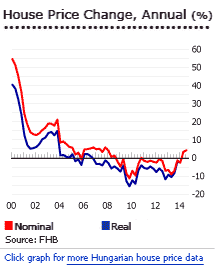 Property prices in Hungary have risen over the past year, after six years of falling prices. The national house price index rose by 6.68% (7.42% inflation-adjusted) during 2014, according to the Hungarian Central Statistical Office (KSH).
Prices of existing dwellings rose by 8% (8.75% inflation-adjusted), while prices of new dwellings rose by 1.39% (2.09% inflation-adjusted).
House prices in Budapest rose slightly more than the national index, increasing 6.88% (7.63% inflation-adjusted).
The market is recovering.  Housing transactions were up 17% in 2014, more dwelling permits were issued, and there was increased demand for credit especially for second-hand sales. The recovery is expected to continue during 2015, with GDP growth of 2.7%, a continuous rise in rents, as well as a recovery in the activity of developers.
Some parts of the housing sector remain weak: the share of newly-built homes in the market remains low, with a decline in new dwellings built during the latest quarter (Q1 2015), and bad loans remain high.
During Hungary's housing boom (1998-2007), house prices soared by 264% (102% inflation-adjusted).  However, the market started to fall in 2008, mainly due to the global financial meltdown.
House prices in Budapest dropped significantly between 2008 and 2013:
In 2008, house prices rose by 2.51% y-o-y (-1.66% inflation-adjusted)
In 2009, house prices sharply fell by 11.12% y-o-y (-15.52% inflation-adjusted)
In 2010, house prices rose by 2.19% y-o-y (-2.04% inflation-adjusted)
In 2011, house prices declined by 2.38% y-o-y (-6.22% inflation-adjusted)
In 2012, house prices fell by 5.86% y-o-y (-10.68% inflation-adjusted)
In 2013, house prices dropped by 2.61% y-o-y (-3.33% inflation-adjusted)
In 2014, house prices rose by 6.88% y-o-y (7.63% inflation-adjusted)
AVERAGE PRICE PER SECOND HAND DWELLING, HUF MILLIONS

 

Detached
Condominium
Housing Estate
Total

 

2013
2014
2013
2014
2013
2014
2013
2014
Central Hungary
17.6
17.9
13.5
13.8
9.3
9.9
13.6
14.0
Central Transdanubia
9.7
9.8
7.5
7.5
6.0
6.5
8.5
8.6
Western Transdanubia
9.9
9.8
9.6
10.1
8.1
8.9
9.7
9.9
Southern Transdanubia
7.3
7.5
8.3
7.8
6.5
6.6
7.4
7.5
Northern Hungary
5.2
5.5
6.4
6.4
4.6
4.5
5.3
5.5
Northern Great Plain
5.8
5.7
8.0
8.2
7.6
7.8
6.6
6.6
Southern Great Plain
5.8
6.2
8.0
7.9
5.8
5.8
6.5
6.8
Hungary (whole)
9.1
9.3
11.0
11.3
7.7
8.1
9.7
10.0
Source: KSH
During the first nine months of 2014, selling times were lower than in the same period in 2013, except for brick-built family houses, according to Otthon Centrum.
Blockhouse flats required 3 months to sell on average, 9.47% less than in 2013.
Brick-built flats required 4 months to sell on average, 8.21% down.
Brick-built family homes required 7.5 months to sell on average, up 9%.
Building permits up; dwellings built down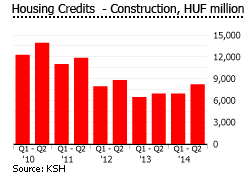 The construction sector has improved. The number of residential permits rose by 33.8% during the year to March 2015, to around 1,236. The number of new residential permits issued had already increased in 2014, rising by 14.9% to 5,132.
The rise of building permits is much more evident in Budapest with permits increasing by 74.4% y-o-y to 150 units during Q1 2015. The number of permits for holiday house construction also rose by 27% from 63 to 80 issued permits, while non-residential building permits were down to 867 units, 24.2% lower than the 1,145 units in Q1 2014. 
 

Number of Construction permits issued
Number of dwellings built
 
Q1 2014
Q1 2015
Q1 2014
Q1 2015
Budapest
239
720
525
516
County towns
529
530
388
332
Other towns
531
703
442
422
Villages
355
428
328
302
Hungary (whole)
1,654
2,381
1,683
1,572
Source: KSH
Half of all new dwellings are located in Budapest and Pest County, according to KSH.
Built Dwellings, annual change (%) Q1-Q3 2013
 
For own use
For lease
For sale
Budapest
9.92
740.00
1.14
County towns
3.03
0.00
3.92
Other towns
32.95
-63.11
24.32
Villages
22.83
300.00
4.00
Hungary (whole)
19.10
85.44
8.05

Source: KSH
Housing credits and subsidies transferred for construction rose by around 18.2% during the second half of 2014 (Q3 - Q4 2014).
Market for newly-built homes is strengthening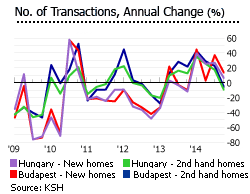 The newly-built homes market has improved, though its share of total sales remains marginal, accounting for only 2.77% of the total home sales (4% in Budapest), according to Otthon Centrum (OC). Compare these figures to 2008, when 9.15% of home sales were new units (14.39% in Budapest),
Transactions of new homes rose by 6.44% during the year to Q4 2014, while in Budapest, new home sales rose 13.68% y-o-y in Q4 2014.  For the whole year of 2014, housing credits for new dwellings increased by 5.73% - still down 88.12% from the 2004 peak.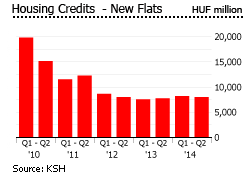 NUMBER OF TRANSACTIONS
 
2008
2009
2010
2011
2012
2013
Homes for resale
140,000
82,900
85,500
83,900
83,323
88,713
New homes
14,100
8,300
4,800
3,900
2,634
2,295
Homes for resale, Budapest
34,504
20,674
24,714
22,578
23,916
26,318
New homes, Budapest
5,798
3,064
2,015
1,551
1,124
1,043
Share of new homes in sales
9.15%
9.10%
5.32%
4.44%
3.06%
2.52%
Share of new homes in sales, Budapest
14.39%
12.91%
7.54%
6.43%
4.49%
3.81%
Source:  KSH, Otthon Centrum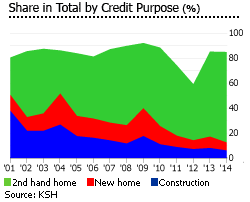 More developers are "planning to launch smaller investment projects, re-launch or take over a project stopped earlier", according to Attila Déry of Otthon Centrum. However, the main problems of the new homes market remain, such as the high VAT rate, the financing environment, and the housing stock's static character.
Rental yields are good
Gross rental yields in Budapest are quite good. Apartments in Buda, the greener side of Budapest, have relatively lower yields ranging from 5.35% for a larger apartment of 200 sq. m. to an average of 7.85% for medium-sized apartments of 90 sq. m. to 120 sq. m., according to Global Property Guide research in July 2014.  In Pest, Budapest's business and commercial centre, yields are a bit higher ranging from 6.89% to 8.3%.
Rents decreased continuously in the period from 2008 to 2010, but the downward trend changed in 2011. Since then, there has been a moderate but steady increase in rentals, though rentals haven't returned to pre-crisis levels.
The rise in rents, although low key, continued during the first three quarters of 2014, according to Otthon Centrum. The most expensive rents are in Budapest, where rents per sq. m. of a brick-built home tend to be HUF 400 (US$ 1.41) to HUF 500 (HUF 1.77) higher per square metre than homes located in the countryside's large cities.

Average monthly rent per square metre:
Type of second hand property
2009
2010
2011
2012
2013
Q1-Q3 2014
Brick built flats
HUF 1,400 (US$ 5.07)
HUF 1,390 (US$ 5.03)
HUF 1,310 (US$ 4.74)
HUF 1,370 (US$ 4.96)
HUF 1,440 (US$ 5.21)
HUF 1,460 (US$ 5.28)
Blockhouse flats
HUF 1,030 (US$ 3.73)
HUF 930 (US$ 3.37)
HUF 970 (US$ 3.51)
HUF 1,000 (US$ 3.62)
HUF 1,070 (US$ 3.87)
HUF 1,150 (US$ 4.16)
Brick built family homes
HUF 1,010 (US$ 3.66)
HUF 970 (US$ 3.51)
HUF 970 (US$ 3.51)
HUF 960 (US$ 3.47)
HUF 1,000  (US$ 3.62)
HUF 1,020  (US$ 3.69)

Source: Otthon Centrum
Interest rate cuts continue
Housing loan interest rates in Hungary continue to fall. In Q4 2014, average APRs on housing loans were 6.68%, down by 2.1% from 8.82% in Q4 2013, according to the Hungarian National Bank (MNB).
Average interest rates on loans for house purchases in March 2015:
Floating rate, or with IRF up to 1 year – 5.16%  
IRF over 1 and up to 5 years – 6.35%
IRF over 5 and up to 10 years – 5.75%
IRF over 10 years – 6.06%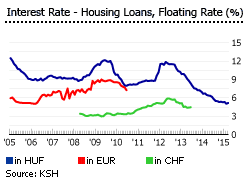 Yet there is a lot of accumulated mortgage debt dating back to the boom, and the household sector is expected to remain a net re-payer till Q1 2016, despite falling interest rates, according to the MNB.
Despite higher residential turnover and a recovery of borrowing in 2014, Otthon Centrum is sceptical about medium-term growth.
Mortgage loans now rising, signaling the end of the crisis
In 2014, the amount of mortgage loans rose slightly by 0.2% - signaling recovery from the crisis and a  reversal of the decline in the total value of home loans in 2011, 2012 and 2013.
Hungary's residential mortgage market had ground to a halt in 2009 as a result of the decline in the value of the Forint against the Euro.  A large portion of mortgages were backed by foreign currency loans, burdening homeowners with swelling repayments, and prompting buyers to exit the market.
Foreign currency mortgages were banned in August 2010, and a number of measures were introduced to manage the foreign currency loan crisis:
an early repayment scheme
exchange rate fixing
foreclosure quota
home protection interest subsidy
establishment of the National Asset Management Company
The introduction of an early repayment scheme in September 2011 unilaterally changed the terms of all foreign currency loan contracts and allowed debtors to make a one-off repayment of their loans at a discounted exchange rate. Banks had to cover the difference between the discounted exchange rate and the current exchange rate.
Those unable to afford early repayment of foreign currency loans have been able to get help since 2012 by paying the installments at a fixed exchange rate.
Nearly 173,000 contracts for the fixed-rate payment scheme had been concluded by October 2014, according to the Hungarian National Bank (MNB). As of December 2014, around 52% of the stock of housing loans were comprised of foreign currency denominated home loans. Legislation adopted in November 2014 requires financial institutions to convert all outstanding foreign currency-denominated loans into HUF claims.
One sign that the crisis is over is that from January 1, 2015 creditors have been allowed to sell any non-performing residential real estate, without restriction.  From October 2011, the government had limited banks to designating 2% of homes in non-performing portfolios as "for sale". The quota rose to 3% per quarter in 2012, to 4% per quarter in 2013, and to 5% in 2014.
Part of the recovery in housing demand was caused by the government increasing, at the beginning of 2013, the amount of 5-year loan subsidies, the maximum value of subsidized loans, and the loan house price threshold, causing significantly stronger credit demand in the second half of 2013. Demand continued to rise in 2014, according to KSH.
Around 78.5% of current loans are "problem free" (2.1 percentage points lower than at year-end 2012) but 11.6% are "under special watch". Of the total 2.8% are "below average" while "sub-prime" (doubtful and bad loans) had a combined share of 7.2%.
Hungary's stable growth is expected to continue in 2015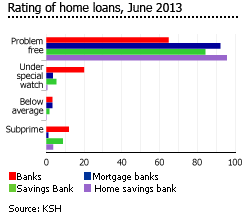 The Hungarian economy has performed well this past year, posting 3.6% GDP growth in 2014, the second highest output increase in the EU ranking, following 1.5% growth in 2013 and a 1.5% contraction in 2012. Economic growth has been driven by internal demand, more notably, investment growth boosted by "Funding for Growth Scheme" of the Hungarian National Bank (MNB) and the EU Funding. Household consumption has also boosted growth, though weak external trade is a problem.
The "Funding for Growth Scheme" aims at increasing lending to businesses, and reducing companies' exposure to foreign currency denominated loans. Under this program, commercial banks can get up to HUF250 billion (US$1.1 billion) in interest-free loans from the NBH, while companies can get the same amount to convert their foreign currency denominated loans to forints. The program was launched in April 2013 and started in June of the same year. The program was expected to finish on August 2013, but the central bank decided to extend the scheme until end of 2014. The extension would see the bank offer HUF 2.5 trillion (US$ 8.9 billion) in interest-free funding to commercial leders.
In addition, the NBH planned to use €3 billion (US$3.82 billion) of its foreign currency reserves to help local banks cut their short-term currency debts.
Hungary's GDP rose by 3.5% during the year to Q1 2015, aided by significant improvement in the performances of manufacturing and service sectors, according to the Hungarian Central Statistical Office (KSH).
In GDP 2015 growth is expected to be 2.7%, followed by 2.3% growth in 2016, according to the IMF. The forecasted growth is due to an expected general improvement of the global economy, which will also benefit Hungary's main trade partners (i.e. Euro-zone), as well as due to rising household consumption.
The end of an unhappy period in Hungary´s economic history?
From 1997 to 2006 Hungary enjoyed robust economic growth of about 4% per annum. Then in 2007 growth slowed sharply to 0.51%, and 0.88% in 2008. In 2009 GDP shrank by 6.6%, Hungary´s worst economic contraction since 1991.  In October 2008 the government was forced to ask the International Monetary Fund (IMF) and the European Central Bank (ECB) for a rescue package worth US$25 billion to prevent the Hungarian economy from collapsing.
The economy returned to growth in 2010, with real GDP growth rates of 0.8% in 2010 and 1.8% in 2011. However it contracted again by 1.5% in 2012, amidst high debt, high unemployment and the Eurozone debt crisis.
The efforts made by Hungary in reducing its deficit under 3% of GDP has earned the country a permission from the European Commission to exit the Excessive Deficit Procedure in 2013.  The country's fiscal deficit in 2014 was only 2.6% of GDP, after a deficit of 2.5% in 2013, and 2.3% in 2012.  Meanwhile, gross public debt was 76.9% of GDP in 2014, down 0.5% from the previous year.
Hungary's unemployment was 7.8% in Q1 2015, a 0.5% decline from to the same quarter last year. In May 2015, consumer prices rose 0.5% y-o-y.
Orban´s authoritarianism remains popular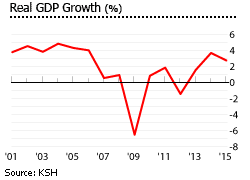 Despite being accused of authoritarianism by some groups and countries, including the European Union and the United States, recent economic growth has boosted the popularity of Prime Minister Viktor Orban and his government, propelling him and his party, Fidesz (the Hungarian Civic Union) to victory in the 2014 elections. Fidesz, a national conservative political party, won 133 seats, followed by Unity with 38 seats, Jobbik with 23 seats, and LMP with 5 seats. Orban is expected to carry on his government's current programs after being re-elected to the same postion for the third time.
During Orban's second term as prime minister, his government was able to alter the National Constitution, reducing the number of Members of the Parliament (MPs) from 386 to 199.
Hungary - More data and information