Sri Lanka's property market slowing after the boom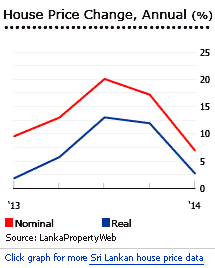 Sri Lanka's property market is slowing, after an exceptional year.   The previous year the property market surged due to the 'peace dividend', optimism about Sri Lanka's prospects, high volatility in precious metals during 2Q13, and expectations about the Commonwealth meeting (which was held in November 2013), all of which triggered an escalation of property prices in 2Q and 3Q13. The Sri Lankan equity market small size and high volatility has also tended to divert funds towards real estate market. 
Booming tourism and strong domestic demand have pushed Sri Lanka's GDP growth up to 7.3% in 2013, from 6.3% in 2012.  Sri Lanka also invested heavily in infrastructure, such as improved transport networks, telecommunications, and electricity generation, so that the construction sector increased its share of Sri Lankan GDP from 7.6% in 2009 to 10.3% in 2013. 
Colombo is the epicentre of this spending, with the new Colombo-Katunayake Expressway, the Outer Circular Highway, the Colombo Port Expansion Project, the Bandaranaike International Airport expansion project, and the nearby Beira Lake restoration project. In addition, several other proposed projects have enhanced Colombo's real estate values, including the York Street facelift, the Fort railway Station modernisation, the Marine Drive expansion, and mass transit systems such as the metro rail and monorail. 
"The price rises were sharpest for apartments in central Colombo and the coastal location towards southern part of the city," says Ashutosh Limaye, head of research at Jones Lang LaSalle Lanka (JLL). 
Colombo has the most expensive housing in Sri Lanka, with an average house price of LKR51.01 million (US$390,000) in Q1 2014.  The average house price in Sri Lanka was LKR20.06 million (US$150,000) in Q1 2014, the average apartment price LKR27.46 million (US$210,000).  Sabaragamuwa Province has the cheapest housing, at an average price of LKR9.3 million (US$70,000).
"Only foreigners, non-resident Sri Lankans (NRSL) and high net worth individuals (HNIs) can afford to buy an apartment/property in the central and secondary locations of Colombo, so foreign buyers are important targets for the real estate developers in Sri Lanka," says Limaye.   Sri Lankans living abroad have started to return since the end of the civil war, and NSRLs and foreigners are showing increasing interest.
Foreigners cannot purchase land, but they can own an apartment on or above fourth floor.  This rule restricts foreigners from gaining 100% access to land. However, the cost of acquiring land through a 99 year lease is relatively cheap compared to the previous practice of acquiring freehold land under 100% tax, since leasehold land only attracts 15% stamp duty. 
Workers' remittances are also important.  At least 2.5 million Sri Lankans work abroad, and remittances rose to US$ 6.4 billion in 2013. 
This past year has seen a coming-down-to-earth after all this excitement.   In Colombo house prices dropped 0.14% (-4.07% inflation-adjusted) during the year to Q1 2014, in sharp contrast with the y-o-y price rises of 5.65% in Q4, 40.56% in Q3, 26.62% in Q2, and 1.73% in Q1 2013, based on figures from Lanka Property Web. Quarter-on-quarter, house prices in the capital increased 2.12% (1.38% inflation-adjusted) in Q1 2014.
Nationally, house price rises have also slowed sharply. Nationwide apartment prices rose by a meagre 0.33% y-o-y to Q1 2014, or -3.62% adjusted for inflation.   Likewise, land prices increased 3.9% (-0.2% inflation-adjusted).  During the year to end-Q1 2014, the country's overall house prices rose by 7% (2.8% inflation-adjusted), down from annual rises of 17.2% in Q4 2013, 20.1% in Q3 2013, 13% in Q2 2013, and 9.6% in Q1 2013.  During the latest quarter, Sri Lanka's house prices actually dropped 2.24% (-2.96% inflation-adjusted) in Q1 2014.  
Seven of Sri Lanka's nine provinces showed house price rises. Eastern Province recorded the biggest increase in house prices of 87.1% during the year to Q1 2014, followed by North Central Province (50.4%), Uva Province (43.4%), Southern Province (17.2%), Sabaragamuwa Province (11.4%), Western Province, excluding Colombo (10.7%), and Central Province (5%). In contrast, house prices fell 4.8% in Northern Province and 2.3% in North West Province during the year to Q1 2014.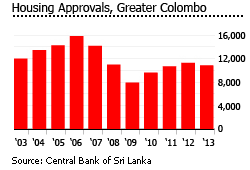 The decline in the property market can be partly attributed to the new foreign property ownership law that the government enacted in 2013, which totally banned the outright transfer of property to foreigners (Circular No.12/2012 of Registrar General Department of Sri Lanka). Before 2013, foreigners were allowed to own properties in Sri Lanka; however, they are required to pay a 100% tax on landed properties that they purchased. The 100% surcharge was also imposed on apartments below the 4th floor. Currently, foreigners are only allowed to lease real properties, up to a period of 99 years.
During the first quarter of 2014, the Sri Lankan economy expanded by a robust 7.6% from the same period last year, from an annual growth rate of 8.2% in Q4 2013, based on figures from the government's statistical office. Sri Lanka's economic growth is projected to reach 7.8% this year, up from 7.3% in 2013, according to the central bank.
Peace after a 3-decade civil war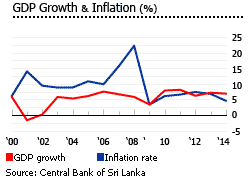 In January 2010, Mahinda Rajapaksa was re-elected for a second and supposedly final six-year term as president. His closest challenger was Gen. Sarath Fonseka, the Armed Forces Chief (who ran a campaign criticizing the Rajapaksa's authoritarianism). Fonseka was defeated, court martialled, imprisoned, and stripped of all military ranks (he has just been released). In September 2010 Parliament changed the constitution to allow Rajapaksa to stand for an unlimited number of terms.
The civil war in Sri Lanka lasted 30 years and resulted in at least 100,000 deaths. Eleven years ago there was hope that it would end soon, with the 2001 ceasefire agreement with the Liberation Tigers of Tamil Eelam (LTTE). Confidence in the economy revived, and there was strong demand for luxury apartments from expatriates who had left during the intense fighting. Developers experienced lucrative profit margins. Local investors followed, as these properties earned high yields.
However in November 2005, the conflict resumed when Rajapaksa was first elected president. A strong supporter of a unitary state, Rajapaksa swore to defeat the Tamil Tigers. In 2006, the ceasefire totally collapsed, with bombings and attacks on government officials.
After intense fighting the LTTE's main stronghold was captured and its leaders killed, with talk of a massacre by government forces. In May 2009, Rajapaksa officially declared the end of the insurgency. A UN report in 2011 said that tens of thousands of civilians had been killed in the final phase of the war, most as a result of government shelling. It also said that hospitals, UN centres and ships belonging to the international aid group the Red Cross were deliberately targeted by the army.
Since then, peace has held, peace has held, call centres are opening, and tourism is returning.
Residential construction activity falling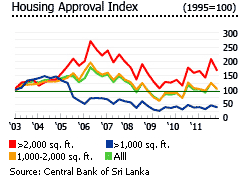 Residential construction activity is also falling. In 2013, the total number of housing approvals in in Greater Colombo dropped by 3.9% to 10,835 units, from 11,270 units in a year earlier, according to the Central Bank of Sri Lanka. 
After the war in 2009, a major bump in housing construction approvals was experienced, which helped meet the shortage. Housing approvals in Colombo rose in 2010 by 21.9% to 9,614 units, after a major dip of 28.1% in 2009. Approvals were up by another 11% to 10,669 units in 2011 and by 5.6% to 11,270 units in 2012. Around 76% of Sri Lanka's housing stock is owner-occupied.
Amidst the decline in construction activity, Sri Lanka has a housing shortage, especially affordable housing. In reducing its housing shortage, the Asian Development Bank (ADB) approved in August 2012 a US$ 15 million loan to DFCC Vardhana Bank (DVB). The fund is available for relend to Sri Lankans, especially those living in tsunami-hit and post-conflict areas, for house purchase or rehabilitation.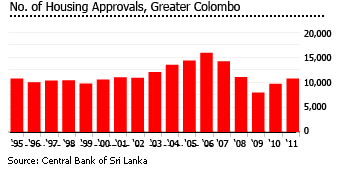 To aid Sri Lanka in reducing its housing shortage, the Asian Development Bank (ADB) approved last August a US$ 15 million loan to DFCC Vardhana Bank (DVB). The fund is available for relend to Sri Lankans, especially those living in tsunami-hit and post-conflict areas, for house purchase or rehabilitation.
Tight mortgage market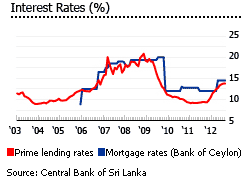 The Bank of Ceylon, Sri Lanka's largest bank, had housing loan interest rates of around 13.5% to 15.5% in August 2012. Rates were raised last April from 11% to 12%.
During the same period, the CBSL's repo and reverse repo rate remained unchanged at 7.75% and 9.75%, respectively. The CBSL's key rates were raised twice in 2012, by 50 basis points in February and by 25 basis points in April. The February hike was the CBSL's first for 5 years, and was a policy measure designed to control Sri Lanka's worsening trade deficit by reducing lending.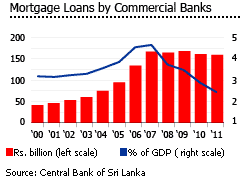 Sri Lanka has a very small mortgage market, which amounted to LKR 159 billion or around 2.4% of GDP in 2011. Private commercial banks, which control about 75% of the market, offer adjustable-rate mortgage loans. State-owned banks offer only fixed-rate mortgage loans.
Mortgage loan maturities range from 15 to 25 years. The average commercial bank loan is LKR1 million (US$8,987); state-owned company loans are on average smaller.
Low yields; luxury segment dominates the rental market
Sri Lanka's small rental market - only 5.4% of the total housing stock is rented - is dominated by high-end luxury apartments. The market for middle- and low-income renters is almost non-existent.
In recent years rents have risen by an average of 11% annually, according to local real estate analysts. Rents for a three-BHK apartment ranges from LKR 250,000 (US$ 1,898) to LKR 350,000 (US$ 2,657) per month in completed projects such as Iceland Residencies, Crescat Residencies, Empire Residencies and The Empire.
Rental yields in Colombo range from 3% to 7%, according to local developers. These yields are low, considering the 13.76% prime lending rate and mortgage interest rates of around 13.5% to 15.5%.
Robust economic growth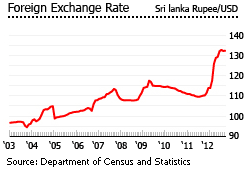 Sri Lanka's economic growth is estimated to reach 7.8% this year, according to the central bank.
In 2013, Sri Lanka's economy expanded by 7.3%, up from a real GDP growth rate of 6.3% the previous year, based on figures from the International Monetary Fund (IMF). 
This continues a pattern of rapid growth.  After the 30-year civil war GDP shot up by 8% in 2010, followed by an even higher growth of 8.2% in 2011.  Even before then despite the serious security situation, Sri Lanka experienced impressive economic growth with average GDP growth of 5.9% from 2003 to 2009. The causes?  A strong tourism sector, a rapidly growing IT and outsourcing sector, and heavy government infrastructure investment.
Rapid growth has had an impact. The government claims that poverty has fallen dramatically over the past decade according to official statistics, though there is doubt as to whether official statistics are to be believed:
The country's budget deficit fell to 5.9% of GDP in 2013 from 6.4% a year earlier, and a 5.2% deficit is targetted this year.   In July 2014, inflation declined for the 14th consecutive month to 4.7%. The central bank targets an inflation rate of between 4% and 6% this year.
The country's unemployment rate improved to 4.1% in the fourth quarter of 2014, according to the Department of Census and Statistics.  
Tourism is booming!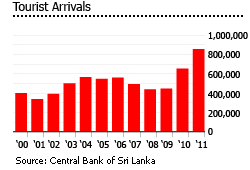 Since the 30-year civil war ended in 2009, tourist arrivals have gone up steadily – up 46% in 2010, and up 31% in 2011, to 855,975. To help boost tourism, the government has legalized gambling despite religious protests.
Sri Lanka used a global communication campaign "Visit Sri Lanka 2011" to promote the country as a peaceful destination. Sri Lanka also co-hosted the Cricket World Cup from February to April 2011. The tourism department aims to achieve at least 2.6 million tourists a year by 2016.
Tourist arrivals rose 7.8% during the year to July 2012. Business Monitor International (BMI) forecasts that tourist arrivals will rise another 55% to a total of 1.42 million tourists in 2016.
An IT-BPO industry is emerging
The growing Information Technology (IT) and the IT Enabled Services (ITES) industry in Sri Lanka has been one of the reasons that prompt an increase in demand for residential properties especially in the Greater Colombo area. More of premium condominium developments are currently visible in the Central Business District, according to Jones Lang LaSalle. Meanwhile, middle-income buyers have lots of options, with villas, row houses and sub-divided developments emerging in the suburbs.
Sri Lanka has been one of the world's emerging IT-BPO destinations. It is among AT Kearney's Top 50 Global Outsourcing destinations, and Global Services Magazine's Top 20 Emerging Cities.
IT exports have risen from an estimated US$ 275 million in 2006, to around US$ 392 million in 2010. The IT-BPO industry is aiming for US$ 1 billion in exports by 2015. Around 300 IT and BPO companies now operate in Sri Lanka. In 2011, around 63,000 Sri Lankans were employed in IT or BPO related jobs, almost double from 34,000 people employed in 2006, based on the latest ICT Workforce Survey. The industry's workforce is estimated to be growing by 20% annually, and it aims to increase direct employment to 100,000 in the next 5 years, according to AT Kearney.