Singapore house prices continue to fall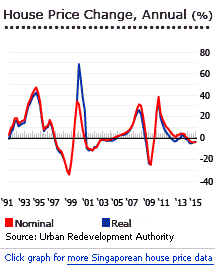 Singapore housing prices are trending down, with economic growth moderate. The private residential property index fell by 3.83% during the year to Q1 2015. When adjusted for inflation, house prices fell by 3.45% during this period. 
During the latest quarter (i.e. q-o-q in Q1 2015), residential prices fell by 1.02% (-0.89%% inflation-adjusted).
In Core Central Region, prices of non-landed private residential properties fell by 3.52% (-3.14% inflation-adjusted) y-o-y to Q1 2015.
In the Rest of Central Region, property prices were down by 3.74% (-3.35%% inflation-adjusted) over the same period.
Outside Central Region, property prices fell by 3.13%(-2.75% inflation-adjusted) during the year to Q1 2015
The slowdown in house prices is the result of deliberate government policy.  Before and after the global economic crisis, Singapore´s property market surged, and Singapore experienced an amazingly overheated market.  The residential property price index rose 38.2% during the space of only one year to Q2 2010  (34% in real terms).
The Singapore government sensibly began to take steps, and when these turned out to be not enough, took further measures. 
In October 2012 it limited the mortgage term to 35 years, and lowered loan-to-value (LTV) ratios to 60% for loans longer than 30 years (or loans stretching beyond age 65)
The was only the first of 10 rounds of property-market cooling measures.
Seller's stamp duty (SSD) was then introduced on owner-occupied housing sold within a year of purchase.  A little later, the stamp duty was revised upwards, with sakes of owner-occupied houses taxed sold within a year of acquisition taxed at 16% of sale price.  Then the holding period was increased from one year to four years. In subsequent rounds, LTV ratios were lowered and minimum cash down payment increased. 
Despite these measures, property prices kept surging.   In the sixth round, new residential loans were capped at 35 years, with existing loans over 35 years facing tighter LTV ratios.  In the seventh round the government revised the additional buyer's stamp duty (ABSD), increasing rates from 5% to 7% for Permanent Residents´ (PRs) first residential property purchase, and Singaporeans´ second residential purchase.
This resulted in a 23.5% decline in sales transactions within a year, but prices continued to surge till the end of 2013.
Eighth, ninth and tenth rounds of market-cooling followed.
These market-cooling measures have been effective, as evidenced by the 6% decline in property prices since the peak in 2013.  In Core Central Region, prices have however declined at a slower pace over the past four quarters. It seems that some sort of stability is being achieved.
Is the Singapore housing market now fairly priced?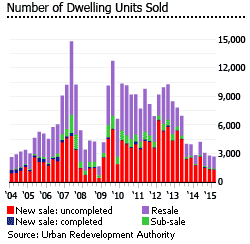 Barring any changes in the Total Debt Servicing Ratio framework, property agent Savills believes that "Core Central" prices have reached a level that could entice buyers back. However prices have yet to fall far enough in "Rest of Central Region" and "Outside Central Region", Savills believe.
Transactions were 5.7% down y-o-y in Q1 2015, to 2,655 units, according to the URA:
Uncompleted private residential property sales were 26.8% down on the previous quarter at 1,258 units in Q1 2015.
Sub-sales fell 27.1% y-o-y to 94 units.
Re-sales fell by 32.7% y-o-y to 1,250 units during the same quarter.
These are all signs of falling demand, but at the same time, supply is scaling down.
So while available completed private residential units rose by 6.26% y-o-y to 311,635 in Q1 2015, the number of uncompleted units fell by 15% y-o-y to 68,201 units. That suggests that, despite the slowdown, there will be a floor on the market´s decline
Falling interest rates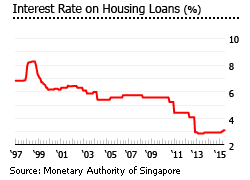 Singapore's mortgage market is one of the most developed in Asia. It expanded sharply during the past decade, rising from approximately 30.9% of GDP in 2004, to 45% of GDP till May 2015.  Outstanding housing loans were up 1.1% during the year to May 2015, and up 6.5% in 2014, rising to SG$ 179.36 billion (US$ 131.42 billion), according to the Monetary Authority of Singapore (MAS).
Interest rates on housing loans have fallen significantly since the late ´90s.  Interest rates on 15-year housing loans were 3.1% (April-May 2015) after rising from a low of 2.93% in January 2015.
In contrast to falling housing loan interest rates, Singapore´s prime lending rate has been stable at 5.35% since January 2014, and previously was at 5.38% since January 2008.  As a bank's best (prime) customers like large corporations are relatively inelastic to interest rate change, tweaking the prime lending rate has miniscule impact on inflation. Hence, banks keep a more or less stable prime lending rate.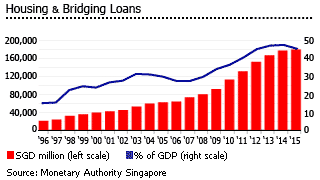 On the other hand, housing loan interest rates, though priced in relation to the prime lending rate (PLR), are tweaked more often to rein in inflation, as housing borrowers are more sensitive to interest rate changes, and the change in their demand for funds has a considerable impact.  Variable interest rate mortgages dominate Singapore´s market, so that interest rate changes can have a rapid and dramatic effect on households with mortgages.
Tweaking the rate on mortgages, plus government restrictions on land use and ownership, has helped pre-empt a housing boom despite sharply lower interest rates over 8-9 years.
In Singapore, variable interest rate mortgages are pegged to Singapore inter-bank offered rate (SIBOR).  A typical SIBOR-pegged adjustable rate mortgage looks like this:
| | |
| --- | --- |
| Period | Interest Rate (p.a.) |
| First Year | 0.75% + 1-Month SIBOR |
| Second Year | 0.75% + 1-Month SIBOR |
| Third Year | 1.00% + 1-Month SIBOR |
| Fourth Year Onwards | 1.25% + 1-Month SIBOR |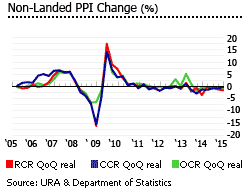 The mortgage interest rate therefore comprises two parts a) spread or margin b) index, typically the Singapore interbank offered rate (SIBOR).
The Singapore government has other weapons in its armoury.  It also controls supply and zones land use through Government Land Sales (GLS) tenders. In addition, the Singapore Land Authority (SLA) restricts foreign ownership of landed property. 
The rental market is a tenant's market
The weak demand for homes-for-sale has had a spillover effect on the rental market, as unsold housing inventory competes with existing rental stock for a limited pool of existing tenants.  On the demand side, expatriate arrivals are down due to tighter immigration policies. 
In Q1 2015, rental index of private all-residential properties fell by 1.67% q-o-q, after falling by 1% the previous quarter, according to the URA. Over the same period, rental index of non-landed private residential properties fell by 1.84% q-o-q in Q1 2015, its sixth consecutive quarter of decline.
Rents in all three regions fell:
rents fell by 4.9% y-o-y in Core Central Region
fell by 2.07% y-o-y in the Rest of Central Region
fell by 3.5% y-o-y in Outside Central Region  
Singapore has a small private rental sector, mostly serving expatriates. In the local sector 81% of all rental units are owned by the HBD. Average rental yields in Singapore are poor, ranging from a minimum of 2.7 % in Core Central Region to a maximum of 3.9% p.a. in Outside Central Region.
Region-wise average rental yields in Q2 2015 are as follows:
Core Central Region are 2.7 % to 3.5%,
Rest of Central Region are 2.8% to 3.6 %.
Outside Central Region are 3.2 % and 3.9 %
(Source: Orange Tee Consultancy)
For high-end Singapore Centre condominiums yields range from 1.94% to 2.98%, according to the Global Property Guide
Singapore Centre Condos
Cost US $  (To Buy)
Monthly Rent US $
Yield (p.a.)
70 square metre
1,028,510
2,557
2.98%
120 square metre
1,731,960
3,905
2.71%
200 square metre
2,975,200
6,060
2.44%
350 square metre
5,325,600
8,607
1.94%
Holland Road, River Valley Road, Orchard Road and Tanglin Road
Source: Global Property Guide, 24th May 2015
Rents of Savills high-end non-landed residential homes dipped 1.5% during the latest quarter.  In 2014, accessible and spacious condominiums sprouted in the Outside Central Region, and according to Joseph Tan, Executive Director of residential, CBRE many expatriates have relocated from Core Central Region to suburban and fringe areas in Outside Central Region.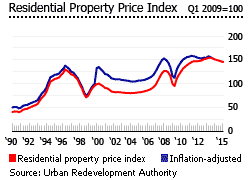 "Nevertheless, there is still this crème de la crème of senior management and business owners who are inelastic to rental increases and where uber high-end, luxury residential remains their only choice of residence. Core Central Region was meant for the deep-pocketed expatriate. For this category of tenants, only a select number of developments in the Draycott, Claymore and Nassim areas would meet their needs and hence rents in these developments are unlikely to budge from their elevated levels", said Savills Research.
Despite the slower economic expansion, rental contract volumes rose 13.5% y-o-y to Q1 2015.   The growth of rental contracts in the Outside Central Region was particularly high at 19.1% y-o-y, according to Savills Research. 
Housing supply will soon taper off, restoring market balance
Singapore´s housing market will soon be in supply/demand balance, forecasts UOB Global Economics and Markets Research.  This is despite the fact that there will be 14.5 % increase in housing units (public and private inclusive) over next four years, and population growth of only 1.5% per annum, because housing supply will start to taper off after 2017, and reduced supply will meet increased demand.
The government has held back on land sales and reduced the Build-To-Order (BTO) flat supply, reversing a ramping-up of its BTO programme over the last three years. This government restraint, plus flat supply, seems to have prompted an unexpectedly high winning bid of SG$ 787 per square feet (US$ 571) per plot ratio in the 1H 2015 Government Land Sales (GLS) Program - a price not seen in preceding GLS tenders, which suggests that developers' optimism is back.
"Given our expectation of a 5% to 10% further correction this year, the government could potentially review the measures at year-end. Relaxation in seller's stamp duty and selected reductions in additional buyer's stamp duty rates particularly for Singaporeans may be likely," added UOB Global Economics and Markets Research.
Foreign demand is crucial
Singapore now has the sixth-highest percentage of foreigners in the world: about 38% (2 million) of Singapore's population are foreigners. Of these 10% (o.54 million) are permanent residents, and the remaining 28% (1.46 million) expats.
Tighter immigration rules are being imposed by the government, due to strong popular disquiet. Beginning 1 September 2015 work pass holders need to meet a minimum fixed monthly salary of SG$5,000 (US$ 3,630) to sponsor the stay of their spouse/ children here (on Dependant's Pass) and a minimum fixed monthly salary of  SG$10,000 (US$7,260) to sponsor the stay of their parents here (on Long Term Visit Pass).
A total of 623 units were purchased by non-Singaporeans in Q1 2015, which was about 27% less than the 858 transactions recorded in Q4.  Mainland Chinese buyers now form the largest group of non-Singaporean buyers at 27%, followed by Malaysians (25%), Indonesians (10%) and Indians (10%).
Singapore high-end homes are attractively priced, as they have posted a bigger price drop compared with properties in the suburbs. Homes above SG$ 5 million (US$ 3,630,295 million) accounted for 19% of private homes bought by foreigners in April 2015.
"Despite facing higher stamp duties to buy properties in Singapore, foreign investors are drawn to the Republic´s transparent property market," says Lee Nai Jia, associate director, research, at DTZ.  "There is also more smart money flowing in, as investors want value-for-money properties."
Hong Kong has introduced similar property-cooling measures as Singapore, and Hong Kong has already seen a strong rebound in home prices over the past one and a half years.
Singapore citizens  and Singapore Permanent Residents  pay lower additional buyer´s stamp duty on residential property acquisitions than foreigners depending on the number of properties owned. For Singapore citizens and Singapore Permanent Residents the maximum rate of additional buyer seller duty is 10% and for foreigners it is a flat rate of 15%). US citizens are however treated the same as Singapore citizens for additional buyer's stamp duty, under the US-Singapore Free Trade Agreement, that is, no additional buyer's stamp duty is payable on the first Singapore residential property purchase.
"Prices are still at a low point and there are a lot of savvy, rich people on the lookout for good investment opportunities to take a position just before the market turns. This is the correct time for the rich (to enter the market)", added Mr.George Tan Senior Director, Savills Residential.
Economic growth will be modest in 2015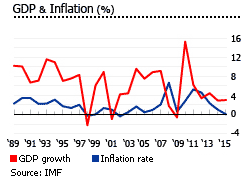 Singapore´s economy expanded by 1.7% during the year to Q2 2015 (according to advance estimates by the Ministry of Trade and Industry).  GDP growth is projected at about 3% in 2015, according to the International Monetary Fund (IMF).
In the first quarter of 2015, unemployment (seasonally-adjusted) fell to 1.8% from a 2010-2014 average unemployment rate of 2%, according to the Ministry of Manpower (MOM).
In May 2015, inflation was -0.4%.  Inflation was 1 % in 2014, 2.4 % in 2013, 4.6% in 2012, 5.2% in 2011. It is estimated it will be 0% in 2015, according to the IMF.
The country's central bank, the Monetary Authority of Singapore, maintained its tight monetary policy in April 2015, allowing a "modest and gradual" appreciation of the Singapore dollar nominal effective exchange rate (S$NEER) policy band.
The exchange rate in June 2015 was USD1 = SGD1.3457.
"The global IT industry is expected to benefit from firmer demand in the developed economies in 2015," said MAS.
"Stronger economic activity in Europe and Japan is also expected to provide support for goods and services exports. Some strengthening of global oil prices in the latter half of the year could provide support to the oil-related manufacturing segments, which saw a pullback following the collapse in oil prices late last year," added MAS.
"The inflation outlook this year will be very much benign and like what the MAS said in their macroeconomic review, I think the inflation may be ticking upwards slightly at the end of this year and going into 2016, because the labour market in Singapore remains tight and there are certainly avenues and opportunities for costs to be passed through from wages to prices.", said Francis Tan of United Overseas Bank.