Massive recovery in Singapore prompts housing bubble fears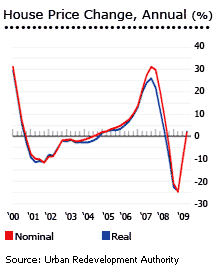 After residential property prices in Singapore surged 15.75% in Q3 2009, the government warned against speculation, and the formation of a property bubble. From a six-year low of 953 housing units sold in Q4 2008, sales soared to 10,120 units in Q2, and 11,518 units in Q3 2009.
After strengthening from 2005 to 2007, house prices in Singapore fell in 2008 due to the global financial crisis and the ensuing economic slowdown. As global demand slumped, Singapore's economy contracted 9.5% during the year to Q1 2009, and there was a 24.9% house price fall during the year to Q2 2009 (24.5% in real terms).
In Q3 2009, the economic cycle reversed, and Singapore's GDP rose, if only by 0.8% y-o-y.  Prospects of an economic recovery, combined with low borrowing costs, have set off a massive increase in house prices.
Government warns: we'll manage the housing cycle
In September 2009, the government imposed policies to cool the housing market, including measures making it more difficult for households to delay mortgage payments.
"We do want to manage the property cycle as best we can, prevent boom and bust," said Finance Minister Tharman Shanmugaratnam, while admitting that it is difficult to predict the property needs of the city-state in advance.  The government is exploring the use of other policies to manage the house price cycle, such as adjusting land supply, modifying rules on credit, and in severe cases, amending the country's tax policies, he added.
The Monetary Authority of Singapore (MAS) noted in its latest Financial Stability Review, released November 2009: "As Singapore emerges from recession and with the market expecting low interest rates to persist for some time, the risk of a renewed escalation of speculative momentum cannot be discounted."
A history of successful state intervention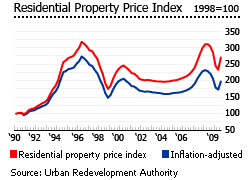 A major goal of Singapore's government is to promote home-ownership. The government has been able to increase the home ownership rate from 27% in 1970, to its present level of around 91%, through the Housing and Development Board (HDB), Urban Redevelopment Board (URB), Monetary Authority of Singapore (MAS) and the CPF.  80% to 90% of Singaporeans live in HDB flats.
Rapid economic growth and the immense demand for housing led to rapid increases in house prices in the 1980s to 1990s. From 1986 to 1996, there was a 440% increase in the private residential price index.
In 1993, the housing financing policy for resale HDB flats was liberalized, as part of government moves to curb property speculation. Flats were allowed to be financed based on market prices and not HDB-listed prices that were substantially lower. In response, the number of flats available to the private sector jumped from 78,012 units to 129,106 in 1995.
The increased supply, plus the intense campaign against speculation, combined with the effects of the Asian crisis, led to a 45% fall in prices in just two years (1996-1998). The housing market slightly recovered between 1998 and 2000, but global events soon plunged it back into crisis.
The boom-bust cycle of 2007-2009
Property prices started to rise in 2005, but only really took off in 2007.  Singapore's residential property price index rose by 23.6% (20.9% in real terms) in 2007, after 2006's 7.15% rise (6.1% in real terms).  Property prices in prime districts rose considerably more.
Policies implemented in 2005 significantly boosted the housing market:
The relaxation of foreign ownership rules on apartments
An increase of the maximum loan-to-value ratio from 80% to 90%
A reduction of cash down payments from 10% to 5% for home purchase
Allowing non-related singles to use their Central Provident Fund (CPF, a social security pension scheme) to jointly purchase residential properties.
In 2008, inflationary pressures from high global fuel and commodity prices, and the global financial crisis, pushed prices down.  Singapore is a regional financial center and layoffs by global financial institutions have a major impact. Transaction volumes fell sharply.  Vacancy rates inched upward.  Singapore's residential property price index fell by 4.7% (-9.6% in real terms) in 2008.
Improved economic conditions and lower interest rates led the housing market to quickly recover in 2009. The number of residential units sold in Q2 and Q3 2009 reached 21,638, significantly higher than the 13,642 units sold all year in 2008. 
The surge in housing demand prompted renewed fears of a property bubble. The MAS stated in its Financial Stability Report that "Sub-sale transactions as a share of all transactions, a proxy for speculative activities, averaged 11% over Q2 and Q3 2009, which was below the peaks seen in 1996-1997 but close to the 13% average seen during the buoyant property market in 2007-2008." Further, they noted "There were also reports of overnight queues at showflats and private residential projects being sold-out within days."
In September 2009, the government imposed anti-property speculation measures which include
reinstating the Government Land Sales (GLS) Confirmed List in H1 2010, and replenishing the supply of Reserved List sites in the GLS;
disallowing the Interest Absorption Scheme and interest-only loans; and
 non-renewal of assistance measures for property developers announced in the 2009 budget, when these expire early next year.
Interest rates stable, managed via exchange rate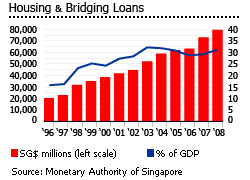 The Central Provident Fund (CPF), Singapore's mandatory social security savings program, has been at the centre of the homeownership campaign. CPF contributions can be withdrawn, among other things, to purchase housing.
From 2002 to 2006, housing purchases accounted for around 55% to 60% of CPF withdrawals. Around 50% of the SG$11.562 billion (US$7.8 billion) withdrawn from the CPF in 2007 was used for housing purchases.  Of this,  SG$4.679 billion (US$3.17 billion) was spent on public housing purchases, and SG$1.189 billion (US$806 million) to buy other housing units.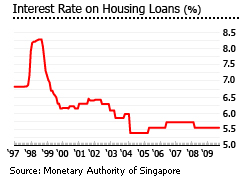 Singapore's mortgage market is one of the most developed in Asia. Outstanding housing loans were around SG$79.6 billion (US$57.3 billion) in 2008, or approximately 30.9% of GDP. 
Interest rates are relatively stable in Singapore, as monetary policy is implemented through the exchange rate, i.e. the foreign exchange rate is used to adjust economic growth and inflation.  The interest rate on housing loans has been 5.56% since March 2008, down from 5.73% imposed from June 2006 to Feb 2008.  Low and stable interest rates have provided security for borrowers, even though variable interest rate mortgages dominate the market.
The rental sector is small, yields are low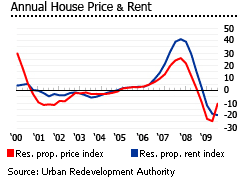 With the most successful home-ownership program in the world, the rental sector in Singapore is very small, mostly serving expatriates. The local private rental sector is much smaller, because the HDB still owns about 81% of all rental units.
Rent increases have typically lagged property price changes in Singapore, leading to low yields. For instance, residential prices rose almost 100% between 1990 and 1996, but rents rose by only 52%.
However in the most recent boom, the sudden influx of expatriates led rents to rise faster than property prices. From Q2 2004 to Q2 2008, the residential rental index rose by 82% while the price index rose by only 58%. When the residential price index started falling, the rent index also fell but at a slower rate (24.9% vs. 18.6%, respectively from Q2 2008 to Q2 2009).
The recent 15.75% q-o-q house price growth to Q3 2009, however, has not been matched by rentals, and the rentals index fell 2.2% during the quarter.
Nevertheless, rental yields remain relatively low in Singapore. Global Property Guide research shows that rental returns in Singapore range from 2.9% to 4.3%, with smaller units earning higher yields. The average rental yield of 3.5% in May 2009 was unchanged from last year.
Foreign buyers are important
Foreign buyers are slowly returning to the private home market, accounting for around 22.7% of total sales in Q3 2009, according to a study by Savills Singapore, a real estate company. Although the latest figure was higher than the long-term average, it was lower than the estimated 33% of all buyers in 2007. From 2000 to present, an average of 19.7% of properties in Singapore were sold to foreign buyers.
Malaysians and Indonesians were the biggest foreign buyers in Q3 2009. Chinese buyers dislodged Indians from third place, with the latter moving to fourth place.
In 2007, Indonesians accounted for 23% of all foreign buyers, followed closely by Malaysians at 17%. Other nationalities such as Indians (12%), Britons (8%), Chinese (7%) and Koreans (7%) were also represented, according to DTZ, another real estate firm
Singapore has experienced an influx of expatriates, and some foreigners have preferred to buy rather than face escalating rentals, especially if they are going to be in Singapore for more than a couple of years.
Foreign buyers, including permanent residents, tendered 2,448 caveats for private homes in Q3 2009, the first step toward purchasing a home. The volume of caveats for Q3 was up from 1,807 caveats during Q2, and a mere 498 in Q1 2009, according to Savills. Permanent residents purchased 1,389 homes in Q3 2009.
The economic recovery is driving the market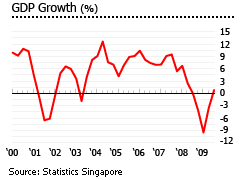 Strong economic growth boosted Singapore's housing market in the past; with 7.7% GDP growth in 2007, following 7.9% in 2006, 6.4% in 2005 and 8.7% in 2004.
However, the sudden spike in food and fuel prices in the first half of 2008 halted Singapore's economic growth.  Inflation soared from an average of 2.09% in 2007 to around 7.5% from April to June 2008, the highest inflation rate for 26 years. Although inflation eased to 4.37% in December 2008, it was still beyond the government's target.
The global financial crisis then seriously hit Singapore's export-dependent economy.  By Q3 2008, the economy was officially in recession. GDP contracted by 2.1% in Q3 and 16.4% in Q4 2009, in an annualised seasonally adjusted quarter-on-quarter basis. Overall, economic growth for 2008 was just 1.15%.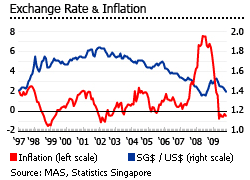 In response, the Monetary Authority of Singapore (MAS) shifted its foreign exchange policy from "modest and gradual appreciation" to "zero per cent appreciation." The monetary authorities said that the move was intended to boost competitiveness and economic growth. The government also increased public spending and extended wage subsidies to private employers.
As the global economy has improved, Singapore's economy has picked up. GDP surged 22% in Q2 and 14.9% in Q3 2009, on an annualised seasonally adjusted quarter-on-quarter basis. Nevertheless, Singapore's GDP is expected to contract by around 3% in 2009, before posting 4% growth in 2010.
The economic recession has also pushed Singapore into deflation, with prices falling by an average of 0.47% y-o-y in Q2 and Q3 2009.