Tonga: Overview
Sep 27, 2007
The Kingdom of Tonga (pop. 103,000; GDP/cap US$2,280) lies between Fiji and Niue, to the east of Australia, just below Samoa, in the southern Pacific Ocean. Tonga is the last Polynesian monarchy in the Pacific. Tonga is consists of more than 150 islands and is often called as "Friendly Islands", the name given by Captain Cook because of the friendly reception he received.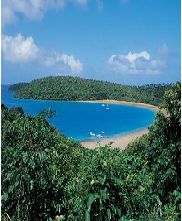 In contrast to other Pacific island countries, there is no customary land in Tonga. Tonga practices a somewhat feudal system of land ownership. All land in Tonga belongs to the King, and then the King may grant to nobles and titular chiefs one or more estates to become their hereditary estate. The ownership of the said estate is passed only to the male members of the family or clan. Every male over 16 years old is entitled to 8.25 acres of agricultural land and a small allotment to build his house.

Foreigners may lease land for up to 99 years, subject to the approval of the Cabinet. Estate holders are allowed to lease only five percent of the total area of their estate. It is not permitted to sell any land.