Solomon Is.: Overview
Oct 01, 2007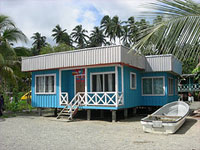 Made up of 992 islands, the Solomon Islands (pop. 508,000; GDP/cap US$592) is the third largest archipelago in the South Pacific. The Solomon Islands lies northeast of Australia. The capital city of Honiara, situated on Guadalcanal, the largest island, has over 30,000 inhabitants. The other principal towns are Gizo, Auki, and Kirakira. The country is a British Commonwealth.

More than 90% of the islanders are ethnic Melanesians, but there has been intense and bitter rivalry between the Isatabus on Guadalcanal and migrant Malaitans from the neighboring island. Fighting broke out in 1998. In 2000, Australia intervened to restore law and order.

Conflict on land is the major cause of civil unrest. Land is a major issue and an integral part of the Solomon Islanders? way of life. The islanders are reluctant to provide land for nontraditional economic undertakings, and this has resulted in continual disputes over land ownership. One of the most important characteristics of Solomon Island?s culture is that its people have a very strong attachment to their land.

About 95 percent of land in the Solomon Islands is owned by indigenous people, by clan or lineage. These communal lands may be leased with the government acting as agents. The terms of lease may reach up to 75 years for private commercial use. But this does not guarantee that a right to lease is easily obtained. Conflicting claims to the same parcel of land arise often, and can lead to disputes, slowing the business process and adding to costs.