New Zealand's housing market is cooling rapidly, with house price growth slowing to its weakest pace in seven years. During 2018, the nationwide median house price rose by just 1.5% to NZ$560,000 (US$381,847), according to the Real Estate Institute of New Zealand (REINZ), a sharp slowdown from year-on-year rises of 6.28% in 2017, 13.85% in 2016 and 11.49% in 2015.

When adjusted for inflation, house prices actually declined by 0.4% in 2018 from a year earlier.  And during the latest quarter, house prices increased a meagre 0.72% (0.61% inflation-adjusted).

Why the reversal? A ban on buying by non-resident foreigners was recently introduced. Days-on-market are rising. Construction activity has been continuously increasing in the past seven years. And, frankly, house prices have become very high - especially in Auckland.

Auckland, which accounts for about 25% of total property sales in New Zealand, saw almost no price movement in 2018 from the previous year. Moreover, very minimal house price growth was registered in Waikato (1.2%), Southland (1.4%), and Bay of Plenty (2%).

The highest price increase was recorded in the West Coast, with prices surging by 18.4% during 2018. Double digit house price hikes were also observed in Nelson/Marlborough/Tasman (16.8%), Gisborne (15%), and Manawatu/Wanganui (11.7%).

Strong to modest house price rises were seen in Hawke's Bay (9.3%), Northland (9.1%), Taranaki (8.6%), Wellington (8.1%), Otago (7.5%) and Canterbury (4.6%).

Auckland has average prices of NZ$ 862,000 (US$ 587,772) - the country's most expensive - followed by Bay of Plenty, with an average price of NZ$ 610,000 (US$ 415,941), and Wellington, with an average price of NZ$ 605,000 (US$ 412,872).

The cheapest housing can be found in West Coast, with an average price of NZ$ 219,000 (US$ 149,330), followed by Southland (NZ$ 250,000 or US$ 170,468), Manawatu/Wanganui (NZ$ 320,000 or US$ 218,198), and Gisborne (NZ$ 338,000 or US$ 230,472).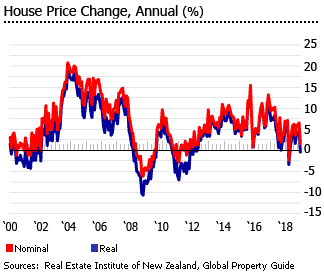 New Zealand saw spectacular house price rises of about 114% (82.6% inflation-adjusted) from 2001 to 2007. Then after a pause, there were six further years of substantial price rises 2012-2017, supported by strong economic growth. Because of this, housing in New Zealand has become really expensive, for a country with such a small population relative to its landmass.

New Zealand's economy expanded by over 3% in 2018, according to the International Monetary Fund (IMF). For the last four years, the economy's performance has been the strongest since 2007, with growth of 3% in 2017, 4.1% in 2016, 4.2% in 2015 and 3.2% in 2014. The economy is projected to grow further by 3% this year and by another 3.1% in 2020.


Analysis of New Zealand Residential Property Market »
Good rental returns in Wellington and Auckland
Last year, we found that the best rental returns available on apartments in Wellington had moved slightly ahead of Auckland. This may reflect a jump in prices of larger properties in Auckland, which would tend to reduce the rental returns. "Foreign buyers are mostly drawn to the Auckland area", explains Bill Sandston, a real estate lawyer.

In Wellington, the capital of New Zealand, rental yields on 1 and 2 bedroom houses are now around 5.5%. Apartments, and particularly smaller apartments, tend to earn more - last year we found returns of from 6.88% to 8.43%

In Auckland, last year we found that rental yields on apartments ranged from 6.09% to 7.18%.

Property transaction costs analysis in New Zealand are rather low, and in regional terms, the total costs of buying and then selling a property are very attractive.
Rental income tax is high in New Zealand
Rental Income: Rental income is taxed in New Zealand at progressive rates, from 10.5% to 33%.

Capital Gains: Capital gains are not normally taxed in New Zealand.

Inheritance: There is no estate duty payable in New Zealand.

Residents: Residents are taxed on their worldwide income at progressive rates, from 10.5% to 33%.
Buying costs are relatively low in New Zealand
Total transaction costs are relatively low at 4.23% to 4.80%, of which 3.5% to 4% (plus 15% GST) goes to the real estate agent as commission. The buyer pays the registration fees while the seller pays the agent's commission. Each party pays for their lawyers. There are no stamp duties. There are only two procedures needed to register a property and each procedure takes a day to complete.
Tenant protection laws are neutral in New Zealand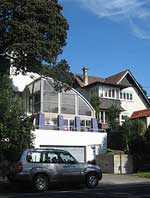 New Zealand law is neutral between landlord and tenant.

Tenancy Laws: The Residential Tenancies Act 1986 guarantees the rights of both parties and sets the parameters of their relationship.

Rent: Landlord and tenant can freely agree on the rent, and any increases are allowed provided that the landlord gives sufficient notice or there has been no rent increase over the last six months. A tenant can call upon a Tenancy Tribunal for rental assessment if he thinks the increase is excessive.
Robust economic growth; healthy government finances
New Zealand's economy expanded by over 3% in 2018, according the IMF. For the last four years, the economy's performance has been very strong, with growth of 3% in 2017, 4.1% in 2016, 4.2% in 2015 and 3.2% in 2014.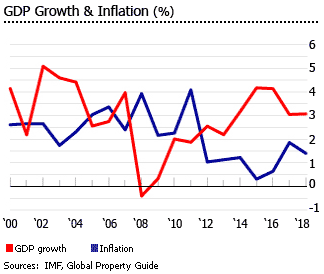 After the Asian financial crisis New Zealand experienced years of unbroken economic growth. The economy grew by an average of 3.8% per year from 1999 to 2007.
During the recent global crisis the economy contracted only briefly and mildly - by 0.4% in 2008. The economy grew slightly by 0.3% in 2009. New Zealand emerged swiftly from recession, after only five quarters of negative GDP.
The economy is projected to grow further by 3% this year and by another 3.1% in 2020, according to the IMF.
The government recorded a surplus of NZ$ 5.5 billion (US$3.75 billion) in the 2018 fiscal year, up by NZ$ 1.4 billion (US$ 0.95 billion) from the previous year, according to the Treasury. This was a little below 2% of GDP in 2018.
New Zealand's net external debt continues to fall, at around 19.9% of GDP in the 2017-18 fiscal year, a decline from 22.2% in 2016-17 and 24.4% in 2015-16.
Unemployment stood at 4.3% in Q4 2018, up from 4% in the previous quarter but down from 4.5% a year earlier, according to the
Statistics New Zealand
. There were about 120,000 unemployed people in Q4 2018.
Inflation was up by 1.9% during the year to Q4 2018, unchanged from the previous quarter but down from 1.6% a year ago. The current inflation is within the RBNZ's target range of 1% to 3% for 2018.