New Zealand's great house price boom continues strong, buoyed by ultra-low interest rates, as well as limited housing supply. During the year to November 2021, the nationwide median house price soared by 23.83% to NZ$ 925,000 (US$632,885), according to the Real Estate Institute of New Zealand (REINZ), following a y-o-y rise of 18.63% in 2020 and 12.14% in 2019.

When adjusted for inflation, house prices rose by 18.56% y-o-y in November 2021.

Auckland, which accounts for about 30% of total property sales in New Zealand, saw a house price growth of 26.2% during the year to November 2021.

The highest price increase of all was in the West Coast, where prices surged 42.9% y-o-y to November 2021, followed by Canterbury (31.4%), Gisborne (29.2%), Waikato (27.6%), Northland (26.5%) and Taranaki (26.2%). There were also double-digit house price hikes in Hawke's Bay (25.8%), Manawatu/Wanganui (24.8%), Wellington (21.8%), Bay of Plenty (20%), Marlborough (19.5%), Otago (16.1%), and Tasman (14.9%). House prices also increased in Nelson and Southland, by 9.9% and 9.6%, respectively.

"The market has settled back into its stride — returning to business as near-usual across the board. November shows an active market where property prices continue to increase, stimulated by demand as New Zealand prepared to leave Alert Levels behind," said Jen Baird, chief executive of REINZ.

Auckland has the most expensive housing in New Zealand, with an average price of NZ$ 1,300,000 (US$889,459) in November 2021. It was followed by Wellington, with an average price of NZ$ 962,500 (US$658,542), Bay of Plenty, with an average price of NZ$ 900,000 (US$615,780), and Tasman, with an average price of NZ$ 890,000 (US$608,938).

Even coronavirus has not been enough to stop this strong growth. Housing in New Zealand has become really expensive, for a country with such a small population relative to its landmass.

The cheapest housing can be found in the West Coast and Southland, with average prices of NZ$ 350,000 (US$239,470) and NZ$ 435,000 (US$297,627), respectively.

New Zealand saw spectacular house price rises of about 114% (82.5% inflation-adjusted) from 2001 to 2007. Then after a pause, there were nine further years of substantial price rises 2012-2021, supported by strong demand and economic fundamentals.

Demand remains strong.  In November 2021, property sales in New Zealand were up 12.4% from the previous month but down 18% from a year earlier, according to REINZ - yet it remains the second-highest November month sales since 2006 – the highest was November 2020.

In Auckland, the number of properties sold reached 3,102 units in November 2021, up 16% from the previous month but down 19.6% a year ago.
For New Zealand excluding Auckland, property sales fell 17% y-o-y to 5,279 units but it was the highest sales count since April 2021.

Nationwide, the number of days-on-market remained steady at 29 days in November 2021 from a year ago, according to the REINZ.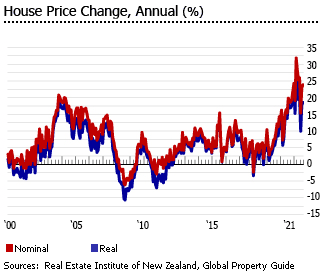 "Inventory levels across New Zealand increased 5.1% from November 2020. Good news for buyers who will benefit from greater choice. While the uptick is welcome, when the amount of inventory is compared to the number of sales, we see eleven of the sixteen regions have 10 or less weeks of inventory available, suggesting that supply-side pressure on prices remains," said Baird.

New Zealand's economy contracted by a modest 2.1% during 2020, in contrast to its robust economic performance in the past decade, with growth of 2.2% in 2019, 3.2% in 2018, 3.8% in 2017, 4.2% in 2016, 4.1% in 2015 and 3.2% in 2014. The economy is expected to grow by 5.1% in 2021, according to the International Monetary Fund (IMF).