No end in sight for New Zealand's great house price boom
Lalaine C. Delmendo | February 24, 2021

New Zealand's house price rises continue to accelerate, buoyed by ultra-low interest rates, as well as limited housing supply. During 2020, the nationwide median house price soared by 19.3% to NZ$ 749,000 (US$ 532,656), according to the Real Estate Institute of New Zealand (REINZ), a sharp improvement from y-o-y rises of 12.3% in 2019 and 1.8% in 2018.

When adjusted for inflation, house prices rose by 18.1% in 2020. And during the latest quarter (Q4 2020), house prices increased by 8.7%.

Auckland, which accounts for about 30% of total property sales in New Zealand, saw a strong house price growth of 17.4% during 2020.

The highest price increase was in West Coast, where prices surged by 50% during 2020, followed by Gisborne (43.9%), Manawatu/Wanganui (31.18%),Hawke's Bay (27.31%), Northland (25.23%), and Marlborough (20%). There were also double-digit house price hikes in Otago (19%), Wellington (18.58%), Waikato (16.88%), Canterbury (16.52%), Taranaki (16.28%), Southland (13.64%), Bay of Plenty (13.39%), Nelson (12.73%), and Tasman (12.21%).

Auckland has average prices of NZ$ 1,040,000 (US$ 739,603) - the country's most expensive - followed by Wellington, with an average price of NZ$ 812,251  (US$ 577,638), and Tasman, with an average price of NZ$ 735,000 (US$ 522,700).

The cheapest housing can be found in the West Coast, with an average price of NZ$ 285,000 (US$ 202,680), followed by Southland (NZ$ 375,000 or US$ 266,684), Taranaki (NZ$500,000 or US$355,578), and Manawatu/Wanganui (NZ$ 528,000 or US$ 375,491).

New Zealand saw spectacular house price rises of about 114% (82.5% inflation-adjusted) from 2001 to 2007. Then after a pause, there were nine further years of substantial price rises 2012-2020, supported by strong economic growth. Because of this, housing in New Zealand has become really expensive, for a country with such a small population relative to its landmass.

Despite the pandemic, demand remains very strong buoyed by very low interest rates. Property sales in New Zealand surged 36.6% to 8,935 units during the year to December 2020, according to the REINZ. In Auckland, the number of properties sold soared 66% y-o-y to 3,219 units over the same period.

The limited supply of homes in the market puts further pressure on prices. In December 2020, the number of properties available for sale fell by 29.1% y-o-y to 12,932 units – the lowest level of inventory since records began, according to REINZ.

Worse, the growth in construction activity is slowing, with the number of new dwelling consents rising by less than 3% y-o-y in the first eleven months of 2020, a sharp slowdown from an annual average growth of 14% in the past eight years, according to Statistics New Zealand.

"Currently we have half the inventory levels we had back in December 2018. Therefore, there just isn't enough choice for people looking to purchase which has meant that there is significant pressure being placed on house prices in most parts of the country," said REINZ CEO Bindi Norwell. "When you add into the equation the fact that there are record low interest rates, it means that people are more willing to compete to secure the property they want."

The median number of days to sell a house dropped to just 27 days in December 2020, down from 31 days in the same period last year and the shortest since 2003.

"This lack of choice and high levels of confidence is also causing properties to be sold at the quickest pace we've seen in 17 years," Norwell noted.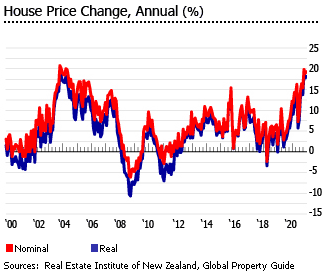 New Zealand's economy was estimated to have contracted by 6.1% in 2020 due to the COVID-19 pandemic, according to the International Monetary Fund (IMF). This is in contrast to its robust economic performance in the past decade, with growth of 2.2% in 2019, 3.2% in 2018, 3.8% in 2017, 4.2% in 2016, 4.1% in 2015 and 3.2% in 2014.

The economy is expected to recover this year, with a growth forecast of 4.4%, based on IMF forecast.