Autonomous but French
September 13, 2006
French Polynesia appeals to romantics, to travelers interested in the classic South Pacific experience - great beaches, clear water, spectacular scenery, overwater bungalows and friendly, interesting people. Unfortunately, the cost of living is extremely high, and real estate prices are high.

In 2004, French Polynesia became an "overseas country within the French Republic." A key motive for autonomy was to protect local employment and land rights, in the face of the thousands of people coming to French Polynesia from France and other European countries. The autonomy law restricts the right to buy landed property to those residing in the territory. How long they must have resided is not yet clear, but it is likely to be between 5 and 10 years.

Even before these recent changes, it was very difficult for a foreigner to buy land. Each foreign investment requires an authorization from the government.

In addition, Polynesian land titling is problematic. As elsewhere in the region, there are usually many owners, and all must give their permission to sell, which is often impossible to achieve. Polynesians are very attached to the land of their ancestors, and often have no interest in selling.

A third warning - construction quality is often low.


Analysis of French Polynesia Residential Property Market »
Yields are low at 4% in French Polynesia
The past four years have been good to Tahiti, pushing prices higher and higher. Property prices are around €2,300 to €3,000 per sq. m. (US$2,900 to US$3,800), at par with some Caribbean islands.

A 200 sq. m. property might cost around €520,000 (US$660,000).

However, rents are generally low. The rent for the same 200 sq. m. house might be just €1,600 (US$2,000) per month, producing a yield of 3.7%. The very smallest properties might yield more, perhaps 4.7%.

The currency is fixed to the Euro at €1 = 119.3 F CFP
French Polynesia has no income tax, but plenty of other taxes
Rental Income: There is no personal income tax in French Polynesia, and no wealth tax either.

However, there are a multitude of other taxes.

Property rentals of any description are taxable at a progressive rate from 1.5% to 11%. Real estate leases of less than 18 years are subject to a Registration Fee of 2%.

In addition, buildings are subject to Property Tax, llevied at 10% of the tax base (75% of the rental value).

Capital Gains: There is no capital gains tax, except on bare land. Profits from land sales are taxed at 20% if the land is sold within the first three years, at 10% if land is sold within three to five years.

Inheritance: There are no inheritance or gift taxes.

Residents: Residents are treated in the same way as non-residents for taxation purposes.
Total transaction costs are high in French Polynesia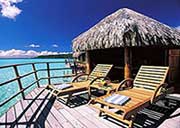 Round-trip transaction costs, i.e., the total cost of buying and selling a property, are around 17.55% to 25%. Each foreign investment requires an authorization permit (issued by a notary) from the government of French Polynesia.

Smaller projects and private investments undergo a much more intense approval process due to the fact that most of them will never create jobs or add to the local economy. These projects are notoriously difficult to obtain permits for.
French Polynesia follows the pro-tenant French law
As an Overseas Country within the French Republic, French tenancy law is applied within the islands, and the law is very pro-tenant.

Rent: Though the initial rent can be freely agreed, the rent can only be revised once a year, and not more than the increase in the (new) INSEE rental index.

Tenant Security: An unfurnished property contract has, as a minimum, a three-year term, though furnished property contracts may be for one year. Eviction through the legal system takes a long time.
Autonomy and politics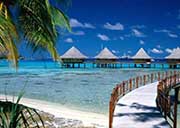 French Polynesia is made up of 118 volcanic and coral islands and atolls. Some of the atolls were used for nuclear testing by France until 1996. The UN's nuclear watchdog measured the radiation around the islands in 1995 and found no imminent danger. Despite a high level of standard of living, wealth distribution is highly unequal and unemployment is high.
The island chain consists of 35 islands and 83 atolls, grouped into 5 archipelagos. It is popularly (although incorrectly) dubbed "Tahiti" after its largest and most populous island. The widely dispersed archipelagos -the Marquesas, the Tuamotus, the Society Islands, the Australs and the Gambiers -differ considerably in culture, ethnicity and climate. Most popular with tourists are the "Society Islands" which consist of Tahiti, Moorea, Huahine, Bora Bora, Tahaa and Raiatea (plus a collection of smaller, less developed islands).
Autonomy was a triumph for former President Gaston Flosse, who had led the French Polynesian government since 1991 and doubled as a French senator. Flosse, who had a strong emotional loyalty to France, skillfuly co-opting local nationalism by advocating increased autonomy, in contrast to independence.
However to the surprise of everyone, including himself, in June 2004 longstanding nationalist Oscar Temaru won the Presidency. But in October his government fell, and Flosse resumed the presidency - only to have his legitimacy challenged in France's highest administrative court. Fresh elections were held, which Temaru won, becoming President again in March 2005.
French Polynesia is subject to much of normal French law, but has many local peculiarities. In matters of taxation, French Polynesia is totally autonomous. It is represented in the French parliament by two deputies and a senator. The islands are also represented at the European Parliament.