Fiji has limited land, and is not open to foreign ownership
September 09, 2007

The 333 islands of Fiji (pop. 854,000, GDP/cap US$3,415) are a top destination for tourists. In the olden days Fiji was known as The Cannibal Isles and carefully avoided by mariners because of its fierce warriors, treacherous waters and the natives' cannibalism

Now people come in their thousands to dive and swim. Fiji has a coolish heat, but is very humid. Fiji imposes certain restrictions on land purchases. Foreigners must obtain a residency permit and/or work permit. If the land to be bought is bigger than 1 acre (approx. 4,000 sq. m.), the purchase is subject to the approval of the Ministry of Lands.

Foreigners are not allowed to rent out their properties, except through a corporation. However, under the Foreign Investment Act 1999 real estate management and development are restricted activities, and the company must be at least 51% owned by Fiji citizens.


Analysis of Fiji Residential Property Market »
No yields figures for Fiji
In recent years several old plantations have been subdivided, offering beautiful pieces of property at reasonable prices.



Large 300-acre (and more) coconut plantations can be bought for around US$250,000. There are also plots of 1-5 acres from approximately US$20,000-US$95,000.

There are entire islands for sale for around US$1 million. Apartments and flats rent for around US$250 to US$350 per month, while luxury flats and homes can rent for US$3,500.
Rental income tax in Fiji is high
Rental Income: Net rental income of nonresidents is taxed at a flat rate of 20%. Nonresidents are entitled to some allowances.

Capital Gains: Capital gains tax is levied at a flat rate of 10%.

Inheritance: There are no inheritance taxes in Fiji.

Residents: Residents are taxed on their worldwide income at progressive rates, from 7% to 20%. The first FJD16,000 (US$8,000) are exempt from taxation.
Fiji's simple but slow transaction process
Freehold or land tenure is via the Torrens title land-registration system, with the title guaranteed constitutionally by the State.

The process of transferring title is relatively simple but slow. Buyers are required to fill out forms, submit police verification, and accomplish various other tasks such as paying duties. To have a sale finalized usually takes from 3 - 6 months.
Tenancy Laws
Research is ongoing.
Ethnic tension in island paradise
Ethnic tensions flared up in 1987 between Fiji's two largest groups, indigenous Fijians and Indo-Fijians, descendants of laborers brought from India by British colonizers. This led to temporary international isolation.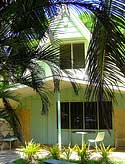 Mixing between the two groups is minimal as they live separately on the two largest islands, Viti Levu and Vanua Levu. Informal segregation runs deep in almost all aspects of society.
In the 1987 coup indigenous Fijians overthrew the elected Indian-dominated coalition. In 2000, the country's first ethnic Indian prime minister, his cabinet and several MPs were held hostage for several weeks.
This severely affected tourism, the country's main source of foreign currency. The country is still very dependent on foreign aid.