Houses in the Cook Islands are not usually for sale to foreigners
September 13, 2006

The Cook Islands is deep in the South Pacific, between French Polynesia and American Samoa. Though Captain Cook's seamen were delighted by the islands' ladies, the culture of the Cook Islands (pop 21,500, GDP PPP/cap US$5,000) has been since overwhelmed by Scottish Presbyterianism.

The tropical climate is pleasant all year round, except for the rainy and hurricane season (November - March).
The only people allowed to buy houses, aside from nationals, are those who have owned a business in the Cook Islands for the last three years.

Land in the Cook Islands is customarily owned, and cannot be bought freehold. The maximum lease obtainable by a non-Cook Islander is 60 years. All lease agreements over five years require approval from the Leases Approval Committee. Foreign Enterprise registration by the Development Investment Board is a pre-requisite for lease assignments to non-Cook Islanders.


Analysis of Cook Islands Residential Property Market »
No yields data for the Cook Islands
Average land values in Rarotonga (the Cook Islands' largest island) for a 50 year lease on a fourth of an acre section are around NZ$150,000 per annum (US$96,108).

Land leases are usually paid "upfront" for the 50 year term. If one is pushing to rent out, be aware that there is a 'lack of true lease portability' in lease contracts as provided by local laws.
Moderate to high rental
income taxes in the Cook Islands
Rental Income: Net rental income is taxed at progressive rates from 20% to 30%.

Capital Gains: Capital gains are considered ordinary income and taxed at the standard income tax rates.

Inheritance: There is no inheritance tax or estate duty.

Residents: Residents are taxed on their worldwide income at progressive rates. Tax is imposed at 25% on income exceeding NZD10,000 (US$6,849) up to NZD30,000 (US$20,548), and all income exceeding NZD30,000 (US$20,548) is taxed at 30%.
Total transaction costs
Research is ongoing.
Cook Islands tenancy law is neutral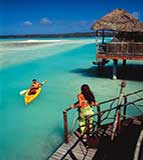 The wording of the tenancy agreement, which can be freely ageed, is what is important. The Residential Tenancy Law imposes minimal restraints on landlord and tenant.

Rent: The rent can be freely agreed between landlord and tenant, as can the term of the contract.

Tenant Security: If there is a tenancy agreement, the tenancy shall be deemed (in the absence of proof to the contrary) to be terminable at will by either of the parties, by one months' notice in writing.
Economy and geography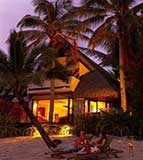 Like many other South Pacific island nations, the Cook Islands' economic development has been hindered by isolation and by the limited size of domestic markets. Periodic devastation by natural disasters, and inadequate infrastructure haven't helped. The major exports are copra and citrus fruit.
After much overspending in the 1980s and 1990s, the government has been trying to encourage more foreign investment.