Australia's housing market is surging, thanks to record-low interest rates.

House prices in the country's eight major cities soared 13.4% during the year to Q2 2021 (9.2% inflation-adjusted), to an average of AU$ 727,427 (US$537,983), according to CoreLogic Australia, up from the previous year's 8.7% y-o-y increase and the highest growth recorded since Q2 2010. It was the seventh consecutive quarter of y-o-y house price growth.

Quarter-on-quarter, house prices in the eight major Australian cities rose by 4.8% (4.1% inflation-adjusted) in Q2 2021.

Darwin saw the biggest annual growth, with the median dwelling price rising by 21% (16.7% inflation-adjusted) during the year to Q2 2021, followed by Hobart (19.6%), Canberra (18.1%) and Sydney (15%). Strong house price increases were also registered in Adelaide (13.9%), Brisbane (13.2%), Perth (9.8%) and Melbourne (7.7%).

The median price of residential dwellings in Australia was AU$645,454 (US$477,358) in Q2 2021, up 16.4% (12.1% inflation-adjusted) from a year earlier, according to CoreLogic.

"This is the highest annual rate of growth seen across the Australian residential property market since April 2004, when the early 2000's housing boom was winding down after a period of exceptional growth. However, there are some markets where performance is starting to ease more notably," said CoreLogic Head of Research for Australia, Eliza Owen.

New South Wales, especially Sydney, has the most expensive housing in the country, with the mean house price currently at AU$ 1,011,100 (US$746,788), according the Australian Bureau of Statistics (ABS). It was almost 30% above the national mean price and the first time that prices in any territory has breached the AU$ 1 million mark.

In contrast, the Northern Territory has the cheapest housing in Australia, at a mean price of AU$480,400 (US$354,819).

Demand is rising strongly again. During the year to June 2021, sales transactions reached about 582,900 units – the highest annual sales volume since February 2004, according to CoreLogic. All greater capital cities, except Hobart, saw strong growth in annual sales volume over the same period.

"Strong demand for housing was supported by record low interest rates, government initiatives, and rising consumer confidence," said Michelle Marquardt of Australian Bureau of Statistics.

Residential construction activity continues to rise. Dwelling approvals surged by almost 37% to 98,789 units in the first five months of 2021 compared to a year ago, following an annual increase of 5.6% in 2020, according to ABS.

House prices in Australia surged 52.3% (35.6% inflation-adjusted) from 2011 to 2017. To cool the market and address risks caused by high household debt, the government tightened lending restrictions and imposed higher taxes on housing purchases by foreigners. These measures resulted in a 9% (-11.2% inflation-adjusted) decline in house prices from Q4 2017 to Q2 2019.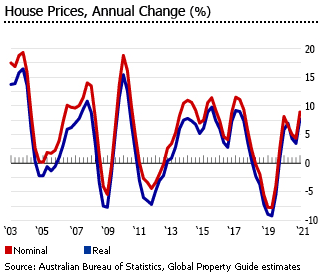 The economy grew by 1.1% in Q1 2021 from a year earlier, an improvement from y-o-y declines of 1% in Q4 2020, 3.7% in Q3 and 6.2% in Q2, reflecting the continued easing of coronavirus-related restrictions and the recovery in the labour market, according to the ABS.

Recently, the International Monetary Fund (IMF) revised upwards its 2021 economic growth forecast for Australia to 5.3%, its second upgrade from its initial projection of 3.5%. The economy contracted by 2.4% last year due to the pandemic.