All indicators point to a strong Florida housing market next year – increasing demand, tight housing inventory, ultra low mortgage rates, robust economic growth, falling unemployment.

During the year to Q3 2019, the Federal Housing Finance Agency's seasonally-adjusted purchase-only Florida house price index rose by 4.99% (3.18% inflation-adjusted), its 31st consecutive quarter of y-o-y growth. The index increased 1% q-o-q during the latest quarter (0.8% inflation-adjusted).

This was supported by figures from Florida Realtors, which showed that the statewide median price for existing single-family homes rose by 3.6% y-o-y to US$263,000 in October 2019. Likewise, the median price for condo-townhouse properties was up by 5.8% y-o-y to US$190,500.

Demand remains strong. Sales of single-family homes rose by 4.3% to 246,721 units in the first ten months of 2019, according to Florida Realtors. Likewise, the total sales value of single-family home sales increased 6.1% y-o-y to US$85.3 billion over the same period.

All 22 metropolitan statistical areas tracked by Florida Realtors saw rising home sales during the first ten months of 2019.

Yet inventory remains tight. The total number of active listings for single-family homes fell by 7% y-o-y to 87,616 units in October 2019, and down by 3.7% to 52,067 units for condos and townhouses. The situation is expected to ease in coming months, withnew private housing units authorized in Florida rising by 9.9% y-o-y to 130,588 units in the first ten months of 2019, according to the Federal Reserve Bank of St. Louis.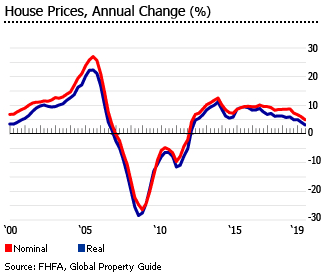 Florida is one of the most populated states in the United States. Many of its cities are heavily dependent on retirees, with residents aged 60 years and older comprising more than 20% of the population. In fact in Naples, they make up more than 61%.

"Florida continues to attract new residents and businesses," said Florida Realtors President Eric Sain. "In fact, our population is growing by about 906 new residents every day, or more than 300,000 people a year – that's like adding a city about the size of Orlando every year, according to a recent report from state economists. This population growth, a current unemployment rate of 3.4% and a favorable jobs outlook continue to keep Florida's economy strong."


Analysis of United States Residential Property Market »
Strong economic growth, low unemployment
Florida is one of the fastest growing economies in the US. In 2018, Florida's economy grew by 3.2% from a year earlier – the sixth straight year that it exceeded the national economic growth, based on figures from the
Bureau of Economic Analysis
(BEA). The state grew further by an annualized rate of 4.7% and 2% in Q1 and Q2 2019, respectively.
"Florida's economy continues to outpace the nation and is evolving in ways that enhance the state's long-run competitiveness," said Wells Fargo in its
Economic Outlook
for the state. "Florida is home to three of the nation's10 fastest growing metro areas since 2010—The Villages, Cape Coral-Fort Myers and Orlando."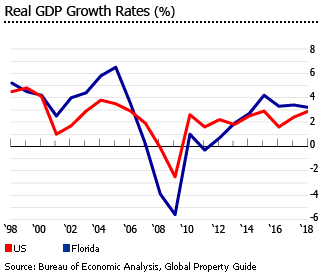 The state's labour market continues to strengthen, with the unemployment rate falling from a post-Great Recession high of 11.3% to just 3.2% in October 2019. There were about 330,576 unemployed persons in Florida in October 2019, down 3.3% from a year earlier, according to the
U.S. Bureau of Labor Statistics
.
Florida has the fourth biggest economy in the country and is the third biggest state by population. The state's economy relies heavily on tourism and agriculture.