Canada's housing market is now losing steam, as rising interest rates, a decline in purchasing power due to high inflation, and heightened economic uncertainty are pushing potential homebuyers to the sidelines.

During 2022, house prices in Canada's eleven major cities rose by a modest 2.26%, a sharp deceleration from the prior year's 15.47% growth, according to figures from Teranet – National Bank of Canada. When adjusted for inflation, house prices actually dropped 3.82% last year.

"The housing market story of 2022 was about high inflation and rising interest rates. The 2023 market will depend on the timing and extent those factors move back in the other direction," said CREA's senior economist Shaun Cathcart.

Ten of Canada's eleven major cities saw a sharp slowdown in house price growth last year. Despite this, Calgary recorded the biggest house price increase during 2022 at 14.34%, followed by Edmonton (7.22%), Quebec (6.17%), Halifax (5.82%), and Montreal (5.06%). Meager house price growth was seen in Victoria (1.86%), Vancouver (0.86%), Winnipeg (0.85%), Toronto (0.58%), and Ottawa (0.56%). Only Hamilton registered a house price fall of 1.3%.

Figures from the Canadian Real Estate Association (CREA) is more dismal, with the actual national average sales price falling by 12% (-17% inflation-adjusted) in December 2022 as compared to a year earlier.

By property type:

One-storey single family home prices fell on average by 9.18% y-o-y in December 2022 (-14.58% inflation-adjusted).
Two-storey single family home prices dropped 8.79% y-o-y (-14.21% inflation-adjusted).
Townhouse prices were down by a more modest 4.22%, on average, over the same period (-9.91% inflation-adjusted).
Apartment prices were more or less steady during 2022 but fell by 5.85% when adjusted for inflation.

The national average home price stood at CA$703,875 (US$527,627) in 2022, up by a modest 2.4%  from a year earlier, according to CREA. British Columbia and Ontario had the most expensive housing markets in the country, with average prices of CA$996,694 (US$747,235) and CA$931,953 (US$698,697), respectively.

Both demand and supply are now falling. During 2022, the total number of residential property sales transactions plummeted by 25.2% y-o-y to 498,269 units from a record-high of 666,399 units in 2021, in contrast to annual increases of 20.5% in 2021 and 12.6% in 2020, according to figures from CREA.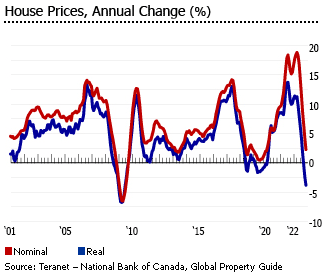 Likewise, the total number of dwelling starts fell modestly by 3.4% y-o-y to 261,849 units in 2022, in sharp contrast to a huge 24.5% growth in 2021, according to CMHC.

The Canadian economy grew by a modest 3.6% during 2022, following an expansion of 4.5% in 2021 and a contraction of 5.2% in 2020, according to the Bank of Canada. However economic outlook is now bleak, as higher borrowing costs adversely affect consumer spending and as export growth moderates amidst deteriorating global economic condition. The central bank expects Canada's economy to grow by a meager 1% this year.