The amazing Canadian boom - house prices are surging!
April 02, 2017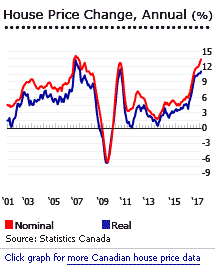 Canada's housing market continues to grow stronger, despite repeated market-cooling measures and fragile economy.
House prices in Canada's eleven major cities soared 13.37% during the year to February 2017 (11.03% inflation-adjusted), up from 6.49% y-o-y growth during the same period last year, based on figures from Teranet – National Bank of Canada.
This is the highest rate of annual house price rises in more than a decade.
The central bank has taken action repeatedly–from raisingmortgage downpayment requirements to reducing amortization periods–but house prices still spiral up as if nothing could stop them. Serious people who understand these things have been issuing dire warnings. The Canada Mortgage and Housing Corporation (CMHC) recently made clear that overvaluation and price acceleration were causing stresses in the housing market.
"We continue to detect strong evidence of problematic conditions in Canada," said CMHC chief economist Bob Dugan. "Price acceleration in Vancouver, Victoria, Toronto and Hamilton indicates that home price growth may be driven by speculation as it is outpacing what economic fundamentals like migration, employment and income can support," Dugan added.
According to the Canadian Real Estate Association (CREA):
The average price of a two-storey single family home posted the strongest year-on-year gains of 17.9% in February 2017.
Townhouses / row houses prices also increased by 16% in February 2017 from a year earlier.
The national average price of a one-storey single family home rose by 15% during the year to February 2017.
Apartment prices increased by 13.7%, on average, over the same period.
The national average home price stood at CA$519,521 (US$387,719) in February 2017, up 3.5% from the previous year, according to CREA. The figure is pushed up by Greater Vancouver and Greater Toronto, Canada's most active and expensive housing markets, and when these two are excluded the annual average price is reduced by around CA$150,000 (US$111,945) to CA$369,728 (US$275,928).
There have been big regional variations:
Tight housing supply in Greater Toronto Area (GTA) and Greater Vancouver, plus low interest rates, have pushed their house prices upward
The recent oil price slump has hit oil-producing areas such as Calgary, dragging house prices down
"In and around Toronto, many potential move-up buyers find themselves outbid in multiple-offer situations amid a short supply of listings," said CREA Chief Economist Gregory Klump."By contrast, housing markets in urban markets elsewhere in Canada are either balanced or are amply supplied."
"Because housing market conditions vary by region, further tightening of mortgage regulations aimed at cooling the housing market in one region may destabilize it elsewhere,"Klump added.
Of Canada's eleven major cities, there were house price rises in eight during the year to February 2017. 
Toronto's house prices recorded the biggest year-on-year rise of 23%, followed by Hamilton (19.7%), Victoria (15.9%), and Vancouver (14.3%).
House prices increased less in Ottawa (5.3%), Montreal (3.9%), Halifax (2.6%), Winnipeg (1.7%), and Calgary (1%).
House prices fell in Quebec (-1.8%) and Edmonton (-0.1%).
Home sales in Canada increased 6.5% to 534,709 units in 2016, according to CREA. Ontario and British Columbia accounted for about two-thirds of total transactions.
Canada's economy expanded by 1.4% in 2016, after growth of 0.9% in 2015, 2.5% in 2014, 2.2% in 2013, 1.7% in 2012, and 3.1% in both 2010 and 2011, according to Statistics Canada.
The economy is expected to grow by 2.4% this year, supported by fiscal initiatives, export market growth, and commodity-related investment, according to the Organisation for Economic Co-operation and Development (OECD).
Housing market outlook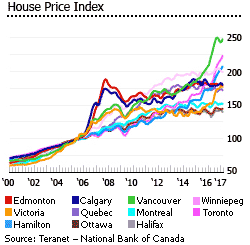 Nationwide house prices are expected to continue rising this year, albeit at a slower pace, amidst higher expected mortgage rates, tighter market conditions, and the impact of a new set of regulatory changes.
CREA projects that in 2017 the national average price will rise modestly by 4.8% y-o-y to CA$513,500 (US$383,225), with significant regional variations.
According to CREA:
Ontario's house prices are expected to rise strongly by 15.6%, to an average of CA$618,800 (US$461,810) during 2017.
In Prince Edward Island, house prices are expected to rise by 5.2% y-o-y ,toCAan average of $187,800 (US$140,155) in 2017.
House prices are projected to increase by 1.4% in Manitoba, 1% in Quebec and 0.9% in New Brunswick.
In contrast, house prices in British Columbia will decline by 6.5% in 2017, to average of CA645,900 (US$482,035).
House prices are expected to decline by 5.5% in Newfoundland, 2.8% in Saskatchewan, 0.3% in Nova Scotia, and 0.1% in Alberta.
Home sales are projected to decline by 3% to 518,700 units this year, according to CREA. British Columbia is forecast to see the largest decline in sales in 2017 at 17.5%, followed by Price Edward Island (-10.8%), Newfoundland (-8.4%), Nova Scotia (-3.4%), and Manitoba (-1.4%). In contrast, Alberta is expected to see the biggest increase in sales in 2017, at 5%. Sales activity is expected to increase slightly in New Brunswick, Ontario, and Quebec. Sales activity in Saskatchewan is forecast to remain stable this year.
Residential construction activity weakens
Dwelling starts declined slightly by 0.5% to 180,967 units in 2016, according to Canada Mortgage and Housing Corporation (CMHC). Likewise, dwelling completions fell by 3.4% y-o-y to 173,176 units last year, after increasing by a robust 8% in 2015.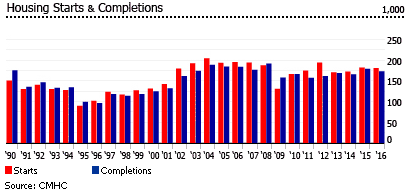 In February 2017:
Dwelling starts dropped 5.7% y-o-y
Dwelling completions increased 4.5% y-o-y
Mortgage interest rates remain at historic lows
The main reason for the house price rises are enticingly low mortgage interest rates:
Interest rates on 1-year mortgages averaged 3.14% in February 2017, unchanged from a year earlier.
Interest rates on 3-year mortgages averaged 3.39% in February 2017, unchanged from a year earlier.
Interest rates on 5-year mortgages averaged 4.64% in February 2017, unchanged from a year earlier.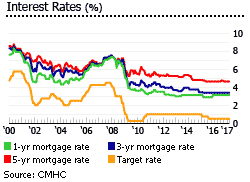 In March 1, 2017, the central bank held its key rate unchanged at 0.5%, amidst slowing exports, tamed inflation, and global trade policy uncertainties. The key rate had been cut by 0.25% in January 2015 and by another 0.25% in July 2015.
Buoyed by very low mortgage interest rates, the mortgage market expanded strongly, rising from 54.2% of GDP in 2008 to 65% of GDP in 2014 and finally to 71.1% of GDP in 2016, according to Statistics Canada. In January 2017, the amount of residential mortgage debt outstanding rose by 5.9% to CA$1.44 trillion (US$1.07 trillion) from a year earlier.
A long and steady boom accelerates
Canada escaped the major post-2008 collapse in house prices which took place in Europe and the U.S.  But the situation looks worrying.  House prices have risen almost continuously for 16 years:
From Q1 2000 to Q1 2009, house prices rose by 79% (49% inflation-adjusted), due to low interest rates and economic growth.
From Q2 2009 to Q3 2012, house prices increased by another 24% (17% inflation-adjusted), despite government efforts to cool the housing market.
From Q4 2012 to Q4 2015, tighter mortgage rules implemented in July 2012 helped calm the market, but house prices still rose by around 15.7% (10.8% inflation-adjusted).
In 2016, house prices surged by 12.3% (10.7% inflation-adjusted).
New market cooling measures
In 2016, the government announced another set of cooling measures aimed at stabilizing the housing market and ensuring that homebuyers are not taking on bigger mortgages than they can afford.
From August 2, 2016, foreign nationals and foreign-controlled companies must pay 15% in additional property transfer tax on residential property transfers in Greater Vancouver. A 15% tax is equivalent to around CA$300,000 on the sale of a CA$2 million home.
From October 17, 2016 low ratio homebuyers, i.e. those who make a greater than 20% down payment, will face the same insurance requirements as those with lower down payments.
While any financial gain from selling a primary residence remains tax-free, the government now requires sellers to report the sale at tax time to the Canada Revenue Agency.
The government is also launching consultations on limiting the government's financial obligations in the event of widespread mortgage defaults.
Since June 2015, new tougher CMHC mortgage rules have made life harder for buyers with self-employment income, or with little cash for down payments:
The CMHC increased the "qualifying" rate for mortgages under five years.  "Qualify" means that the borrower must prove he can afford to repay at a higher rate.  For instance, if you apply for a 2.25% five-year variable mortgage, lenders generally make you "qualify" at their posted 5-year rate (currently 4.64%).
"Third-party verification" of income is now required by lenders of all borrowers, including the borrower´s income history and employment status.
Cash-back down payment mortgages are no longer permissible if the buyer is unable to provide a 5% down payment on his own.
Canada's booming housing market has long been a concern for the authorities.
Earlier regulatory measures
In July 2012, tighter mortgage rules took effect:
The maximum length of mortgage borrowers could obtain was reduced, from 30 years to 25 years.
The maximum LTV ratio was lowered from 85% to 80%
The maximum gross debt service (GDS) was limited to 39% of income, and total debt service (TDS) to 44%
Mortgage insurance on properties over $1 million was banned.
In mid-2013, the Canada Mortgage and Housing Corporation (CMHC) limited its guarantees to banks and other lending companies.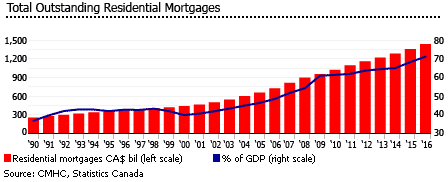 In early 2014, the CMHC discontinued mortgage insurance for condominium construction, and ceased providing mortgage insurance to second home buyers or to self-employed borrowers without third-party income validation.
So far, none of these measures has prevented property prices rising, no doubt because of the very low interest-rate environment.
Rents rising, rental yields remain healthy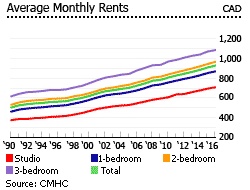 Average rents in Canada rose by 2.1% to CA$926 per month (US$691) during the year to October 2016, according to the Canada Mortgage and Housing Corporation (CMHC). All provinces, except Alberta and Northwest Territories, saw higher average rents for apartments from a year earlier. British Columbia had the highest rent increase, up by 5.95%, followed by Prince Edward Island (4.05%), New Brunswick (2.94%) and Ontario (2.72%).
The Northwest Territories had the highest monthly rent of CA$1,626 (US$1,213) in October 2016, followed by Alberta, with monthly rent of CA$1,113 (US$831). Quebec had the lowest rent of CA$727 (US$543) per month.
Gross rental yields in Montreal remain healthy, ranging from 5.4% to 7% as of January 2017, according to Global Property Guide research. A small apartment of 60 sq. m. in Montreal offers a return of around 7%. In this low-return era, in a low-risk country such as Canada, that is a really acceptable, not to say enticing, yield. Even on a largish 120 sq. m. apartment in Montreal, one can likely earn a gross rental return of 5.4%.
In Toronto, rental yields are lower, which range from 4.4% to 5% in January 2017.
Vacancy rates are rising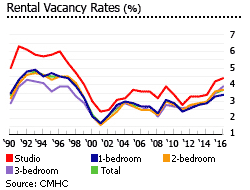 The national vacancy rate was 3.7% in 2016, up from 3.5% in the previous year and the highest level since 1998, according to the CMHC. However, it is still considered very low by international standards. Because of skyrocketing house prices, an increasing number of Canadians have no choice but to rent.
Saskatchewan had the highest vacancy rate, at 8.5% in 2016, followed by Alberta (8.4%%), New Brunswick (6.6%), and Newfoundland and Labrador (6.2%). British Colombia and Prince Edward Island had the lowest vacancy rates of just 1.4% and 1.9%, respectively.
Budget deficit swells on stimulus spending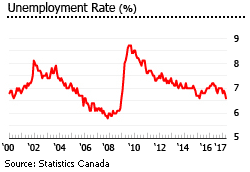 The economy is expected to grow by 2.4% this year and by another 2.2% in 2018, according to the Organisation for Economic Co-operation and Development (OECD).
The government has increased spending on infrastructure, cut some taxes, and increased child benefits, among others.
The downside is that budget deficit is now swelling, without any dramatic rise in economic growth. During the first eight months of the 2016-17 fiscal year, the government ran a deficit of CA$12.7 billion (US$9.5 billion), in contrast with a CA$1 billion (US$750 million) surplus recorded over the same period last year.
The deficit is expected to increase further by 24% y-o-y to CA$28.5 billion (US$21.3 billion) in the 2017-18 fiscal year.
The federal government debt is expected to increase to CA$665.5 billion (US$496.7 billion), which is equivalent to 31.6% of GDP this year – still a relatively low level compared to other developed countries.
The country's annual inflation rate stood at 2.0% in February 2017. This was slightly down from 2.1% the previous month but up from 1.4% in a year earlier.
In February 2017 unemployment fell to 6.6%, its lowest level in more than two years, according to Statistics Canada. British Columbia had the lowest jobless rate of 5.1%, followed by Manitoba (5.8%), Saskatchewan (6%), and Ontario (6.2%). Newfoundland and Labrador had the highest jobless rates, at 14.2%.
An influx of immigrants to buoy property demand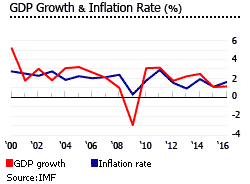 In an effort to fill the gap left by retiring baby boomers, Canada liberalized its immigration regulations in 2015. As a result, Canada took in 321,000 immigrants in the 2015-16 fiscal year, the largest number since 1910, according to Statistics Canada.
Last year, Canada's official population reached 36,286,425, the biggest annual increase since 1988.
"Canada is an aging country, so we are in need of new blood," says Canadian Immigration Minister John McCallum. "Canadians aren't having enough babies and so the labour force growth depends very much on the entrance of immigrants."
The government plans to let in about 300,000 immigrants annually over the next two years.
"Growing Canada's population through immigration boosts economic growth and softens the economic burden of a rapidly aging population and low birth rates in Canada," according to a report by the Conference Board of Canada.
Extra immigrants are likely to push up house prices even more.
Canada - More data and information