Tunisia's recent peaceful elections will reassure buyers
January 25, 2015
Tunisia, the smallest nation in North Africa, is home to the ancient city of Carthage and takes pride in its stunning white sand beaches, historical landmarks, beautiful sunny weather and scenic views of the Atlas Mountains and the Sahara Desert. In fact, it has served as backdrop for notable blockbuster movies such as Star Wars and Raiders of the Lost Ark.
Every year Tunisia hosts millions of tourists from Europe and the Middle East.  The capital city, Tunis, is approximately 3 hours away from key European cities like London and Paris via airplane. The coast is just 50 miles away from Sicily.
Fuelled by a bustling tourism industry, Tunisia´s property market has attracted a great number of foreign buyers looking for affordable properties in prime locations to spend their holidays.  Amazing to think that it was only in 2006 that the real estate market was opened to foreign ownership.
Major companies have been investing – from an estimated 6,270 private developer housing units in 2006, developments increased to almost 12,000 units in 2010, according to UN-HABITAT. From 827 registered construction developers in 2001, the number has grown to 1,290 in 2007 and to almost 3,000 in 2013.
Despite post-Arab Spring uncertainties, interest in Tunisian real estate remains high, boosted by the successful elections of October-December 2014. According to Centre for Affordable Housing Finance in Africa (CAHF), property prices have been increasing at a rate of 8% per year since 1990, and have continued to rise following the Arab Spring revolution, which started in Tunisia.
The rental market is also experiencing price pressure owing to the increase in Libyans who have arrived in Tunis to avoid the unrest in Libya.
The real estate and construction sector is an important contributor to Tunisia´s national GDP and employment. In 2014, the number of jobs by the construction and settlements sector was measured at 456,000, which represents 13.5% of total employment, according to CAHF. The housing sector also accounted for three percent of the revenues of the state via taxes collected from rental and property management, VAT generated by construction and local land taxes.
House prices increasing by an average 8% per year
Houses, apartments and villas in Tunisia are still much less expensive than in other places along the Mediterranean, such as Italy, Spain, Greece and even Morocco. However, prices are rising, with increases in the country averaging 8% per year according to CAHF, and even more in the Tunis region. This is largely due to the increased demand from foreign buyers and from the country's growing middle class – which, according to Brookings Institute, included more than 40% of the total population in 2010,
According to UN-HABITAT, housing unit rents in Tunis are said to range from TD 288 (USD 150) to TD 4,490 (USD 2,340) per month. The lowest rents are found in Ben Arous district, ranging from TD 190 (USD 99) to TD 1,250 (USD 651) per month.
Knight Frank estimates residential yields in Tunis to be around 9%.
Despite growing demand, the availability of data on housing prices in Tunisia remains an issue. Tunisia's 2011 Housing Profile from the United Nations Human Settlements Programme (UN-HABITAT) appears to be the most recent account of the country's housing prices.
The average price of a single-family house increased from TD 23,845 (USD 12,425) in 2006 to TD 39,000 (USD 20,322) in 2010, with an increase of over 60% in four years or 13% per year, according to UN-HABITAT. Average apartment unit prices have also risen, increasing from TD 32,710 (USD 17,044) in 2006 to TD 47,027 (USD 21,899) in 2010, i.e., an increase of 44% in four years.
Prices may continue to rise as Tunisia continues to struggle with inflation and pressure on its foreign reserves. As an aftermath of the economic slowdown resulting from the revolution, inflation increased in 2012. Consumer price inflation increased from 4.2% y-o-y in December 2011 to 5.9% y-o-y in December 2012 and further to 6.6% y-o-y in March 2013, the highest inflation rate since October 1995. However, inflation slowed to 5.0% in 2014. 
Type of Housing Unit
Average Price in TND (2006)
Average Price in TND (2010)
% Increase 4yrs in TD
% Increase per year
Single-family house
23,845
39,000
60%
13%
Government-financed house
42,930
57,950
35%
9%
Apartment units
32,710
47,027
44%
10%
Source: UN-HABITAT
Tunisians continue to put their money into real estate, in the midst of uncertainty in capital markets and the banking sector. Real estate contributed 6.6% of GDP in 2013.  Owing to the government's efforts to encourage home ownership, only 15% of housing units in Tunisia are rented, a percentage which has been decreasing over time (a trend also found in Morocco). But even this small portion of the housing stock under rental tenure represents a large number in absolute terms, housing some 1.6 million people, according to UN-HABITAT.
"More open legislation that allows property purchase by foreigners, and the removal of any need for purchase permission in tourist areas, is also likely to spur investment interest in the property market, particularly as confidence in the Tunisian economy returns," says CAHF.
Property hotspots in Tunisia
Tunis, the capital, is a modern city. It is filled with historic sites including the 8th century Zitouna mosque. It is also the gateway to the ruins of the ancient city of Carthage.
The favorite residential areas for Tunis' political and business elite are the northern suburbs, the city centre and the business district of Tunis Berges du Lac. These have the most expensive houses, with prices ranging from TD 1,450 (USD 756) to TD 3,000 (USD 1,563) per sq.m. up from 25% in 2000.
Well located and with good infrastructure, this affluent neighborhood has been developed since the 1980s after building polders in Tunis Lake.  It harbors many embassies, prestigious companies, and institutions.  Residential apartments in Berges du Lac are typically 2 or 3 bedroom units of 110-150 sq m. According to Knight Frank, Berges du Lac I is now almost fully developed and therefore provides more services and facilities than Berges du Lac II, but as the buildings are somewhat older in Berges du Lac I, there is little difference between the rental levels achieved in the two areas.  
"If it is difficult today to buy an apartment or a villa, it is because rents are interesting and rewarding, owners do not want to sell," said Ms. Salma Jedidi, manager of a real estate agency which a few years ago moved from the center of Tunis to Berges du Lac.
Other popular locations for ex-pats are the northern suburbs of Greater Tunis such as Carthage and La Marsa. There is a relatively strong market for residential units to lease and for sale.  Tunis Ennasr, a small posh neighborhood in the farthest northern corner of the urban sprawl of Tunis, is also a growing real estate hotspot.
Cheap districts are Tunis Ain Zaghouan, a historic site known for its 90-km aqueduct supplying Carthage with water, and the southern suburbs of Tunis, mostly hilltop villages, having the lowest house prices in the capital.
Other property havens include:
Jardins de Carthage. South of the historic site of Carthage, this newly set up neighborhood has become a hotspot for luxury real estate. With the popular tourist site in close proximity, Jardins de Carthage is an attractive option for luxury real estate developers, and house-hunters, looking to invest in upscale property. Prices in Carthage range between TD 2,500 (USD 1,303) to TD 3,000 (USD 1,563) per sq.m.
Coastal towns of Hammamet and Sousse. Hammamet, 65 km southeast of Tunis, is a popular destination for swimming and water sports due to its exceptional white beaches. It is among the tourists zones in Tunisia with the most expensive houses. Sousse, 140 km south of Tunis, has world-class resorts and sandy beaches, adjoining orchards and olive groves. The Medina (Old City) of Sousse is listed as an UNESCO Heritage Site. House prices range between TD 1,200 (USD 625) and 2,500 (USD 1,303) per sq.m.
Sfax, an industrial city located 270 km southeast of Tunis, is however very modern and pleasant. It is also one of the towns in Tunisia with the cheapest housing units. In Sfax, house prices are around TD 800 (USD 417) per sq.m.
Foreign ownership of Tunisian property
In 2005 the government passed a law permitting foreign ownership of properties for economic and tourism purposes. Since it has become effective in 2006, the government has continuously encouraged foreign companies and tourists to invest in the country and buy properties in its prime cities. Official figures of the Foreign Investments Promotion Agency in Tunisia (FIPA) show that a total of €36.5 million ($48.6 million) were invested in Tunisia's real estate and tourism sectors.
A foreigner can buy a property in Tunisia, a villa or an apartment, but cannot own agricultural land. In fact, agricultural land cannot be sold to foreigners, whatever the reason of the purchase.
According to Giambrone Law, if the land is included in the national development plan, it must be considered as "residential"; but if not covered by the plan, it should be considered as agricultural and, therefore, not available for acquisition by a foreigner.
Buying a property in Tunisia for a foreigner is subject to prior authorization to be given by the governor of the region where the property is located. Despite this, in recent years more favourable legal provisions have been recognized as regards certain land and real estate operations carried out by foreigners. All purchases of real estate by non-resident foreigners are also necessarily subject to authorization by the Central Bank of Tunisia, according to the actual legislation of monetary exchange.
A complete buying guide is published by the Global Property Guide.
World Bank´s "Doing Business" survey highlights Tunisia´s strengths
In the 2015 World Bank's Doing Business ranking, Tunisia came 60th – ahead of Malta.  For registering property, Tunisia ranked 8th out of the 20 countries in the Middle East and North Africa – ahead of Morocco, which ranked 15th.
Economy
Ease of Doing Business Rank
Registering Property
United Arab Emirates
22
1
Bahrain
53
2
Oman
66
3
Saudi Arabia
49
4
Qatar
50
5
Yemen, Rep.
137
6
Kuwait
86
7
Tunisia
60
8
Malta
94
9
Egypt, Arab Rep.
112
10
West Bank and Gaza
143
11
Lebanon
104
12
Jordan
117
13
Iraq
156
14
Morocco
71
15
Syrian Arab Republic
175
16
Djibouti
155
17
Algeria
154
18
Iran, Islamic Rep.
130
19
Libya
188
20
Source: Doing Business, World Bank
Tunisia ready for democracy?
The birthplace of the Arab Spring seems to be on track to be the first Arab Spring country to complete a transition to democracy.
Following the ouster of President Zine al-Abidine Ben Ali in January 2011, a new legislative body, the National Constituent Assembly, was elected to navigate Tunisia to a political transition. In October 2014, for the first time since its independence from France, Tunisia successfully held competitive parliamentary elections. The elections went smoothly, and the outcome has increased the likelihood of a stable, coherent government. Habib Essidof of the anti-Islamist Nidaa Tounes (Tunisia´s Call) party, which won the most seats in October´s parliamentary election, has been nominated as Tunisia´s new prime minister. This was followed by the victory of the 87-year old Beji Caid Essebsi, also of Nidaa Tounes, in the November and December 2014 presidential elections.  Mr Essebsi alos served in the governments of post-independence leader Habib Bourguiba as well as Ben Ali.
The Islamist party Ennahda, which led Tunisia´s last government but was beaten by Nidaa Tounes in October´s parliamentary election, did not field a candidate.  Essebsi´s main opposition came from Moncef Marzouki, the interim president and a human rights campaigner who has cast himself as a guardian of the spirit of the revolution.
In 2013, political uncertainty and weakness in the banking sector prompted downgrading of Tunisia sovereign credit ratings twice to a Moody's rating of BB- with negative outlook, though this has held steady since. Tunisia's successful transition to democracy, however, may improve sentiment. According to Fitch Ratings, "The prospect of a new Tunisian government in the coming weeks is positive for the sovereign's credit profile."
Over the 1962-2000 period, the Tunisian economy grew by an average of 5.3% per annum, with per capita income increasing 3.2% per annum, according to UN-HABITAT. From 2000-2010 average GDP growth was 4.4%. During the revolution in 2011 growth went negative, to -1.9%. The economy has since recovered with 2.8% growth in 2013. But Tunisia runs a substantial trade deficit, largely attributable to slack demand in the euro-zone which buys 70% of Tunisia´s exports, and industrial unrest in the phosphate-producing regions of the interior, according to CAHF.
Unemployment declined to 15.2% at the start of 2014 from 18.1% in 2012, still well above the pre-revolution level of 13%. The government, post-revolution, has pursued expansionary fiscal and monetary policies to encourage job creation. The authorities recently announced their intention to launch a bond issue, the first since the revolution, by end-January 2015.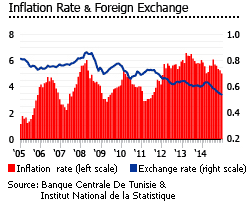 Inflation has slowed to 5.0% in end-2014 from 6.6% in March 2013, but remains above levels seen before the revolution. The African Development Bank (AfDB) points to monetary factors and the Libyan crisis to the rise in inflation. The crisis in Libya has fuelled high volumes of exports and contraband activities at the Libyan border resulted in the scarcity of several basic food items, pushing prices upwards in Tunisia.
The dinar, whose exchange rate is controlled by the Central Bank, has depreciated in relation to the dollar and the Euro. This depreciation has generated inflationary pressures that could accelerate if Tunisian foreign reserves continue to dwindle and the balance of trade worsens. Foreign exchange reserves fell from TND 13.1 billion on September 2010 to TND 11.5 billion a year later, and have gradually stabilized since then at TND 10.2 billion – representing 113 days of imports as against 186 and 147 in 2009 and 2010, respectively. Foreign currency reserves on September 2013 totalled TND 11.29 billion, the equivalent of 103 days of imports, after inflows of foreign aid and an overseas bond issue.
Central Bank ready to raise interest rates to curb inflation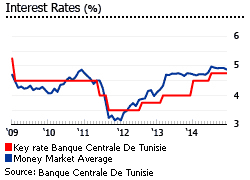 The Central Bank´s benchmark interest rate was raised to 4.75% in July 2014, from 4.5%; but the bank has indicated it is ready to raise rates again within months, if consumer prices continue to rise. 
Interest rates for housing loans rose to 7.78% in the first half of 2014, up from 7.63% in the second half of 2013, according to the Central Bank of Tunisia.
Fast-growing mortgage sector
Over the past four decades, Tunisia has built up a refined mortgage-based housing finance system with a large number of financial institutions offering loans. Total loans to home-buyers increased by 10.3% between 2012 and 2013, reaching 6,982, according to the Central Bank's 2013 annual report. Housing loans represented 43.4% of the outstanding balance of loans to individuals. Mortgage lending is approximately equivalent to 12% of GDP, the third highest in Africa, behind South Africa and Morocco.
The most prominent actor in housing finance is the publicly-owned Housing Bank (Banque de l'Habitat (BH)), established in 1989 after a restructuring of the Savings and Loans Bank (CNEL). It offers loans for house purchase, home improvement and residential land acquisition, accounting for 18.1% of real estate lending in 2013, according to CAHF.
Other institutions and funds include:
Roughly 20 private commercial banks in Tunisia that have housing loan programs for individuals, mainly targeting middle and upper income families.
The Housing Promotion Fund for Salaried Persons (FOPROLOS, Fonds de Promotion des Logements pour les Salariés) was created in 1977 to assist lower income groups to acquire housing. This fund is managed by BH.
The National Fund for House Improvement and Rehabilitation (FNAH, Fond National pour l'Amélioration de l'Habitat) was established in 2004 to support low income families living in urban upgrading areas. Loans are disbursed for home improvement to those whose salaries are below a set minimum.
The National Solidarity Fund 26-26 (Fonds de Solidarité Nationale 26-26) was established in 1992 to support the poorest of the poor, mainly through funding housing improvements of the very poor who live in upgrading and rehabilitation areas in Greater Tunis and other large towns.
Housing: one of Tunisian government's priority sectors
Tunisia has made strides in terms of achieving progressive housing policies and development of public institutions to improve housing conditions in the country.
Since independence, the Tunisian Government has issued a series of laws, decrees, and acts seeking to improve housing construction, land availability, access to finance and improve older deteriorated urban areas. And it has often modified legislation to keep decrees and acts relating to housing and urban development cohesive and up-to-date. The UN-HABITAT listed the most important of these:
LAW

REMARKS

Law 154 of 1959
set the regulations for the formation and operation of housing cooperatives
Law 5 of 1965
promulgating the Code for Real Property Rights, modified by law 98 of 2005. A decree (Décret 1646 de 1998) regulates the copropriety of buildings and groups of buildings
Law 21 of 1973
enabled the establishment of the Housing Land Agency (AFH, Agence Foncière d'Habitation)
Law 34 of 1976
relating to building permits, modified by Law 18 of 1990 and further modified by a number of ministerial acts between 1995 and 2007.
Law 35 of 1976
organized the relationship between owners and tenants in dwellings (i.e. for rental housing). It was amended by Law 122 of 1993 to grant permanent occupancy rights for certain social categories. Rentals were further regulated by an Act (arrêté) in 1999 dealing with building approvals for vertical construction of multi-family dwellings for rent.
Decrees 54 of 1976 and 624 of 1978
authorising the National Pension and Social Fund (CNRPS and CNSS) to grant loans for home ownership or land purchase.
Law 54 of 1977
enabling the establishment of the Fund for Promotion of Housing for Salaried Employees (FOPROLOS, le Fonds de promotion des logements pour les salariés.) This law has been frequently modified over the years by decrees in 1977, 1993, 1995, 1998, 1999, 2000, and 2007
Law 55 of 1981
organizing the real estate agent profession, modified by Law 77 of 2005
Law 69 of 1981
enabled the establishment of the Urban Rehabilitation of the Renovation Agency (ARRU, L'Agence de Réhabilitation et de Rénovation Urbaine)
Decree 1413 of 1988
establishing the General Directorate for Housing within MEHAT
Law 17 of 1990
organized the real estate developer profession, which allowed private developers to acquire, service, and subdivide land and construct housing estates and gave them incentives to construct affordable social housing. Various other laws and decrees and acts have further regulated the operations of real estate developers, mostly in 1990 and 1991
Law 46 of 1990
modifying the Urban Planning Code (Code de l'aménagement du territoire et de l'urbanisme) to deal with slum areas, illegal housing, and informal urban settlements. This Code was further modified by Laws 122 of 1994, 78 of 2003, and 71 of 2005.
Law 320 of 1992
allowing private civil works companies to enter into government contracts.
Law 108 of 1995
established the Greater Tunis Development Agency
Law 77 of 2004
enabling the establishment of the National Home Improvement and Rehabilitation Fund (FNAH, Fond national d'amélioration de l'habitat). Two decrees in 2007 further elaborated the funding of and access to this Fund
Source: UN-HABITAT
Housing a key national priority
Housing is still a central priority in the post-revolutionary period. According to CAHF, in 2014, the Ministry of Public Works, Housing and Settlements focused on a comprehensive review of its housing policy, particularly in terms of exploring public-private partnerships, as well as reform of the subsidy programs, such as FOPROLOS. The government is currently carrying out diagnostics to develop policy recommendations for a new National Housing Strategy. Preliminary recommendations were presented in September 2014.
The main housing loan programs in Tunisia for new housing unit acquisition are:
Savings/loan regime for housing purchase
This program was introduced in the late 1970s by CNEL as a means to improve family savings in Tunisia. Efforts to strengthen the savings/loan system in the country include:
Supplemental credit for unit acquisition allowed equal to the amount saved
Interest rates for loans reduced from 8.25 per cent to 6.75 per cent (at the same time saving rates were reduced from 6.75 per cent to 5.25 per cent). The spread, at 1.5 per cent, remained the same.
Increase in the loan amount to 2.5 times the amount saved over 5 years and 3.0 times for the amount saved over 6 years.
Introducing a loan repayment grace period for some clients
Creation of a new category which, for a savings of TD 20,000 (USD 10,421.4), allows a base credit of TD 60,000 (USD 31,264.1) plus a supplementary credit of TD 40,000 (USD 20,842.7).
Increasing the loan term from 13 and 20 years to 25 years.
However, despite several improvements designed to expand the saving/loan regime, it remains only a little fraction of the overall house financing market in the country. According to UN-HABITAT, the BH issued only TD 53.7 million (USD 28 million) in savings/loan credits for housing in 2009, down from TD 66.1 million (USD 34.4 million) in 2008.
FOPROLOS
The Housing Fund for Salaried Employees (FOPROLOS, Fonds de Promotion des Logements pour les Salariés) was started in 1977, has gone through a number of modifications, and is managed by the BH. It is a direct loan system to individuals or families and is considered the main tool assisting access to affordable housing. Loan terms and sizes are based on what the government has determined as the industrial minimum (monthly) wage (SMIG, salaire minimum industriel garanti). This base wage is currently set at TD 280 and is only rarely adjusted upward, never enough to keep up with consumer inflation. There are currently three FOPROLOS loan categories:
FOPROLOS 1: Households earning between one to two times minimum wage can purchase a unit below 50 sq.m. and USD22,100, with a loan at 90 percent LTV for 25 years, at 2.5 percent p.a.
FOPROLOS 2: Households earning between two to three times minimum wage can purchase a unit below 75 sq.m. and USD28,300, with a loan at 90 percent LTV for 25 years, at 4.0 percent p.a.
FOPROLOS 3: Households earning between three to 4.5 times minimum wage can purchase a unit of between 80 – 100 sq.m. and less than USD38,300, with a loan at 85 percent LTV for 20 years, at 5.75 percent p.a.
In 2009, to make FOPROLOS loans even more attractive, subsidy rates have increased and annual interest rates have been reduced for FOPROLOS 1 from 3.5 per cent to 2.5 per cent, for FOPROLOS 2 from 5 per cent to 4 per cent, and for FOPROLOS 3 from 6.75 per cent to 5.75 per cent. Qualifying criteria, however, do not enable households with irregular incomes to participate. Furthermore, because of efforts to keep loan ceilings low, it has become difficult for developers to offer a housing supply to match the subsidised financial product.
According to the BH Annual Report for 2009, direct housing loans released under FOPROLOS schemes amounted to TD 173.4 million in 2009, substantially up from TD 147.7 million in 2008.
Al Jadid Savings
The BH has recently added a range of three "supplemental" loan schemes, which are based on prior family savings, called Al Jadid 1 Al Jadid 2, and Al Jadid 3. These target families with incomes higher than those qualified for the FOPROLOS schemes. All interest rates are fixed at 7 percent per year for a maximum loan term of 15 years. They vary in the number of years of prior savings (from 4 to 6 years) and in the maximum credit amount – ranging from TD 53,000 (USD 27,616.6) to TD 83,000 (USD 43,248.6).
In essence, Al Jadid Savings schemes are at or near money market rates. Also, they do not have maximum income requirements to qualify, nor is the amount of the downpayment set (presumably to encourage larger equity contributions by beneficiaries). Thus Al Jadid Savings can be considered a "liberal" housing loan system, one much more in tune with market realities.
MAIN INDIVIDUAL HOUSING LOAN SCHEME, MANAGED BY BH
Loan Scheme
FOPROLOS 1
FOPROLOS 2
FOPROLOS 3
Al Jadid (HP1)
Al Jadid (HP2)
Al Jadid (HP3)
Income
1 to 2 times SMIG
2 to 3 times SMIG
3 to 4.5 times SMIG
variable
variable
variable
Unit Area
Individual 50 sqm; Family 65 sqm
75 sqm
80-100 sqm
variable
variable
variable
Nominal Cost of Unit
TD 39,000
TD 50,000
TD54,00 to TD67,500
variable
variable
variable
Downpayment
10% of cost
10% of cost
15% of cost
4 years prior saving
5 years prior saving
6 years prior saving
Term
25 years plus 3 years grace
25 years plus 3 years grace
20 years plus 1 year grace
15 years
15 years
15 years
Interest Rate
3.50%
5.0%
5.75%
7.0%
7.0%
7.0%
Maximum loan amount
90% of cost to maximum of 130 times SMIG
90% of cost to maximum of 170 times SMIG
90% of cost to maximum of 210 times SMIG
TD 53,000
TD 67,000
TD 83,000
Source: UN-HABITAT
Housing supply on the rise; construction costs are low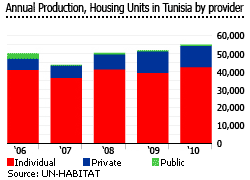 Tunisia is one of the few African countries with a well developed construction industry. According to UN-HABITAT, Tunisia produces majority of its own housing construction materials, exporting to neighboring European countries like France and Italy. Tunisia's construction costs are 50% less than that of United Kingdom, according to EC Harris 2012 Research.
The 2014 Census and Housing Survey released in September recorded a housing stock of 3,289,903 units, an increase of 789,103 units since the last census in 2004. This exceeds the number of households which was recorded at 2,712,976.
A total of 45,846 building permits were issued in 2013. Of the formal units, about 80% are built by individual households, 2% by public developers and 18% by registered developers, catering to middle to high income groups.
Housing construction is almost exclusively carried out by Tunisian contractors, according to UN-HABITAT. Foreign construction firms in Tunisia mainly focus on large projects.
Tunisia - More data and information