Tunisia's emerging property boom
September 16, 2008
Miles of sparkling beaches on the northern coast. Romantic oases of the Sahara desert in the south. A mix of healthy weather, an exotic ambience, ancient medinas and the ruins of Punic and Roman empires. These have made Tunisia one of the fastest growing tourist destinations in the world.
Tunisia's breath-taking coast is a major destination for European and other holiday makers. Booming tourism and a strong economy are also boosting the country's property market.
Foreigners were finally allowed to own real estate in 2006, although agricultural land is still off-limits. Since then, foreign investment in the real estate market has been increasing steadily. Several real estate projects by giant Middle East property developers are under way. These multi-billion dollar construction projects include the Century City, Mediterranean Gate, Tunis Sports City, Tunis City Centre and Bled El Ward.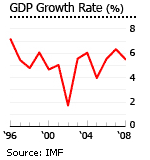 Houses, apartments and villas in Tunisia are still much less expensive than in other places along the Mediterranean, such as Italy, Spain, Greece and even Morocco. However, prices are rising due to increased demand from the country's growing middle class and demand from foreign buyers. On the supply side, rising raw materials and land costs are also pushing up house prices.
In 2007, the economy grew 6.3%, up from 5.5% in 2006. Despite the global credit crunch, economic outlook for 2008 is still positive with 5.5% projected GDP growth.
Relatively cheap houses
Tunis, the capital, is a modern city. It is filled with historic sites including the 8th century Zitouna mosque. It is also the gateway to the ruins of the ancient city of Carthage.
The favorite residential areas for Tunis' political and business elite are the northern suburbs, the city centre and the new business district of Tunis Berges du Lac. These have the most expensive houses, with prices ranging from TND1,250 (€693) per sq. m. to TND1,700 (€943) per sq. m., according to estimates from real estate developers.
Tunis Ennasr, a small posh neighborhood in the farthest northern corner of the urban sprawl of Tunis, has an average house price of TND1,000 (€555) per sq. m.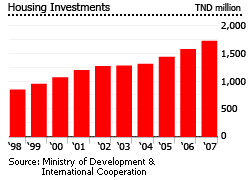 Tunis Ain Zaghouan is a historic site known for its 90-km aqueduct that is supplying Carthage with water. Houses in this small, mainly agricultural region are cheap, ranging from TND750 (€416) per sq. m. to TND850 (€471) per sq. m.
The southern suburbs of Tunis, mostly hilltop villages, have the lowest house prices in the capital. House prices here range from TND450 (€250) per sq. m. to TND550 (€305) per sq. m.
Coastal towns along the Mediterranean
Hammamet, 65 km southeast of Tunis, is a popular destination for swimming and water sports due to its exceptional white beaches. It is among the tourists zones in Tunisia with the most expensive houses. Residential units cost TND1,200 (€669) to TND1,700 (€943) per sq. m.
Villas in Hammamet sell at a premium, with prices ranging from TND278,323 (€155,120) to TND667,974 (€372,288).
Sousse, 140 km south of Tunis, has world-class resorts and sandy beaches, adjoining orchards and olive groves. The Medina (Old City) of Sousse is listed as an UNESCO Heritage Site. House prices here range from TND1,100 (€613) per sq. m. to TND1,400 (€781) per sq. m.
Villas in Sousse cost TND155,861 (€86,867) up. Larger three to four-bedroom resale villas are sold around TND333,987 (€186,144), according to Melanie Benna of Tunisian House, a real estate agency.
Sidi Bou Said, an ancient coastal town 20 km north of Tunis, is tagged as a white and blue village because of its white houses studded with blue doors. A one-bedroom house costs an average of TND45,000 (€25,090).
Beni Khiar, a small coastal town renowned for its quality blankets, carpets and kelims. The price of a small villa in the area starts at TND70,000 (€39,029).
Hergla, a small cliff-top town in northeastern Tunisia, is known for its white houses built in classic style. Beach apartments in the town are sold at TND45,000 (€25,090).
Monastir, 165 km south of Tunis, is famous for its well-preserved Ribat, a fortified Muslim monastery overseeing the Mediterranean Sea. Houses are priced from TND800 (€444) per sq. m. to TND1,000 (€558) per sq. m.
Djerba is a Mediterranean island in the southern coast of Tunisia. Houses are fairly priced at TND900 (€502) per sq. m. to TND1,100 (€610) per sq. m.
Sfax, an industrial city located 270 km southeast of Tunis, is very modern and pleasant. It is one of the towns in Tunisia with the cheapest housing units. House price ranges from TND650 (€360) per sq. m. to TND750 (€416) per sq. m.
Booming tourism sector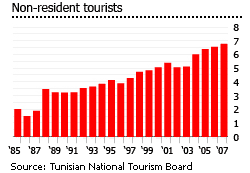 Tourism is of vital importance to the Tunisian economy, contributing around 20% of hard currency receipts In 2007, tourism brought more than 7 million foreigners into the country. Foreign currency receipts from tourism reached TND3.08 (€1.72) billion in 2007, an 8.9% rise from a year earlier. During the first half of 2008, tourist revenues were up another 8.4% on a year earlier. Europeans represent more than half of the total tourists.
With the development of medical and golf tourism in the country, the number of tourists is expected to rise further.
A sizeable portion of tourists choose to rent while vacationing in Tunisia. Foreign rental demand, mostly from Europe and neighboring countries such as Libya and Algeria, therefore complements strong domestic rental demand.
The next Morocco?
Tunisia has been dubbed the next Morocco. It has the same Mediterranean climate, and both countries have common Berber, Arab and French influences – though there are also enormous cultural and political differences. Tunisia has a more self-consciously modern, secular and progressive socio-political tradition.
Because the property markets in Tunisia are still relatively inexpensive, it arguably offers potential for high capital gains. Some analysts suggest that Tunisia's property prices are comparable to Morocco's prices five years ago. Furthermore, Tunisia outperforms Morocco in the following areas:
INDICATOR

TUNISIA

MOROCCO

SOURCE/REMARKS

Travel
and tourism
Rank: 39th
T&T index
score: 4.41
Rank: 67th T&T index score: 3.91
World Economic Forum, The Travel and Tourism Competitiveness Report, 2008; 130 countries
Cost
of living
Tunis rank:133rd COI index: 64.4
Casablanca rank: 81st; COI
index: 80.7
Mercer Cost of Living Index, March 2008; New York, US= 100; 143 cities; (includes rental accommodation costs)
Competitiveness
Rank: 32nd
Score: 4.59
Rank: 64th
Score: 4.08
World Economic Forum, Global Competitiveness Report, 2007-2008
Peace
and security
Rank: 47th
Peace index
score: 1.797
Rank: 63rd Peace index score: 1.954
Vision of Humanity Global Peace Index, 2008; 140 countries; Index from 1 to 5 where 1 = most peaceful
Ease of
doing business
Rank: 73rd
Rank: 128th
Doing Business 2009 Report, 181 countries, World Bank Group
Economic freedom
Rank: 84th
Score: 59.3
Rank: 98th
Score: 56.4
The Heritage Foundation, Index of Economic Freedom, 2008; 162 countries
Standard
of living
GDP per capita: US$3,760
GDP per capita: US$2,720
International Monetary Fund, GDP per capita at current prices, 2008
Literacy rate
Rate: 74.3%
Rate: 52.3%
UN Development Program, Human Development Report 2007/2008
Housing finance and interest rates
The size of the mortgage market in Tunisia grew from around 6.5% of GDP in 2003 to 7.9% of GDP by the end of 2007. From TND2.09 (€1.16) billion in 2003, total housing loans to individuals rose 70% to TND3.56 (€1.98) billion in 2007.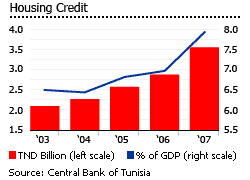 Since 1993 the money market interest rate, on which housing loans are based, has been falling. During the three years from July 2003 to June 2006 the money market rate was 5%, down from 10.8% in January 1993. Recently, the Central Bank of Tunisia decided to raise the average money market interest rate slightly, and in August 2008, the money market rate was 5.23%.
Housing supply
In 2004 there were more than 2.5 million houses in Tunisia, according to the General Census of the Population and Housing. Around 80% of these units are owned, according to the Tunisian External Communication Agency. The high home ownership is mainly due to the size of the middle class, which comprises 75% - 80% of the population.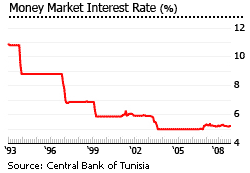 The percentage of sub-standard houses has fallen tremendously, to 0.7% of the total housing stock, from 7.5% two decades ago.
In the 11th Development Plan (2007-2011), the government aims to construct 300,000 housing units to meet the projected rise in demand for houses. The private sector is also expected to construct around 281,000 housing units.
DEVELOPMENT
PLAN

PERIOD

NUMBER OF HOUSES BUILT

AMOUNT OF
INVESTMENTS (TND)

8th Development
Plan achievement

1992-1996

204,329

3,478,100

9th Development
Plan achievement

1997-2001

222,250

4,699,900

10th Development
Plan achievement

2002-2006

255,400

6,700,000

11th Development
Plan target

2007-2011

300,000

10,100,000
Tunisia - More data and information