Qatar's housing market remains weak, as it continues to be adversely affected by the economic and financial fallout from the ongoing blockade, as well as the COVID-19 pandemic. Worse, supply continues to rise despite plunging demand, resulting to falling residential property prices.

The nationwide real estate price index plunged 9.77% during the year to Q2 2020, in contrast to a y-o-y rise of 1.42% in Q2 2019, according to the Qatar Central Bank (QCB). However in real terms, real estate prices increased 1.97%, as the country continues to suffer from negative inflation.

Quarter-on-quarter, prices were down 1.92% in Q2 2020 (-0.31% inflation-adjusted).

Based on the ValuStrat Price Index, the average residential property price in Qatar was QAR 7,731 (US$) per square meter (sq. m) in Q2 2020, down 1.4% q-o-q and by 4.1% y-o-y. By property type:

Apartments: the average price was QAR 11,152 (US$3,063) per sq. m in Q2 2020, down by 2.3% from the previous quarter and by 6% from a year ago
Villas: the average price stood at QAR 6,052 (US$1,662) per sq. m, down 1.2% q-o-q and 3.6% y-o-y.

"Amongst freehold apartments, Lusail witnessed the highest fall in capital values followed by West Bay Lagoon and The Pearl," said ValuStrat.

Qatari real estate had previously boomed for three glorious years, fuelled by rapid population growth and a construction boom in preparation for the 2022 FIFA World Cup:

In 2013, the real estate price index surged 20.74% (16.45% inflation-adjusted).
In 2014, the real estate price index soared by 34.67% (31.81% inflation-adjusted).
In 2015, real estate prices rose by 14.39% (10.75% inflation-adjusted).

However in 2016, the housing market slowed sharply, with the value of real estate transactions plunging by about 50%, and prices falling by 4% (-5.15% inflation-adjusted). Real estate prices fell a further 9.9% (-10.4% inflation-adjusted) in 2017, by 2.6% (-2.4% inflation-adjusted) in 2018 and by another 8.1% (0.6% inflation-adjusted) in 2019, as Saudi Arabia's hostility adversely affected Qatar's economy.

Qatar's housing market is expected to continue to struggle during the remainder of the year, as the COVID-19 pandemic is aggravating the crisis in the region. The Qatari economy is projected to decline by 4.5% this year, following a miniscule growth of 0.8% in 2019, according to the International Monetary Fund (IMF).

In October 2020, the Qatari government loosens its foreign property ownership rules further, in an effort to attract more expatriates, foreign buyers, as well as real estate funds.

The new law will include two important changes:

Increase the number of locations where non-Qataris can purchase real estate outright
Introduce a two-tiered residency program that rewards large investors with government-provided services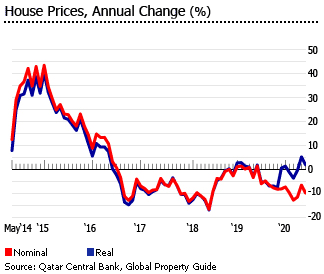 Foreign investors who buy a property valued above US$ 1 million will be eligible for permanent residency, which comes with government benefits such as education and health care (previously limited to Qatari citizens and long-time permanent residents). With the new law, a semi-permanent residency status is now open to buyers of property worth US$200,000, who can obtain renewable residency permits for themselves and their families without the need to be sponsored by an employer.