Qatar's housing boom has suddenly halted, despite amazing yields
August 20, 2016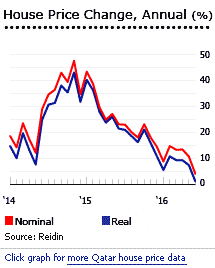 Qatar's nationwide real estate price index increased only 4.15% during the year to end-Q2 2016 (1.25% in real terms), according to the Qatar Central Bank (QCB), in contrast to the spectacular 23.16% rise during the same period last year.
During the latest quarter, real estate prices fell by 3.84% (3.84% in real terms).
Should we be surprised?  Qatari real estate has boomed for three glorious years, fuelled by rapid population growth and a construction boom in preparation for the 2022 FIFA World Cup:
In 2013, the real estate price index surged 20.6% (16.3% in real terms) from a year earlier.
In 2014, the real estate price index soared by 34.7% (31.8% in real terms) from a year earlier.
In 2015, real estate prices rose by 14.4% (10.8% in real terms) from a year ago.
Real estate transactions rose 10% by value in 2015, to QAR56.13 billion (US$15.42 billion).
There's a paradox behind Qatar's property downturn. Gross rental yields are outstanding.  Qatar's population is growing amazingly rapidly.  Normally these factors would mean a surging property market.
But what has changed over the past 18 months is the oil price - and therefore expected GDP growth. 
Yields are excellent, though rents are now stabilizing
Gross rental yields in Qatar stand at around 10%, according to Alpen Capital, an investment bank. In the past two years, apartment rents have risen between 5% and 10% y-o-y in selected developments, particularly in the mid-range apartment segment in the Al Sadd area.
But now rents have started to stabilize, as tenants look for more affordable rental properties. In fact in some high-end locations, such as in Al Sadd, apartment rents started to fall in the first half of this year.
"Demand for apartments in areas such as Najma, Umm Ghuwailina, and Al Mansoura increased as tenants seek more affordable accommodation," said DTZ Research. "As a result, rents in Al Sadd, Bin Mahmoud and Al Mirqab have softened over the last three months in order to attract tenants."
About 59% of all occupied housing units in Qatar are rented, according to QSA. The average expat household in Qatar spends more than a third of its annual income on rent, according to Colliers International.
Prime apartment rents, Q1 2016:
One-bedroom apartments rent for around QAR12,000 (US$3,296) per month.
Two-bedroom apartments rent for around QAR15,000 (US$4,120) per month.
Three-bedroom apartments rent for around QAR18,000 (US$4,944) per month.
Apartment rents, both in the primary and secondary market, are expected to fall in the remainder of 2016, amidst increased housing supply and reduced demand for corporate residential lettings, according to local real estate experts.
Qatar issues permanent residence visas to foreigners buying freehold properties, under Law No. 17 of 2004. The visa remains valid as long as the foreigner keeps the property in his name.
Foreigners and expatriate residents amount to about three-fourths of the population, according to the Qatar Statistics Authority (QSA). About 82% of the population lives in Doha and Al Rayyan.
The economy is growing less fast, and suddenly there's a big budget deficit.
In 2015 the economy grew by 3.3%, after expanding by 4% in 2014, 4.6% in 2013, and 4.9% in 2012, according to the International Monetary Fund (IMF).  Maybe that doesn't sound bad, but is amazing to recall how rapidly Qatar was growing the mid-2000s, when its economy grew by an average of 21% annually from 2006 to 2008!
And despite the global crisis, there was growth of 12% in 2009, 19.6% in 2010, and 13.4% in 2011.
The country's budget deficit is expected to surge to 7.8% of GDP this year, the first deficit in 15 years, as low oil prices weigh on revenues. The deficit is projected to rise to 7.9% of GDP in 2017 before shrinking to 4.2% in 2018, according to the Ministry of Development Planning and Statistics (MDPS).
This year, Qatar's external debt is expected to surge to QAR83.4 billion (US$22.9 billion), from QAR67 billion (US$18.4 billion) in 2015.
Completions rising, but permits are now falling
The downward pressure on prices stems partly from an expected 30% increase this year in the number of prime residential units, especially those located on The Pearl-Qatar, according to DTZ Research. New towers in Porto Arabia and Viva Bahriya are now near completion.
However the industry has turned cautious. The number of residential building permits dropped more than 25% y-o-y to just 838 in the second quarter of 2016, according to the Ministry of Development Planning and Statistics.
In June 2016, villas accounted for 62% of all new residential building permits issued, followed by houses (25%) and apartment buildings (11%).
A historically volatile property market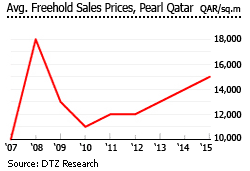 In 2009 housing prices in Qatar fell by as much as 40%, while residential rents dropped about 25%, due to the global financial meltdown, according to Century 21 Qatar. Then in 2010, housing prices fell again by about 4%, according to Saudi-based banking firm, Samba Financial Group.
Prices stabilized in 2011, thanks to Qatar's spectacular economic growth. From 2012 to 2015, the property market expanded strongly due to steady job growth in non-hydrocarbon sectors such as finance, hotels, restaurants, and trade and transport. The country's population reached almost 2.4 million in 2015, up by about 9% from the previous year, reflecting the large influx of expatriates.
In the long term, the slowdown in the housing market is not expected to last, given the country's rapid population growth.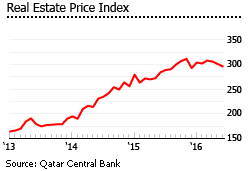 "With Qatar's population growth set to increase by over 7% per annum in the coming years, the real estate market will need to expand more quickly to keep pace and avoid overheating the market," said Johnny Archer of DTZ Qatar.
 "Prices have continued to rise in The Pearl-Qatar, especially for most studio, one and two-bedroom units," says Dan Strutt of real estate agency LS. "It is a city in itself and being a freehold zone, it is a lifestyle location," added Strutt. The Pearl-Qatar is a QAR36.4 billion (US$10 billion) Riviera-style development located on the coast of Doha.  Its secondary market prices ranged in Q1 2016 from QAR13,000 (US$3,570) to QAR15,000 (US$4,120) per square metre (sq. m.), with newly built houses priced above QAR17,000 (US$4,669) per sq. m., according to DTZ Qatar. 
Interest rates unchanged
Key interest rates have been unchanged since August 2011.  Overnight lending and repo rates are now 4.5%, and the overnight deposit rate is 0.75%.

However recently, Qatari commercial banks have asked the central bank to cut the repo rate and overnight lending rate to between 2% and 2.5%, as low oil prices are tightening banking system liquidity. Qatar's repo rate is much higher than it is in other Gulf nations.

Qatar National Bank (QNB), the country's leading financial institution, offers home and land financing at rates as low as 4.35%. The maximum loan offered to expatriates is QAR3 million (US$823,280) with a term of not more than 15 years. One can borrow up to 70% of the value of the property.

The size of Qatar's mortgage market is estimated at about 14% of GDP. To develop it, Qatar Chamber of Commerce and Industry is now drafting the country's first mortgage law.
Land prices continue to rise
Massive construction in preparation for the 2022 FIFA World Cup continues to push up land prices. Al Shamal, home to the Al-Shamal Stadium - has seen very steep land price increases in the past four years. Dafna, West Bay and The Pearl registered land price increases of around 40% to 50% from two years ago. In Central Doha and Al Rayyan, land prices have risen between 30% and 35% over the same period. Land prices also increased moderately in South Doha and Umm Salal and in the previously underdeveloped Al Wakra and Al Daayen regions.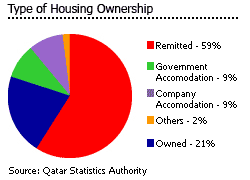 "Land prices appear to have increased at the fastest pace, followed by villas, where land is typically the most important cost component," according to an IMF report.
Land accounts for about half of the total value of real estate sales in Qatar every year, about 10 times higher than its proportion in developed markets, according to local property experts.
About 10 years ago, 500 sq.m. land on the outskirts of Doha sold for just QAR200,000 (US$54,932). Recently, land in the Al Mirqab area was worth QAR151,000 (US$41,473) per sq. m., while land in Doha's Old Ghanem neighborhood was worth QAR207,000 (US$56,854) per sq. m..
Foreigners can buy in 3 massive freehold areas:
The Pearl-Qatar
The Pearl is a QAR36.4 billion (US$10 billion) Riviera-style development, on a vast man-made island off the coast of Doha, the capital city. It provides over 40 kilometres of new coastline, linked to the mainland by a 4-lane, palm-tree lined highway. Doha's international airport is only 20 km away. It was here that Qatar offered its first freehold properties.

Developed by the United Development Company, The Pearl-Qatar has 16,000 villas and 25,000 apartments.
West Bay Lagoon
West Bay Lagoon is a 2 million sq. m. private beachfront compound, centred on the Zigzag Towers. At the northern tip of Doha's West Bay district, it is surrounded by artificial lagoons.
Barwa - Al Khor City
The Barwa - Al Khor project is a complete city, including seafront chalets, villas and elite apartments, covering 5.5 million sq. m. in Al Khor, 57 km north of Doha. The QAR30 billion (US$8.24 billion) Barwa Real Estate development will house 63,000 residents in 24,114 elite residential units. It also has hotels and sports facilities.
There are also 18 leasehold for foreigners
Foreigners can alternatively buy leasehold property for 99 years, renewable, in 18 designated areas, including the multi-billion dollar Lusail project, under Cabinet Decision No. 6 of February 2006. Foreigners can use the properties commercially or residentially, transfer the lease to another party, and sublet or rent.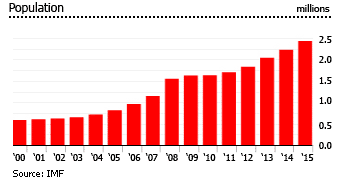 Lusail City is an QAR164 billion (US$45 billion) waterfront community on the northern coast of Umm Salal, 15 km north of Doha. It is expected to house over 200,000 residents in 10 hotels, 3,000 villas, 12,000 apartments and retail areas.
Developed by Qatari Diar, Lusail will cover an area of around 21 million sq. m. This mega project, in 16 zones, will contain an Energy City costing QAR9.5 billion (US$2.6 billion), and an Entertainment City, costing QAR5.5 billion (US$1.5 billion). The Lusail Iconic Stadium is also expected to be built in the city. The massive development is planned to be completed by 2020.
Another mixed use development project is Al Waab City, owned by Nasser Bin Khaled Group, which covers about 1.2 million sq. m. Incorporating "green strategies" and sustainable design principles, it is estimated to cost QAR13 billion (US$3.6 billion). The development includes 2,411 residential units, 232,715 sq. m. of commercial space, and a 425 room hotel complex. Al Waab City is slated to be finished this year.
Another notable development is Asia Towers, which will have four 55-storey towers near West Bay. Each tower will contain about 1,600 residential apartments. Developed by Ezdan Real Estate Company, it is estimated to cost QAR2.5 billion (US$686 million).
Other leasehold property developments in Qatar:
Musheireb (Area #13)
Frij Abdul Aziz (Area #14)
Doha Jadeed (Area #15)
Ghanem Al Qadeem (Area #16)
Al Rifa Al Hitmi (Area #17)
Al Salata (Area #18)
Bin Mahmoud (Area #22)
Bin Mahmoud (Area #23)
Rawdat Al Khail (Area #24)
Al Mansoura & Bin Dirham (Area #25)
Najma (Area #26)
Umm Ghuwailina (Area #27)
Al Khulaifat (north and south) (Area #28)
Al Sadd (Area #38)
New Mirqab & Al Nasser (Area #39)
Doha International airport (Area #48)
Al Dafna & Onaiza & Al Qitar (Area #60 & 61 & 63)
Al Kharaij & Jebel Thiya (Area #69 & 70)
Economic growth has slowed enormously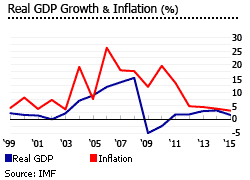 Economic growth has slowed sharply.  After expanding by  4.9% in 2012, and 4.6% in 2013, Qatar's economy grew by just 4% in 2014, mainly due to a decline in oil prices. In 2015, the economy slowed further, with growth of just 3.3%.
The economy is projected to grow by 3.4% this year, according to the International Monetary Fund (IMF).
"The outlook for economic growth remains moderate, despite the slowdown in the hydrocarbon sector," said the World Bank. "Qatar may sustain real GDP growth averaging 3.6% between 2016 and 2018, driven by growth in non-hydrocarbon sectors."
In July 2016, overall inflation was 2.8%, from 2.5% in June, 2.6% in May, 3.4% in April, and 3.3% in March 2016, according to Qatar Statistics Authority (QSA).
In Q2 2016, unemployment was 0.2%, the lowest in the Middle East, according to QSA. Qatar's highest-ever unemployment rate was 3.9%, seen in December 2011.
Qatar - More data and information