With the recent introduction of more liberal foreign property ownership rules, the end of the economic and political blockade against Qatar, as well as improving economic conditions, it is not surprising that Qatar's housing market is now showing signs of improvement.

The real estate price index rose by 2.82% during the year to Q3 2021, in sharp contrast to a y-o-y fall of 5.67% in Q3 2020, according to the Qatar Central Bank (QCB) - the country's  best showing since Q2 2016. However in real terms, real estate prices were up by a minuscule 0.11%.

Quarter-on-quarter, prices increased 2.06% in Q3 2021 (0.82% inflation-adjusted).

Transaction volumes in the country rose strongly by 36% to QAR 31 billion (US$8.5 billion) during 2020, from QAR22.8 billion (US$6.3 billion) in 2019 despite the pandemic, according to the Ministry of Justice. In Q3 2021, transaction volumes for houses in Qatar fell by 25% from a year earlier but increased by 60% from two years ago, according to ValuStrat's Q3 2021 report.

Muaither, Al Wakrah and Al Khor had the highest volume of transactions for residential houses in Q3 2021.

The improved real estate market performance "is evidence of improved buyer confidence stemming from several factors: increasing competitiveness of properties, the introduction of policies facilitating foreign investment, normalisation of relations with GCC countries, and positive reinforcements from holding of World Cup in 2022," according to Pawel Banach, ValuStrat's General Manager.

In preparation for the 2022 FIFA World Cup, Qatari real estate boomed for three glorious years 2012-15, fuelled by rapid population growth and a construction boom:

In 2013, the real estate price index surged 20.74% (16.45% inflation-adjusted).
In 2014, the real estate price index soared by 34.67% (31.81% inflation-adjusted).
In 2015, real estate prices rose by 14.39% (10.75% inflation-adjusted).

However in 2016, the value of real estate transactions plunged by about 50%, and prices fell by 4% (-5.15% inflation-adjusted). Real estate prices fell a further 9.9% (-10.4% inflation-adjusted) in 2017, by 2.6% (-2.4% inflation-adjusted) in 2018 and by another 8.1% (0.6% inflation-adjusted) in 2019, as Saudi Arabia's hostility adversely affected Qatar's economy. In 2020, the housing market continued to struggle, with prices falling further by 8% (-4.8% inflation-adjusted), amidst the Covid-19 pandemic.

In October 2020, the Qatari government responded by loosening its foreign property ownership rules, in an effort to attract more expatriates, foreign buyers, as well as real estate funds.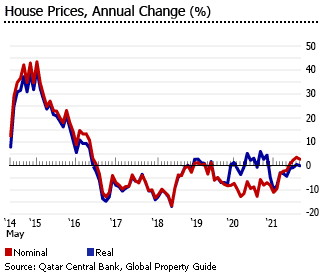 Then in January 2021, the Saudis agreed to end their sweeping economic and political blockade against Qatar, begun four years ago. Qatar's politics are more liberal, which irritates the Saudis. In addition Qatar, like Turkey, maintains support for the pan-Islamist Muslim Brotherhood, abhorred by the UAE and the Saudis, and maintains links to Iran, with which it shares a major oil field. The new deal, which may reflect Saudi attempts to conciliate Biden after its previous love-fest with Trump, restores the air, land and sea links to the emirate that were severed in June 2017.

The Qatari economy is projected to grow by 1.9% this year, following a contraction of 3.6% in 2020, according to the International Monetary Fund (IMF).