The crisis in Qatar has caused a dramatic decline in housing prices and costs. The country's diplomatic rift with fellow Gulf nations caused the real estate price index to fall by 16.65% during the year to end-Q2 2018, according to the Qatar Central Bank(QCB). When adjusted for inflation, the price decline was 16.77%. During the latest quarter, real estate prices fell by 6.8% (-6.5% inflation-adjusted). Rents have also fallen across the board.

In contrast to the downward trend of real estate prices, transaction volumes actually rose by 16.4% y-o-y in Q2 2018, according to the consulting firm ValuStrat. Most sales came from Al Daayen (24.5%), Doha (22.7%), and Al Rayyan (21%).

"...Affordability has become pervasive across all real estate sectors in Qatar... On the residential front, developers are offering high-quality apartments at competitive rents to try and secure deals," says Pawel Banach, general manager for MRICS-ValuStrat Qatar.

Qatari real estate had previously boomed for three glorious years, fuelled by rapid population growth and a construction boom in preparation for the 2022 FIFA World Cup:

In 2013, the real estate price index surged 20.74% (16.45% inflation-adjusted).
In 2014, the real estate price index soared by 34.67% (31.81% inflation-adjusted).
In 2015, real estate prices rose by 14.39% (10.75% inflation-adjusted).

However in 2016, the housing market slowed sharply, with the value of real estate transactions plunging by about 50%. Real estate prices fell by 4% (-5.15% inflation-adjusted). In 2017 real estate prices fell a further 9.94% (-10.44% inflation-adjusted). 2018 has been even worse, as owners realise that Saudi Arabia's hostility isn't letting up, and Qatar's economy is suffering.

Foreigners are allowed to obtain freehold ownership in specific areas in Qatar: The Pearl, West Bay Lagoon, and Al Khor.

Foreigners who buy in any of these areas are automatically granted residency, which extends to the owner's family, for the whole duration of the ownership.

In August 2017, a draft law was approved that grants permanent residency to qualified expats. Those qualified include:

children of Qatari mothers who are married to foreigners;
people with special talents "needed by the state";
other individuals who extended notable services to the country.

However, citizenship will still be off-limits to foreigners.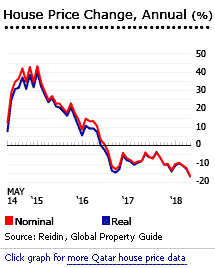 Permanent residents of Qatar will be treated like Qatari nationals and enjoy benefits such as access to healthcare and education systems, priority (after locals) for military and civilian public jobs, and will have permission to operate commercial activities without a local partner, and permission to own a property. Three-fourths of Qatar's population are foreigners, according to the Qatar Statistics Authority (QSA). About 82% of the population lives in Doha and Al Rayyan.

Qatar National Bank (QNB), the country's leading financial institution, offers home and land financing at rates as low as 4.35%. The maximum loan offered to expatriates is QAR3 million (US$824,200) with a term of not more than 15 years. One can borrow up to 70% of the value of the property.


Analysis of Qatar Residential Property Market »