Even before the pandemic, Oman's property market was already depressed, due to the imposition of expatriate visa ban coupled with an increasing supply glut.  The situation further deteriorated this year after the Omani government closed its borders to international tourists beginning March 2020 to prevent the spread of the virus.

"As Oman pushes ahead with its Omanisation drive, the number of expats leaving the country as a result of visa bans for foreign workers has increased, sending property rents and prices lower," said Cavendish Maxwell Research.

Residential property prices and rents have been falling by about 10% to 15% annually in the past three years, according to local real estate experts.

The Ministry of Manpower first introduced the expatriate visa ban in January 2018, in an effort to reduce the number of unemployed locals as part of the Omanization project. The ban has been extended several times since. Earlier this year, the government has decided to extend again the visa ban on expats for another six months from August 5, 2020, and has expanded the coverage to include more job categories.

Foreigners account for almost 90% of all workers in Oman's private sector. The expat population rose by more than 12% per annum during the period 2004-2016 but has continuously declined since the visa ban was introduced. In the first half of 2020, the total number of expat workers in Oman fell by a huge 9.3% y-o-y to 1,589,883, following annual declines of 4.2% in 2019 and 3.6% in 2018.

"We expect to see an on-going decline in the expatriate population living in Muscat and that will result in a reduced market size and therefore reduced demand over the coming months," said Matthew Wright of Savills Oman.

Real estate trades plunged 24% during the first eight months of 2020, as compared to the same period last year, according to the National Centre for Statistics & Information (NCSI), with the value of properties falling by 7.3% y-o-y.

Oman's real estate market began to be opened to foreigners in 2002, as part of the "Vision 2020" plan to reduce Oman's oil-dependence. GCC nationals were the first foreigners to gain the right to own real estate, then in February 2006 other nationalities, but only in designated Integrated Tourism Complexes (ITCs). Under current laws, expatriate owners automatically get residency rights for themselves and immediate families when they buy property in ITC developments.

The Omani economy grew by a minuscule 0.5% in 2019, a slowdown from the previous year's 1.8% growth – and far lower than the annual average growth rate of 5% from 2012 to 2016, according to the International Monetary Fund (IMF).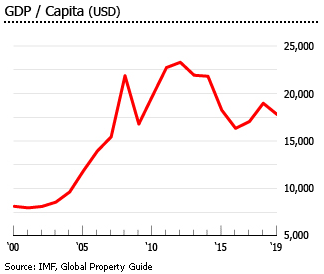 The IMF has recently forecast that Oman's economy will contract by 2.8% this year, mainly due to the coronavirus outbreak, as well as the oil price slide.

In August 2020, crude oil prices stood at an average of US$ 44.74 per barrel, sharply up from just US$18.38 in April 2020 but down from last year's US$59.04 per barrel.