Oman's property market is now showing signs of recovery, thanks to improving economic conditions and rising crude oil prices, according to local real estate experts.

In Q1 2018, the average value of real estate traded in Oman rose by 14% to OMR 37,854 (US$98,332) from a year earlier, according to the Ministry of Housing. In fact in Muscat, which accounts for more than 65% of property transactions, the average value of real estate traded surged 67.6% y-o-y to OMR 136,558 (US$354,733) over the same period.

Demand is now rising. In Q1 2018, the total value of property traded in Oman increased 6.5% y-o-y to OMR776.3 million (US$2.02 billion), in sharp contrast with the 61% decline seen in 2017, based on figures from the National Centre for Statistics and Information (NCSI).

The government's efforts to boost the economy has resulted in several encouraging developments for the property market, such as the creation of a real estate investment fund (REIF), which is expected to increase investments in larger scale real estate projects. However, the Ministry of Manpower's decision to extend the temporary ban on the issuance of work permits to expats in key sectors is expected to adversely impact demand for residential rental properties, according to Cluttons.

Overall, Oman's real estate market is projected to stabilize in the medium term, supported by improving economic conditions, as well as the construction of a new airport in Muscat and the production of natural gas at the Khazzan gas field, according to Cluttons.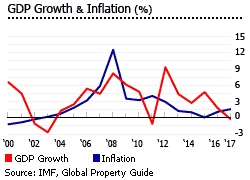 The economy contracted by 0.3% in 2017, after annual growth rates of 1.8% in 2016, 4.7% in 2015, 2.8% in 2014, 4.4% in 2013, and 9.3% in 2012, according to the International Monetary Fund (IMF), as oil output contracted by 2.8% due to the implementation of the OPEC agreement. The economy is projected to improve, with a modest growth of 2.1% this year, amidst rising oil prices.

In May 2018, crude oil prices increased to an average of US$76.98 per barrel, up from US$54.25 in 2017 and US$43.5 in 2016 and the highest level since November 2014.


Analysis of Oman Residential Property Market »