Iran: A society in flux
July 29, 2008

Iran is not the closed society some would believe. It is working through major changes, and is not inhospitable to foreigners.

Foreigners may own or lease property if the property is for commercial or industrial use, or for a personal residence. In the latter case, the foreigner must normally be resident in Iran. Foreigners may not own agricultural lands.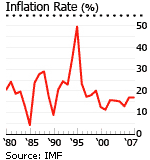 For non-residents, the Council of Ministers may grant the right to own a dwelling to a foreigner who lacks a permanent residence permit, but travels regularly to Iran for tourism and/or seasonal recreation.

The election of hardline President Mahmoud Ahmadinejad in June 2005 renewed tension between Iran and the West. Ahmadinejad's anti-Israel remarks and his open espousal of nuclear technology have already brought invasion threats from the U.S.