The Venezuelan crisis rolls on!
April 15, 2009

After narrowly losing a 2007 referendum to scrap term limits, President Hugo Chavez intensified his populist programs. He gave dole-outs to loyal Chavistas and to poor people. In December 2008, Chavez got his wish, a constitutional revision allowing him to run for president indefinitely.

With oil prices significantly down, the economy is in a brink of implosion. With petrodollars gone, he is being forced to reduce government spending, raise taxes and increase domestic borrowing. The economy is expected to contract by more than 5% in 2009 and 2010 while inflation remains above 30%. Foreign exchange controls, price controls on food and politically motivated land reform have led to food shortages (and increased smuggling).

Chavez has also turned his eye to the housing crisis he himself created. The drop in the number of new houses constructed has been accompanied by threats of expropriation, and warnings that price control on house re-sales may be imposed.

"I have no problem in signing a decree to regulate housing prices in the secondary market," President Chavez has said.

For what it is worth, Venezuela is an open market to foreigners. Any foreigner can buy property in Venezuela with just a valid passport, a tourist visa and a Registro de Información Fiscal (RIF).


Analysis of Venezuela Residential Property Market »
Yields can be as high as 15% in Caracas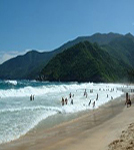 Because of the acute shortage of quality housing, yields for apartments in Caracas are around 10% to 14%. Houses can fetch higher yields, up to 15.2% for a 350 sq. m. property.

Rental yields for houses in provinces that are popular for tourists and foreigners can reach up to 20%. These provinces are Macaraibo, Maracay, and Barquisemento. The most expensive properties can be found in Margarita Island, along the Caribbean, a 100 sq. m. property would cost around US$350,00 while a same sized house in Caracas would only cost US$95,000.
Income tax and CGT are high at 34% in Venezuela
Rental Income: Net rental income earned by nonresidents is taxed at a rate of 34%. Depreciation or capital allowance is not deductible when computing for the taxable income.

Capital Gains: Capital gains earned by nonresidents are taxed at a flat rate of 34%.

Inheritance: Gift and inheritance tax is levied at progressive rates, from 1% to 55%.

Residents: Resident individuals are taxed on their worldwide income at progressive rates, from 6% to 34%.
Total transaction costs are high in Venezuela
Total roundtrip transaction cost for buying property are around 13.48% to 16.29%. The biggest expenses are the real estate agent's commission (5%) and the Municipal Solvency Certificate (3.93% to 5.24%), both paid for by the seller. Registration takes about 36 days.
Tenancy laws are pro-tenant
Tenant Security: Landlords have in the past relied on one-year contracts due to landlord/tenant's difficult relationship on account of occupancy laws that highly protect the tenant.
Venezuela in near economic collapse
Venezuela's economic growth for the past few years has been closely linked to movement in oil prices. After contracting by an average of 8.3% in 2002 and 2003, Venezuela's GDP growth surged to 18.3% in 2004, then averaged 9.69% from 2005 to 2007.

Oil and gas account for more than 90% of exports, around half to the US.

With the US in recession and oil prices down drastically, economic growth in 2008 slowed to 4.8%. The economy is expected to contract by more than 5% in 2009 and 2010. The economic contraction will likely push more people into poverty than when Chavez assumed office.

Venezuela's original budget for 2009 assumed oil prices at around US$60 per barrel. With oil prices currently moving within the US$45 - US$50 level, the government has announced tax hikes and spending cuts to address the deficit. With international borrowing almost impossible, the government will be forced to borrow internally. VAT is being hiked from 9% to 12%, and domestic debt is being increased, squeezing further the already diminished formal market.

The economy is expected to contract. But inflation is expected to remain high at around 30% in 2009 and 2010, similar to its level in 2008.

Macroeconomic mismanagement such as excessive printing of money has pushed inflation in Venezuela to classic Latin American levels. Average inflation from 2000 to 2007 was 19%, and never since 1983 has inflation been below 10%.

The Venezuelan Bolivar (BCV) was pegged to the US dollar at US$1 = BCV2,150 in March 2005. In January 2008, the Bolivar was replaced by the "strong Bolivar" (VEF) by dividing everything by 1,000, the new official exchange rate is now US$1 = VEF2.15.

However, the value of strong Bolivar in the black market, is much lower at around VEF5.50 - VEF5.75 per US dollar. The currency control brings unnecessary complications to damaging the economy.