House prices continue to rise in Montevideo; but demand is weakening
Lalaine C. Delmendo | June 20, 2019

In Montevideo, Uruguay's capital, the average price of newly built houses rose by 9.1% y-o-y to UYU 47,160 (US$ 1,334) per square metre (sq. m.) during 2018, according to the National Institute of Statistics (INE). However because of high inflation, real house prices only rose by a meagre 0.7% last year.

In 2018, real estate transactions in Uruguay fell by 4% to US$1.61 billion from a year earlier, based on figures from El Observador, in contrast to a 17.3% sales growth last year.

This can be mainly attributed to the declining purchasing power of Uruguayans. The Uruguay peso (UYU) has weakened by almost 19% against the US dollar, from an average monthly exchange rate of UYU 28.583 = USD 1 in January 2018 to UYU 35.124 = USD 1 in May 2019, stoking inflationary pressures.

By property type:

For single-family homes, the average price was UYU 41,072 (US$1,162) per sq. m. in 2018, up 7.3% (-1% inflation-adjusted) from a year ago
For duplexes, the average price was UYU 43,288 (US$1,224) per sq. m. in 2018, up 8% (-0.3% inflation-adjusted) from a year ago.

Data released by El Observador shows average house prices in Montevideo around US$ 2,700 per sq. m. in 2018 - about twice as much as government figures, not surprising given that El Observador's data is based on classified ads in Uruguay's main web portals.

Demand from foreign buyers remains weak. The real estate market in Uruguay, and particularly in its beach resorts, relies heavily on foreign buyers, around 75% of whom have traditionally been Argentines, followed by Brazilians (with about 20% share) while the remaining 5% were buyers from other countries. Some European retirees are also drawn to Montevideo, especially writers and artists. Argentina's economic crises always have a big impact in Uruguay.

Real estate transactions in Uruguay are typically quoted in dollars because of a history of fluctuations in the value of the Uruguayan peso.

Among the eighteen Montevideo neighborhoods included in the El Observador survey, Parque Rodó posted the biggest house price increases - around 13% during the year to December 2018.

It was followed by Palermo, La Blanqueada, Punta Carretas, Centro, Carrasco, and Ciudad Vieja, with house price rises ranging from 4% to 6%.

Areas with modest to minimal house price increases (between 0% to 3% during 2018) include Cordón, Punta Gorda, Tres Cruces, Pocitos, Malvin, Parque Batlle, and Union. House prices fell in Buceo (-8%), Jacinto Vera (-6%), Prado (-2%) and Aguada (-2%).

In Carrasco, Montevideo's most exclusive suburb, a typical 65 sq. m. residential property cost about US$ 230,000 in 2018.

In Punta Carretas, where the magnificent Rambla (seaside avenue) can be found, a similar sized unit has an average price of US$ 225,000.

In Punta Gorda, a beautifully restored historic district, a 65 sq. m. residential unit costs around US$ 220,000.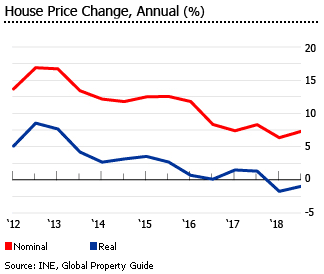 Uruguay's house prices are expected to continue rising - at least in nominal terms - during the remainder of the year, particularly in Montevideo, given that Uruguay's economy grew by 1.6% in 2018, following expansions of 2.6% in 2017, 1.7% in 2016 and 0.4% in 2015, according to the Banco Central del Uruguay. The economy is projected to grow by 1.9% this year before accelerating to 3% in 2020, based on projections released by the International Monetary Fund (IMF).

Foreign buyers can buy both built properties and land in Uruguay. In November 2013, Congress prohibited ownership of productive land by corporations in which foreign countries are direct or indirect shareholders. But the bill does not affect individual foreign buyers, who can still purchase land.


Analysis of Uruguay Residential Property Market »