Uruguay: Montevideo's house prices up; Punta del Este down
October 04, 2016
After two year of house price falls, Montevideo's property market is now showing signs of improvement. During the year to July 2016, house prices in the capital city Montevideo rose by 2.53%, to an average of US$2,515 per square meter (sq. m.), based on data compiled by El Observador from a database of 20,000 condominiums.
Among the seventeen Montevideo neighborhoods included in the survey, Centro recorded the biggest house price increase of 9.6% during the year to July 2016, followed by Prado (7.6%), Ciudad Vieja (7%), Malvin (6.8%), Tres Cruces (4.3%), Punta Gorda (4.1%), and Cordon (3.6%). Minimal house price rises were seen in Aguada (2.9%), La Blanqueada (2.8%), Parque Rodo (2.7%), Pocitos (2.6%), Carrasco (1.8%), Centro (1.7%), Union (0.3%), and Punta Carretas (0.1%). House prices in Buceo were almost unchanged while they fell by 0.7% in Parque Batlle.
Carrasco, Montevideo's most exclusive suburb, had an average price of US$3,358 per sq. m. in July 2016.
In Punta Gorda, a beautifully restored historic district, a residential unit costs around US$3,380 per sq. m. in July 2016. In Punta Carretas, with the magnificent Rambla (seaside avenue), a unit has an average price of US$3,150 per sq. m.
In the districts of Malvin, Pocitos, and Buceo, the selling price of a 65 sq. m. residential property ranged from US$2,750 to US$3,150 per sq. m. in July 2016. On the other hand, a similar property costs between US$2,450 and US$2,650 in the areas of Parque Batlle, Tres Cruces, and Parque Rodo.
Union has the most affordable housing in the capital city, with an average price of US$1,644 per sq. m.
Punta del Este remains depressed
The fashionable beach resort of Punta del Este continued to struggle in 2015. Residential property prices have fallen by about 25% since 2011, according to Carlos Garcia Arocena of Bado & Perazzo Sotheby's International Realty. Along with Montevideo, Punta del Este has dominated Uruguay's property market for more than a decade.
Declining demand from Argentinians is the main culprit. In order to stem capital flight from Argentina, its government imposed tighter currency controls by limiting dollar purchases.
A tax information exchange agreement between Uruguay and Argentina in 2012 has also affected Punta del Este, believes Alberto Prandi, Former Deputy Tourism minister and member of the Real Estate Association of Punta del Este, Adipe.
Luxury homes in Punta del Este are now (early-2016) typically priced from US$2 million to US$5 million, says Catherine Lacroze of Los Robles Properties. Beachfront luxury homes command even higher prices, ranging from US$7 million to US$10 million.
55 real estate offices have closed in and around Punta del Este over the past two years. About 85% of Punta del Este property owners are now renting their units through "informal channels" in order to reduce costs and avoid paying real estate commissions and taxes, according to the Chamber of Tourism.
Residential demand somewhat weak across Uruguay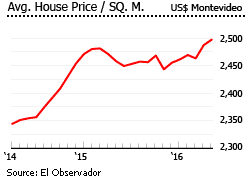 Registration's of "acts" (purchases, pledges, mortgages and others) fell by 1.6% in 2015, to 125,732, according to the Directorate General of Registries. The value of real estate transactions also fell by 7.4%, to US$1.47 billion.
Despite the overall decline in property sales, there's healthy demand for apartments and newer townhouses with amenities like swimming pools, private patios and round-the-clock security, especially from retirees.
In 2015, the economy grew by 1.5%, its slowest growth since 2002 (when it contracted by more than 7%). The IMF predicts it will expand by 1.4% this year and by another 2.6% in 2017. But the government expects less growth, projecting GDP growth of just 0.5% this year and 1% in 2017. The economic slowdown in neighboring Argentina and Brazil continue to undermine domestic growth.
There are no restrictions on foreigners purchasing property in Uruguay.
Foreign demand still low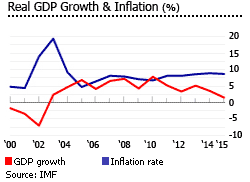 Demand from foreign buyers remains weak. The real estate market in Uruguay, and particularly its beach resorts, heavily relies on Argentina's high-end buyers. Foreign homebuyers make up more than a third of the total property transactions every year. Around 75% of foreign buyers in Uruguay are Argentines, followed by Brazilians, another 20%, while the remaining 5% are buyers from other countries. Some European retirees are also drawn to Montevideo, especially writers and artists.
Real estate transactions in Uruguay are typically quoted in dollars because of a history of fluctuations in the value of the Uruguay peso.
Foreign buyers are not restricted when buying properties in Uruguay.  In November 2013, the Uruguayan government filed a new bill in Congress, which prohibits ownership of productive land by corporations in which foreign countries are direct or indirect shareholders. But the bill does not affect individual foreign buyers, who can still purchase land in Uruguay.
Montevideo's massive housing boom 1995-2000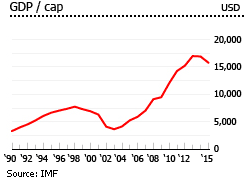 Montevideo saw spectacular housing boom from 1995 to 2005, with prices of newly built houses surging by 198.6%, according to the Instituto Nacional de Estadistica's (INE).
With increases in per capita income and robust demand from foreign homebuyers, house prices continued to rise in following years, albeit at a slower pace:
In 2006, the price index for new houses rose by 8.59% (2.07% inflation-adjusted) from a year earlier
In 2007, new house prices rose by 5.63% (-2.78% inflation-adjusted) from a year earlier
In 2008, new house prices rose by 19.45% (10.51% inflation-adjusted) from a year ago
In 2009, new house prices rose by 5.33% (-1.25% inflation-adjusted) from a year ago
In 2010, new house prices rose by 7.35% (0.69% inflation-adjusted) from a year ago
In 2011, new house prices rose by 11.44% (2.81% inflation-adjusted) from a year earlier
In 2012, new house prices rose by 15.57% (2.11% inflation-adjusted) from a year earlier
However, Montevideo's housing market slowed sharply in 2013 and 2015. The housing market is now gradually improving, with modest house price increases.
Rental yields are moderate to good
Uruguay's big city rental yields range from moderate to good, at around 5.5% to 7.5%.
In Montevideo, gross rental yields on 50 square metre (sq. m.) apartments are reasonable, at an average yield of 7.4%. Larger-sized apartments of around 245 sq. m. have lower yields averaging 5.5%, according to Global Property Guide research.
Houses in Montevideo also offer good rental yields. A 200 sq. m. house has an average yield of around 7.45% while a 500 sq. m. house yielded about 5.4% at end-2015.
Apartments in Montevideo cost around US$2,700 to US$3,000 per square metre (sq. m.) in 2015. Houses in Montevideo cost around US$2,000 per sq. m.
Rents have been rising recently. In 2015, average rents for new contracts increased 7.66%, and rose by 9.43% for existing contracts.
Higher interest rates stifling demand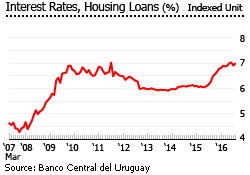 Due to rising inflation, interest rates are now heading up. Banco Central del Uruguay's (BCU) housing lending rate for indexed units (UI) increased to 7% in August 2016, from 6.3% in August 2015 and 6.1% in August 2014.
The Indexed Unit, or Unidad Indexada (UI) in Uruguay, was created after Uruguay underwent a financial crisis in 2002. This unit is like Chile's Unidad de Formento, which is adjusted with the CPI, and replaced the previous Unidad Reajustable (UR) which was adjusted according to a wage index. The index is calculated by Instituto Nacional de Estadistica's (INE), and is subject to daily changes to reflect changes in the CPI. The indexing to the price level does not incur inflation risk since the real value of payments remains constant.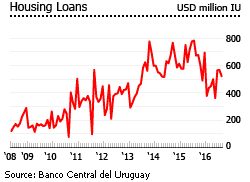 Uruguay's housing mortgage market is highly concentrated, and is dominated by Banco Hipotecario del Uruguay (BHU) which accounts for 80% of all housing mortgage credits.
Now housing loans in local currency plunged by 22.4% to 521.39 million UI during the year to August 2015, due to the interest rate increases.
Weak economic growth, inflation a big problem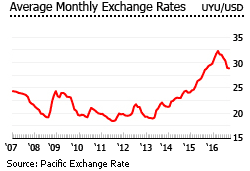 In 2015, Uruguay's economic growth slowed to 1.5%, mainly due to a slump in commodity prices and the economic slowdown in the country's trade partners - the lowest growth since 2002 when the economy contracted by more than 7%.
Uruguay enjoyed high economic growth in 2010 and 2011, with 8.4% growth and 7.3% growth, respectively, having avoided recession in 2009 with a 2.4% GDP increase. Uruguay's economy started to slow in 2014, with a GDP growth of just 3.3%.
The IMF predicts that Uruguay's economy will expand by 1.4% this year and by another 2.6% in 2017. The government, on the other hand, recently slashed its growth forecast to just 0.5% this year and 1% in 2017, well below previous forecasts, due to the economic slowdowns in neighboring Argentina and Brazil.
In June 2016, credit rating agency Standard and Poor's revised its outlook on Uruguay from stable to negative, due to the regional economic slowdown, falling consumer confidence, higher-than-expected inflation, and low commodity prices. Moody's Investors Service followed suit in August, revising the country's banking system outlook from stable to negative. 
Uruguay has recently unveiled a US$12 billion spending plan on energy, transport and housing infrastructure to create jobs and buoy the economy.
Uruguay is tagged as a "moderately free" and the world's 43rd freest economy in Heritage.org's 2015 Index of Economic Freedom, down 5 notches from the previous year. It ranks 5th out of 29 South and Central American countries. But in reality, the government's continuing influence over economic activity hinders overall economic growth.
After enjoying annual average GDP growth of around 6.1% from 2005 to 2011, Uruguay's economic growth slowed to an average of 3.8% per year from 2012 to 2014. The slowdown in the recent years is attributed to a the slowdown in the global economy, which also affected Uruguay's trade partners as well as the country's neighboring countries in the region, such as Argentina and Brazil.
One of Uruguay's main risks is its high inflation.
In August 2016, inflation stood at 9.38% on an annualized basis, down from 10.1% in July 2016 and 10.94% in June 2016. Inflation is expected to hit around 10% this year, far above the government's official target of 3% to 7%. In 2015, inflation was 8.7%, from 8.9% in 2014, 8.6% in 2013, and 8.1% in 2011 and 2012, according to the IMF.
The Uruguay peso (UYU) has weakened by 40.2% against the US dollar, from an average monthly exchange rate of UYU19.266 = USD1 in December 2012 to UYU32.235 = USD1 in March 2016, stoking inflationary pressures in recent years. In the past six months, the UYU has strengthened by 11.8% to reach an average monthly exchange rate of UYU28.824=USD1.
The government's fiscal deficit stood at around 3% of GPD in 2015, down from 3.5% in 2014 but up from the average deficit of 1.4% of GDP seen over the past decade. The shortfall is expected to increase further to 4% this year.
Uruguay's gross public debt widened to 47.8% of GDP in 2015 from just 42.8% in the previous year. The country's gross public debt is expected to increase further to 54% of GDP this year and to 58% in 2017.
Uruguay's unemployment rate increased to 8.6% in July 2016, from 7.5% in June 2016, 7.9% in May 2016, and 8.1% in April 2016, according to Instituto Nacional de Estadística. In 2015, nationwide jobless rate stood at 7.6%, slightly up from an average of 7.2% from 2007 to 2014 but far lower than the average jobless rate of 14% from 2000 to 2006. IMF predicts a slight increase in unemployment in 2016, to around 7.8%.
Uruguay - More data and information