Uruguay – high growth, low prices
May 31, 2008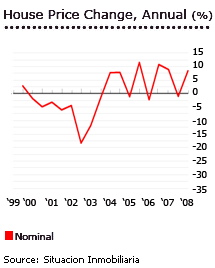 There was a 13% rise in the average price of apartments in Montevideo in 2007, according to Reporte Inmobiliario. Gross rental yields across Uruguay range from 6% to 9%, according to the same source. Particularly in Montevideo, the capital of Uruguay, and Punta del Este, high-end property prices are now well above their 2001 pre-devaluation level. The principal reason is that Uruguay's economy has grown strongly over the past 4 years, with 6.5% GDP growth in 2007, 7% in 2006, 6.6% in 2005, and 11.8% in 2004.
Uruguay's economy is very much affected by its neighbors Brazil and Argentina. While Uruguay mirrored Argentina's economic situation before, during, and after the 2001 crisis, Uruguay did better. The Uruguayan Peso did not devalue as much, and property prices recovered sooner than in Argentina.
Shift to the left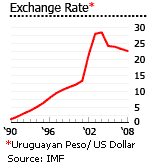 In November 2004 Tabaré Vázquez from the leftist Broad Front coalition won the presidential elections. Vázquez, former mayor of Montevideo, immediately approved at US$100 million emergency plan to help the poor, and opened investigations into the disappearances under military rule in the 1970s and 1980s. He also restored ties with Cuba.
This is a significant shift from the centrist presidency of Jorge Battle (1999-2004), who had pushed some controversial reforms, including privatizations and the outsourcing of government services to the private sector.
However, large swathes of Uruguay's economy remain in the hands of the state, including telecoms, most of the electricity industry, oil imports and several banks.
However Vázquez has promised to pursue a moderate course. In January 2007, Uruguay signed a Trade and Investment Framework Agreement (TIFA) agreement with the US, angering its partners Mercosur, the group based on Brazil and Argentina which now includes Venezuela. Mercosur's relatively high tariffs add to the cost of imported machinery.
A TIFA, many trade experts say, is often the prelude to a Free Trade Agreement (FTA). If Uruguay ultimately decides to sign a FTA with the U.S., an option which Uruguayan officials have not ruled out, it would directly violate Montevideo's membership terms in Mercosur. However, the threat of such action could also have a knock on-effect on Brazil and Argentina.
Vázquez's finance secretary Danilo Astori is a moderate, who has pursued tight fiscal policies, and also spearheaded the reform of the taxation system, including the introduction of a 12% tax on rental income. It is possible that Astori will be the Broad Front's candidate in the 2009 presidential election.
Old Town charm
In Montevideo's Old Town, most buildings are colonial or French style, with very few modern buildings. The government is working hard to promote this area, since after many years of splendour, it has now become mostly an office centre, with little or no life after 8pm. The fringes of the Old Town are somewhat dangerous, with whorehouses and sailors wandering around at night.
Now this part of the city is being renovated. Some streets have been turned into pedestrian precincts. In the last 3-5 years, many restaurants have established themselves, together with a market (the Port Market). This has begun an upward movement in property prices. At the same time, some professionals, mostly from arts and design backgrounds, have chosen to work and live here, so one sees the active refurbishment and improvement of old buildings. The main areas, close to Plaza Zabala and Plaza Matriz, and the pedestrian streets, such as Sarandi, are already very attractive both for living and dining.
Property prices are not very high. Aside from fully refurbished properties than can go as high as US$1,076 per square metre (sq. m.), prices range from US$538-860 per sq. m., according to Reynolds Propiedades figures at www.uruguay-real-estate.com. Creeping gentrification is pushing the market.
In some parts of the old centre, prices have even been dropping, as middle-class families have sought new developments in the eastern suburbs.
For US$350,000, one can buy a whole 8,000 sq. ft. (743sq. m.) French style or colonial style building in the Old Town. Or if one prefers a smaller property, US$40,000 will buy a two bedroom apartment in a colonial house.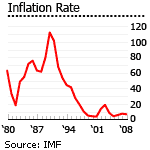 "The old town has character buildings, suitable for refurbishing, and they appeal very much to our European buyers," says Maria Reynolds of www.uruguay-real-estates.com.
"A lot of Europeans and Spaniards buy a whole building; you can get a 700-800 sq. m. building for US$300,000 and then refurbish it and split it into apartments. In fact I personally am buying a couple of apartments here four our private investment," Reynolds boasts.
"Bohemia is moving in," says Reynolds. "Business started moving out East towards Carasco, but is now coming back."
She cites the following examples of prices:
A 850 sq.ft., 2 bedroom, 1 full bathroom apartment, overlooking Plaza Zabala, with incredible views. The French style building is totally refurbished from the outside, and the apartment only needs some paint. Asking price: US$75,000.
A 400 sq.ft., 2 small bedroom, 1 full bathroom apartment in 25 de Mayo corner with Perez Castellanos. The inner court, where one takes the stairs to go to the first floor, is charming, with lots of plants. The apartment is very bright, and located 3 blocks away from the Port Market. Asking price: US$29,500.
"One thing I would point out is that the refurbishment cost is high in Uruguay: 30% above that in Buenos Aires. So you don't want to buy a building that needs an enormous amount of work."
The elite district
Montevideo's elite district is Carrasco, and this is where everyone who has money lives. There are lots of green and open areas, so most people in Carrasco do not want ocean views. Apartment prices start at US$2,152 per sq. m. This suburb has elegant big houses outside of its downtown area. Land lots sell for around US$300-400 per sq. m.
As in Punta Carretas, ocean-view properties in Pocitos, another posh area in Montevideo, have a price range of US$1,399-1,614 per sq. m.
Punta del Este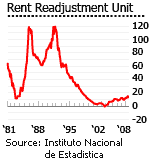 Punta del Este, more than a hundred kilometers from Montevideo, is one of the most expensive places in the region. It is a mixture of Palm Beach and the French Riviera, which converges in a mass of skyscrapers surrounded by beaches and promenades.
"People like the fact that there is no poverty there, it is very civilized," says Maria Reynolds . "You can run around in your Ferrari and no-one will mind. You can walk on the street in your jewelry and it will be safe."
Americans and Europeans are discovering Punta, and many foreigners now live here the year round, enjoy the gentle summer environment. Peviously, Punta was almost exclusively Argentinan-owned, leavened by a few wealthy Uruguayans. It was only really 'open' for a very short, very intensive summer season, then it closed down completely, and there was no activity.
Now there are more Europeans and Americans, partly because many Argentineans sold during the 2002 crisis. Mexicans, Chileans and Central Americans are also increasingly discovering Punta, and investing here, and wealthy Brazilians occupy whole neighbourhoods.
Increasing demand is causing a construction boom. Today, there are more than thirty new developments of superb quality, with new high-end properties go for US$2,000 per sq. m. and over.
Economic developments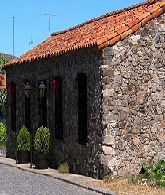 The Uruguayan economy greatly depends on farming, finance, and tourism industries, which are all performing well. Aside from these, Uruguay is trying to make its mark as an outsourcing option, taking advantage of the country's quality education and relatively cheaper wages.
Engineers in Uruguay take turns with engineers in India catering to the US market. This is only one of the ways Uruguay is making use of new and modern opportunities, just as how India's technology company, Tata Consultancy Services, outsourced engineers and programmers from Uruguay.
Uruguay - More data and information