---
High price increases in Uruguay
Last Updated: January 22, 2014
Montevideo enjoyed high residential property price increases in 2013, despite a slowdown since 2012 due to a significant drop in demand from neighboring Argentina.  The average selling price for Montevideo apartments was 13% up during the year to November 2013,  at around US$ 2,050 per square metre (sq. m.).  There were spectacular price rises in Montevideo's Zone 1, located in the coastal strip east of the capital.
House prices on the other hand, rose by around 9% y-o-y to November 2013, to an average selling price of US$ 1,750 per sq. m., according to property valuation firm Valora, as reported in Situacion Inmobilaria's December 2013 newsletter.
Montevideo´s most expensive houses can be bought in Pocitos Nuevo at around US$ 2,385 per sq. m., followed by Punta Carretas and Carrasco, which have average prices of around US$ 2,312 and US$ 2,253 per sq. m., respectively.  The highest house price gains (ranging from 5% to 10%) were in Brazo Oriental, Cerrito, Ciudad Vieja, La Blanqueada, La Comercial, Parque Batlle and Parque Rodo. Areas with lower than 5% price hikes include Buceo, Carrasco, Malvin, Pocitos and Tres Cruces. In contrast, house prices fell in the districts of Sayago (-7%), Reducto (-6%) and Punta Gorda (-3%).
Apartment prices in Buceo, Carrasco, Parque Rodo, Pocitos Nuevo, Punta Gorda, and Tres Cruces enjoyed annual price hikes ranging 5% to 10%. Apartment prices in both Malvin and Punta Carretas increased by less than 5% annually.
The real estate market in Uruguay, and particularly its beach resorts, heavily rely on Argentina's high-end buyers.  Around 75% of foreign buyers in Uruguay are Argentines, followed by Brazilian buyers, making up around 20%, while the remaining 5% are buyers from other countries.
In 2012, the number of sales fell by around 15%, although prices remained steady as sellers refused to settle for a lower price, according to 360 Terra International Realty's managing partner, Sancho Pardo Santayana..
Aside from a decline in sales, new construction fell by 6.2% in 2012, after a 5.2% drop in 2011. Housing permits measured in terms of surface enabled also fell by 9.43% in 2012, based on the building permits issued by Comptroller of the service building of the Municipality of Montevideo.
In order to stem capital flight from Argentina, its government imposed tighter currency controls by limiting dollar purchases, which in part lowered demand for real estate transactions in Punta del Este and is also expected to affect Montevideo as well.
Alberto Prandi, Former Deputy Tourism minister and member of the Real Estate Association of Punta del Este, Adipe, believes that the tax information exchange agreement with Argentina in 2012 has also affected the real estate market in the Atlantic Uruguayan international sea-resort.
Foreign buyers are not restricted when buying properties in Uruguay. However, in November 2013, the Uruguayan government filed a new bill in Congress, which prohibits ownership of productive land by corporations in which foreign countries are direct or indirect shareholders. The bill does not affect individual foreign buyers, who can still purchase land in Uruguay.
The bill, which is proposed and signed by President Jose Mujica, was made for "the preservation and defense of the full sovereignty of the Uruguayan state, in relation to natural resources in general, and land in particular."
Uruguay's economy slowed in 2013 to 3.5% GDP growth, and in 2012 to 3.9%, due to the economic slowdown in Uruguay's trade partners. Uruguay enjoyed high economic growth in 2010 and 2011 at around 8.9% and 6.5%, respectively, and avoided recession in 2009 with a 2.2% GDP increase.
The IMF's forecats a growth rate of around 3.3% in 2014, though Uruguay's central bank's economic growth forecast for 2014 is more optimistic at around 4%.
Apartments in the east coastal areas are more popular
Apartments in east coastal areas in Montevideo tend to be more expensive than in other parts of Uruguay's capital.
Montevideo's Zone 1, located in the coastal strip east of the capital, had the highest price surge among other parts of the capital, averaging around 27% during the year to first half of 2013, and an increase by 12% from the previous semester. The zone, which consists of Pocitos, Pocitos Nuevo, Trouville, Punta Carretas, Malvín, Carrasco, Punta Gorda, Villa Biarritz and Buceo, had an average price of US$ 2,570 per sq. m., during the first half of 2013, according to Valora.
In Zone 2, located in the coastal strip east between Parque Rodo and Ciudad Vieja, apartment prices rose by 14% y-o-y to H1 2013. The zone, that includes Ciudad Vieja, Parque Rodo, Centro, and Cordon, was actually down by 8% from the previous semester, with an average price at around US$ 1,386 per sq. m. The decline was still partly due to the decline in demand of house buyers from neighboring Argentina.
The geographical center of Montevideo, Zone 3, consisting of Prado, Casa de Gobierno, Atahualpa, Palacio Legislativo, Tres Cruces, Parque Batlle and Estadio Centenario, also had a 2% drop in the average price from the previous semester. However, the zone also showed better price growth from the same period in 2012, with its average pice rising by 10% to US$ 1,404 per sq. m. in H1 2013.
Apartment prices in Montevideo had an average selling price at around US$ 2,050 per sq. m. The most expensive apartments can be found in Punta Gorda (US$ 3,150 per sq. m.), Punta Carretas (US$ 3,011 per sq. m.) and Carrasco (US$ 2,901 per sq. m.). The cheapest ones can be seen in Aguada, Ciudad Vieja, Centro and Unión, which were around US$ 1,700 per sq. m.
Yields are moderate to good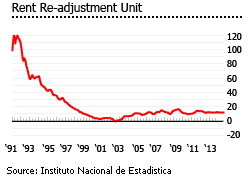 Uruguay's rental yields ranges from moderate to good. Smaller rental units tend to have higher yields than their larger counterparts. Gross rental yields on 40 per square metre (sq. m.) apartments were quite high at an average yield of 8.41%. Smaller houses at around 100 sq. m. also had higher yields at 9.21%, based on the Global Property Guide research in December 2012.
Large apartments of around 175 sq. m. and 300 sq. m. have gross rental yields of 6.84% and 6.21%, respectively. A 400 sq. m. house has a yield of around 8.83%. Rental values rose by 11.78% y-o-y to October 2013, according to official statistics.
Apartments in Montevideo cost around US$2,100 to US$2,500 per sq. m. or around US$200 to US$235 per square foot, while houses in Montevideo cost around US$1,500 to US$1,770 per sq. m., or around US$150 to US$165 per square foot.
Concentrated mortgage market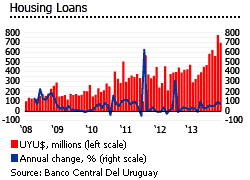 Uruguay's housing mortgage market is highly concentrated, and is dominated by Banco Hipotecario del Uruguay (BHU) which accounts for 80% of all housing mortgage credits.
"Uruguay has not seen a slump in the real estate market…partly, because Uruguay has a very small mortgage-backed-lending market, so the country did not experience an asset bubble," according to Dr. Juan Federico Fischer, a Managing Partner at LVM Attorneys at Law.
Housing loans for new operations in local currency rose by around 63.5% from 425 million UI to 695 million UI, during the year to November 2013. The increase of loans, as well as the rise of the number of operations during the same period by about 38.1%, can be attributed to the lower average annual lending rate at around 5.91% in November 2013 from 6.02% during the same period last year.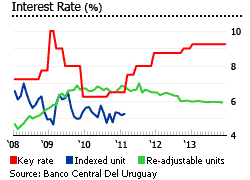 Banco Central del Uruguay's (BCU) housing lending rate for indexed units (UI) has been on the 5.9% level since May 2013, a slight decline from the previous rate level of 6%. Meanwhile, Uruguayan Peso housing mortgage lending rates were at 14.4% in November 2013. During the same period, the central bank's key rate remained steady at 9.25%.
The Indexed Unit, or Unidad Indexada (UI) in Uruguay, was created after Uruguay underwent a financial crisis in 2002. This unit is like Chile's Unidad de Formento, which is adjusted with the CPI, and replaced the previous Unidad Reajustable (UR) which was adjusted according to a wage index. The index is calculated by Instituto Nacional de Estadistica's (INE), and is subject to daily changes to reflect changes in the CPI. The indexing to the price level does not incur inflation risk since the real value of payments remains constant. As of January 22, 2014, 1 UI is equivalent to 2.7322 Uruguayan Pesos ($).
The US dollar housing lending rate for loans payable within 367 days dropped from 6.4% to 5.1% in November 2013.
Slowing down after almost a decade of strong growth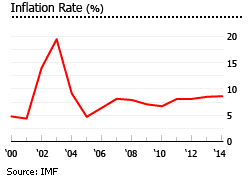 Uruguay is tagged as a "moderately free" and the world's 38th freest economy in Heritage.org's 2014 Index of Economic Freedom. It ranks 5th out of 29 South and Central American countries.  But in reality, the government's continuing influence over economic activity hinders overall economic growth.
After enjoying annual average GDP growth of around 6% from 2005 to 2011, Uruguay's economy slowed at around 3.9% in 2012 and was expected to expand by 3.5% in 2013. The slowdown in the recent years is attributed to a the slowdown in the global economy, which also affected Uruguay's trade partners as well as the country's neighboring countries in the region, such as Argentina and Brazil.
The downward trend is expected to continue. The IMF predicts 3.3% GDP expansion in 2014. Banco Central del Uruguay (BCU), on the other hand, expects better economy on 2014 with a 4% growth.
One of Uruguay's main risks is its high inflation. Despite bringing down inflation in 2013 to a single digit figure at around 8.5% y-o-y last December, Uruguay still ranks among the 10 countries in the world with highest inflation rates in 2013, also ranking 3rd among Latin American countries, following Venezuela (56.2%) and Argentina (10.9%). Needless to say, INE's official inflation figure for 2013 has exceeded the central bank's target range of 4% to 6%.
Throughout the year, though, the central bank has kept its benchmark rate steady at 9.25% since it was raised by 25 basis points from its previous rate of 9% in January 2013. IMF expects a slightly higher inflation in 2014 at about 8.61%, as an eventual easing to 8.1% in 2015.
Uruguay's unemployment rate has reached its record lows in the recent years, falling to only 6% of the labour force in 2011. In the recent months however, unemployment rose, and reached 6.4% in December. IMF predicts a slight increase in unemployment in 2014 to around 6.8%.
Uruguay - More data and information