Peru's residential property market remains weak, amidst slowing economy, coupled with the continuing political crisis in the country.

During the year to Q3 2022, the hedonic property price index rose by a miniscule 0.1%, following y-o-y declines of 1.6% in Q2 2022, 2.1% in Q1 2022, 3% in Q4 2021 and 0.6% in Q3 2021, according to figures from the Central Reserve Bank of Peru (BCRP). When adjusted for inflation, property prices actually dropped 6.2% in Q3 2022 from a year earlier.

On a quarterly basis, property prices increased slightly by 0.1% but declined by 1.5% in real terms.

Demand is weakening. In the third quarter of 2022, sales of newly-built homes in Metropolitan Lima fell by 12.8% q-o-q to 3,769 units, in sharp contrast to a 44% annual growth during the whole year of 2021, according to 26th Study of the Urban Building Market developed by the Peruvian Chamber of Construction (CAPECO).

House price growth in Peru has weakened since 2014, due to the economic slowdown caused by declining copper prices. In 2014, Peru's economic growth slowed to 2.4%, followed by 3.3% growth in 2015. In 2016 there was 4% growth, but that was followed by another slowdown to 2.5% growth in 2017. House prices have been either rising meagerly or falling since. In 2021, house prices fell by 3% (-8.9% inflation-adjusted) from the previous year, amidst the ongoing Covid-19 pandemic.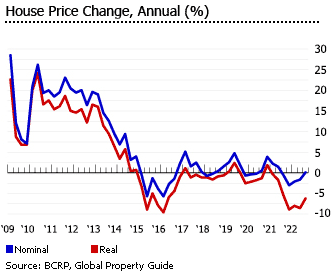 Prior to these recent years, the country had enjoyed strong growth from 2010 to 2013, and the housing market boomed during those years.

Overall, the housing market is projected to remain fragile in the medium term, amidst nervous political situation, aggravated by slowing economic growth. Surging inflation is also adversely affecting the purchasing power of prospective homebuyers.

The Peruvian economy is expected to slow this year, with a real GDP growth rate of 2.7%, after expanding strongly in 2021 by 13.6%, based on projections released by the International Monetary Fund (IMF).