Lima's vibrant housing market is slowing
July 23, 2015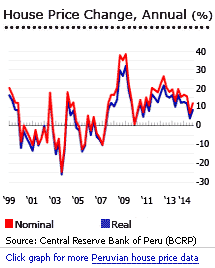 Lima´s house prices continued to surge in 2014, rising by 12.03% (8.53% in real terms) to PEN 5,614.34 (US$ 1,760) per sq. m.  During the latest quarter, apartment prices rose 1.6% (1.2% in real terms), according to the Central Reserve Bank of Peru (BCRP).

Price rises in the previous four years were even higher, so it is possible to make a case that house price rises are moderating:
In 2010, residential prices rose by 15.18% y-o-y
In 2011, residential prices rose by 17.89% y-o-y
In 2012, residential prices rose by 18.13% y-o-y
In 2013, residential prices rose by 15.49% y-o-y
The average price of homes sold in Lima Metropolitan Area rose by 7.65% y-o-y to Q2 2014, to PEN 289,260 (US$ 90,704), according to the consultancy Peru Tinsa.  During the latest quarter, the average price of homes rose by 0.25%.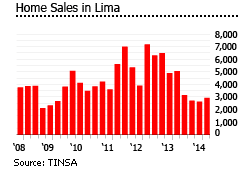 The slowdown is reflected in low home sales. Only around 16,930 units were sold in 2014, according to Peruvian Chamber of Construction (Capeco), down 23.8% from the previous year and the lowest figure since 2010. One factor was a mismatch between supply and demand. Despite the abundance of projects in modern Lima districts (including Jesús María, Lince, Magdalena del Mar, and San Miguel) with an average price of more than US$100,000 there is still a large unmet demand, maybe another 36% above what is supplied, consisting of potential buyers looking for homes priced under US$ 30,000, an offer almost nonexistent in the area.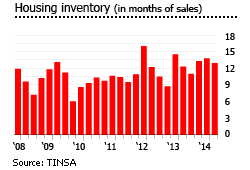 The number of new housing units sold in Q2 2014 was 2,930, 41.9% down from the 5,045 sold during the same quarter of the previous year, according to Peru Tinsa.
Nevertheless, the construction sector in expected to grow by 2% by the end of 2015, according to Cesel Ingenieros´ president Raul Delgado, because of higher investment by real estate companies. Around 59% of property developers are expected to raise their level of investment this year compared to last year, up from the 46% recorded in the previous survey, according to Capeco.
Yields have been declining
Gross rental yields on prime residential property in central Lima are still moderate to good, although not as good as they used to be, as they have been falling over the last few years. The fall seems to reflect lower rentals, rather than increase in prices of residential property.
Apartments in Lima have rental yields ranging from 5.25% to 7.62%, with smaller apartments having higher yields than larger ones, according to the Global Property Guide research in September 2014.
Smaller apartments of 75 sq. m. in high-end areas of Lima have an average yield of 7.62%;
Medium apartments of 120 sq. m. have an average yield of 5.81%;
Large apartment of 200 sq. m. have an average yield of 5.25%.
Gross rental yields have declined from 2009 to 2013:
In 2009, yields ranged from 9.46% to 13.56%.
In 2010, yields ranged from 7.30% to 10.66%.
In 2011, yields ranged from 6.68% to 8.86%.
In 2013, yields ranged from 6.29% to 9.15%.
In Peru rental prices are usually set in US dollars. Over the last two years, the Peruvian Nuevo Sol (PEN) has depreciated sharply, which could have pushed (the already declining) rental prices even lower. The average monthly rent for small apartments (75 sq. m.) located in Lima were at PEN 855 (US$ 268.58). Large apartments (200 sq. m.) had an average rent of PEN 1,986 (US$ 623.86) per month.
Interest rates are falling, but the average lending rate is high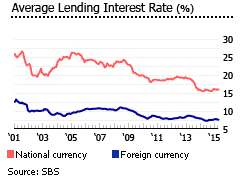 Earlier this year (January 2015), the central bank made a surprising rate cut from 3.5% to 3.25% because of lower inflation brought by declining oil prices, as well as the economic slowdown due to plunging copper prices. This was the fourth key rate cut implemented since November 2013.  In June the Central Reserve Bank of Peru (BCRP) kept the rate unchanged due to rising inflation and a depreciating currency.
During the Peruvian economy's sharp slowdown in 2009 dramatic rate cuts were implemented. The benchmark rate was reduced by 525 basis points, from 6.5% in February 2009 to 1.25% in August 2009. The following year, Peru's spectacular recovery and growth prompted the authorities to raise the key interest rate several times to reach 4.25% in May 2011, where it stayed from May 2011 to October 2013.
Average lending rates remain high, at 16%, for loans denominated in Peruvian New Sol (PEN), and 7.61% for foreign currency loans.
Mortgage market small
Peru's mortgage market remains small at around 5.96% of GDP in 2014. In April 2015, total outstanding mortgage loans rose by 15.44% from the previous year, according to the Superintendency of Banking and Insurance (SBS).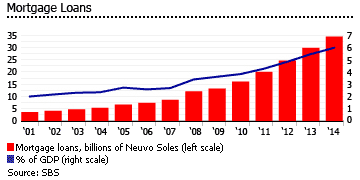 Ollanta Humala's waning popularity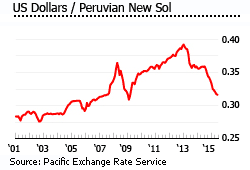 President Ollanta Humala had a sky high approval rating of 62% after being elected in 2011, but now faces all all-time low rating of 17%, according to an Ipsos Apoyo poll of June 2015. Another poll by Datum revealed that the president's "disapproval rating" in June 2015 was 82%, up from the previous month's 67%.
Humala's popularity has specially hit by scandals surrounding First Lady Nadine Heredia, which have included allegations of receiving funds from a Venezuelan company; shopping sprees using a friend's credit card; and her connection with Martin Belaunde Lossio, a former campaign supporter charged with corruption. The First Lady, even more popular than her husband back in 2011, also received a depressing approval rating of only 15%, down from 21% in May.
Other factors affecting Humala´s ratings include 2014´s sharp economic slowdown, rising prices, and fears about citizen safety. Others simply say that he is a "liar" who "doesn't keep his promises".
Humala became Peru's 94th president in 2011. Feared by the middle classes as a fire-breathing and unpredictable leftist, in 2000 Humala had led an abortive leftist military coup against the corrupt president Alberto Fujimori. The coup was a disastrous failure, but gained him popular sympathy.  He is the son of an indigenous lawyer and member of the Communist Party of Peru – Red Fatherland. His brother, Antauro, is serving 25 years in prison for kidnapping 17 Police officers for 3 days and killing 4 of them in another armed rising.
Humala's objective has been similar to his predecessor Garcia's – growth with equity – to reduce the poverty rate to 15% by 2020, by maintaining a modernizing economy and business-friendly environment.
Humala reshuffled his cabinet in February 2015, replacing five ministers, but retaining Ana Jara as his sixth prime minister. But even Jara was forced to step down in April 2015 after being censured by Congress (a first since 1963) over allegations that the national intelligence agency were spying on political opponents and business heads. Jara's deposition as prime minister by the opposition-dominated Congress was seen by analysts as an indication of Humala's declining influence. In April 2015, Humala named Defense Minister Pedro Cateriano his new prime minister.
Humala's term came after that of two outstanding predecessors. President Alan Garcia had returned to the presidency in 2006 and made fiscal rectitude the government's No 1 priority, seeing how Chile's restrained state spending won lower credit costs from international lenders. The overall surplus of Peru's non-financial public sector jumped to 3.1% of GDP in 2007, up from 2.1% of GDP in 2006 – the biggest budget surplus for 30 years.
Yet the foundation for Garcia's success was laid by another president, Alejandro Toledo (2001-2006) who moved strongly to sign trade agreements, notably the 2006 trade promotion agreement (PTPA) with the US, which helped increase the contribution of exports to the economy to more than 20% of GDP in 2005.
Economic recovery in 2015, after 2014 slowdown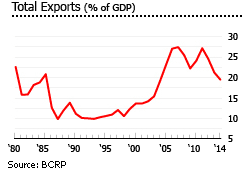 Peru's economy slowed sharply to only 2.4% GDP growth in 2014, after four years of relatively high economic growth: 8.5% in 2010; 6.5% in 2011; 6% in 2012; and 5.8% in 2013. Peru's weakest output growth since 2009 (1% GDP growth) was caused by declining investment and weak external demand for copper. In Q1 2015 growth was only 1.7% y-o-y.
This weak growth, way below the 6% growth forecast by the Central Reserve Bank of Peru (BCRP) in December, prompted President Humala in June 2015 to ask Congress for special powers to introduce new economic reforms. These executive powers are expected to last for 120 days. The government did not reveal the details of the new reform package, however Finance Minister Alonso Segura assured that the new measures will make the country more competitive, through increased construction and manufacturing activities and reduced red tape.
The IMF predicts that Peru's economy will bounce back in 2015 with 3.8% growth.
Unemployment reached 7.4% in May 2015, much higher than the 5.6% unemployed the same month last year, but an improvement over 8.3% recorded in January 2015.
Inflation rose to 3.54% y-o-y in June 2015, its highest rate for 13 months.
Social housing
In 2009, Peru's housing shortage was estimated at about 300,000 dwellings, according to BBVA Research Peru. To reduce the housing deficit, the government has long provided financial aids and direct subsidies, such as MiVivienda, Techo Propio, Micasa Mas, Mi Construccion, and MiTerreno.
MiVivienda, established in 1999, provides housing loans for the middle and upper class levels (A, B and C). MiVivienda provides mortgages up to US$30,000. The New Credit MiVivienda finances the purchase completed or under construction homes whose total cost is from PEN 53,900 (US$ 17,042.51) up to PEN 269,500 (US$ 85,212.53).
Techo Propio is a program launched in 2002 directed at family groups who do not have their own houses and have never received State support to build or buy one. The total income a household earns should not be more than 1,860 Peruvian Nuevo Sols (PEN) (classes D and E).  Techo Propio offers subsidies for purchasing houses ranging from PEN 15,400 (US$ 4,869.29) to PEN 19,250 (US$ 6,086.61), depending on the home's value.
Micasa Mas is a credit program that is intended for families who already own a home (including homes that are under mortgage) that could be put on sale, in order to buy a new or used house that matches their family's current financial and family situation. Loans that could be requested in this program range from PEN 45,000 (US$ 14,228.44) to PEN 270,000 (US$ 85,370.63), with a minimum down payment of 20% of the home's value.
Mi Construccion allows beneficiaries to build, enlarge or improve their homes. Loans can be up to PEN 100,000 (US$ 31,618.75) with a repayment term of up to 12 years.
MiTerreno helps low-income families to purchase an urban land (private or public) that will be used for housing purposes, through funding. The maximum amount of fund is around PEN 50,000 (US% 15,809.38), with a maximum financing period of 8 years.
Out of all five programs, New Credit Mivivienda had the largest share in the total number of loans disbursed by Fondo Mivivienda in 2014 at 87.72%, based on Fondo Mivivienda's May 2015 Bulletin. It was followed by Mi Construccion at 7.04% and Techo Propio at 5.11%. New programs Micasa Mas (0.11%) and MiTerreno (0.01%) have the smallest shares. From January to May 2015, around 3,347 loans were disbursed under the five programs, amounting to PEN 389,829 (US$ 123,259).
According to Gerardo Freiberg, Fonda Mivivienda's general manager, the public entity's goal for this year (2015) is to serve 95 thousand families who are seeking homeownership.
Peru - More data and information