Panama's housing market is now depressed. Homes sales and residential construction activity are both declining. Property prices have fallen in most major cities.

Foreign buyers have buoyed Panama's housing market in recent years, pushing up prices by 5% to 10% annually. Foreign buyers tend to be from the United States, Europe, Canada, and Latin America.

However this year, there is almost no market activity due to the coronavirus crisis. "At this time the decline in our sector may be between 87% and 90% of activity because we are simply not working," said Elisa Suárez, executive director of Convivienda.

"Practically, we have had almost zero activity this year," Suárez added.

In Panama City, the country's capital and largest city, the average price of apartments fell 4% y-o-y to US$2,007 per square meter (sq. m.) in August 2020, according to classifieds platform encuentra24.com. On the other hand, the average house prices increased by a minuscule 0.8% y-o-y to US$1,501 per sq. m. over the same period.

In Panama's other major cities:

In San Miguelito, the country's second most populated city, apartment prices fell by 1.3% to US$1,790 per sq. m. while house prices dropped 9.2% to US$1,129 per sq. m.
In David, the capital of the Chiriquí province, the average house price fell by 15.6% y-o-y to US$784 per sq. m. in August 2020
In La Chorrera, the capital of the Panamá Oeste province, houses prices fell by 13.3% y-o-y to an average of US$752 per sq. m. in August 2020
In Santiago, Veraguas province's capital, the average houses price plunged 36% y-o-y to US$460 per sq. m.
In Penonomé, the capital of Coclé province, the average house price surged 80.7% y-o-y to US$1,339 per sq. m.
In Colón, the capital of Colón province, house prices more than doubled to US$1,511 per sq. m. in August 2020

Residential construction continues to fall. In the first five months of 2020, the value of residential construction plummeted by almost 35% y-o-y to PAB 162 million (US$ 162 million).

The previous year was unusual. House sales rose strongly by 30% to 8,034 units in 2019 from a year earlier, according to the National Board of Housing Developers (Convivienda). Likewise, transaction values soared 58% y-o-y to PAB 875.83 million (US$ 875.83 million) last year.  But construction fell 14.3% in 2019 and 40.5% in 2018, according to the Instituto National de Estadistica y Censo (INEC).

Tourist arrivals ground to a halt after Panama President LaurentinoCortizo declared a total lockdown and suspended international flights in March 2020 to contain the rapid spread of the virus in the country. The government has recently announced that international aviation and tourism activities will resume on October 12, 2020.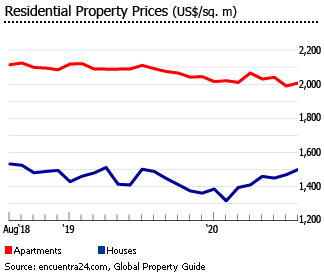 Foreigners can own real properties in Panama, and are accorded with the same property rights as Panamanians. However, mortgages can be difficult to obtain, especially for foreigners, and the purchase process can take two to three months. More than 80% of real estate transactions involving foreign buyers are in cash.