House price growth surges as a new president is elected in Mexico
Maria de Guzman | November 16, 2018

Mexico's housing market has shown robust growth for the first two quarters of 2018, as economic conditions in the country improve.

Mexico's house prices rose by 9.92% during the year to Q2 2018. When adjusted for inflation, house prices were up by 5.12%, according to the SociedadHipotecaria Federal (SHF). This followed the 8.73% y-o-y growth in Q1 2018 (3.25% inflation-adjusted).

Mexico's housing market has enjoyed nominal growth for a decade, but the real (inflation-adjusted) numbers are prosaic:

Despite the uncertainty regarding real estate development in the areas affected by the massive earthquake of September 2017, Mexico's residential market remained strong after the quake.  While some affected areas in Mexico City suffered house price declines, housing demand shifted to other neighbourhoods, boosting house prices there.

In one of Mexico City's oldest neighbourhoods, Coyoacán, there was a 49% rise in house prices during 2017, according to the real estate portal Propiedades.com. Other strong rises were seen in Alamos (34.47%), Escandon (26.14%), and San Angel (23.86%). In contrast, the neighbourhoods with massive price drops include Anahuac (-30.45%), Pedregal (-26.63%), Claveria (-20.37%), and Doctores (-14.16%).

"As a result of the earthquake the property geography has changed, and although areas like Nuevo Polanco continue to develop, they no longer do it  as spectacularly as before the earthquake and demand in other areas begins to increase, far from the affected areas," according to Federico Sobrino of the Institute of Property Management and Infonavit.

Mexico has an enormously strong domestic market.  Most Mexicans who move generally prefer to buy rather than to rent. Around 82% of Mexicans want to buy a property, as opposed to 18% that prefer to rent, according to Lamudi's recent Real Estate Market Report.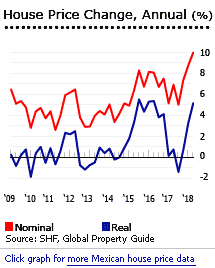 The Mexican market is not driven by speculators. There are many developers, it is highly competitive. Much new housing is built, which keeps prices down. Interest rates are (relatively) low in the social sectors, due to subsidies. This was affirmed by Citibanamex's Executive Director of Mortgage and Automotive Credit Ricardo García Conde, stating that housing demand in Mexico is "real", meaning that the house price movements in Mexico are mostly due to the market's supply and demand with a minimum percentage of speculative purchase.

While the general outlook for Mexico's housing market is good, Lamudi pointed out that there are three factors that brought uncertainty to the market: the elections, NAFTA, and the global economy.


Analysis of Mexico Residential Property Market »