Mexico's admirable housing market
August 20, 2015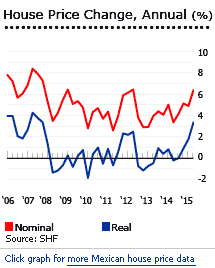 House prices in Mexico rose by 6.38% during the year to Q2 2015. When adjusted for inflation, house prices were up by around 3.35%, based on figures from Sociedad Hipotecaria Federal (SHF). This followed 4.9% (1.78% in real terms) y-o-y growth in Q1 2015, revised from a preliminary 0.61% (-2.68% in real terms) y-o-y growth estimate by SHF.
Mexico´s real estate market has been buoyed by strong demand in resort communities, according to the International Consortium of Real Estate Associations (ICREA). American and Canadian buyers are returning to Mexico, after a several-year slump, thanks to low oil prices and the strong US dollar, pushing home values up.
American buyers are very important as owners of beachfront properties, which were badly affected by the slump of 2009-10 in areas like Baja California Sur, Nayarit, Baja California, Guerrero and Sinaloa.
However there is also an enormously strong domestic market.
Mexico´s most expensive houses are in the municipalities of San Pedro Garza Garcia in Monterrey Metropolitan Area, in Zapopan in Guadalajara Metropolitan Area, and in Acapulco, according to Lamudi's Q1 2015 report. High-end apartments cluster in Miguel Hidalgo municipality in Mexico City, San Pedro Garza Garcia in Monterrey, and Huixquilucan in Mexico State.
The Mexican market is not driven by speculators. There are many developers, it is highly competitive. Much new housing is built, which keeps prices down. Interest rates are (relatively) low in the social sectors, due to subsidies. Home prices in Mexico rose by 6% annually between 2005 and 2011, slightly above inflation, according to SHF's home price index. The last big housing crisis occurred after the Tequila crisis of 1994, when a currency devaluation followed by interest rates spiking caused 40% of all bank loans to default. Since then, there has been continuous recovery.
The rising middle class
Between 2000 and 2010 Mexico's middle-class grew from 37 million to 44 million (INEGI, 2013). There are four key reasons.
First, inflation has halved: it was close to 10% in 2000, but between 2011 and 2013 the rate has hovered around 3.5%. The autonomy of the Bank of Mexico has played a key role.
Second, there is now trade openness. As a percentage of the economy, foreign trade (exports plus imports) accounts for nearly 60% of GDP, making Mexico one of the most open economies in the world. By way of comparison, the figure is 27% in Brazil, 48% in China and 30% in the United States. This is fosters competition and puts an upper limit on the price of goods in the local market.
Third, there is the prudent management of public finances. There is no significant pressure on the fiscal balance or public debt. Between 2000 and 2012, the fiscal deficit was at levels below 1% of GDP. Total public debt, domestic and foreign, barely exceeds 30% of GDP
The last component is financial inclusion. The population using banking services rose from 33 million in 2006 to 51 million in 2012, marking an annual average growth rate of 7.5%.
Effect of violence on the housing market
Although drug-related violence has been present in Mexico for the past three decades, the government passively ignored the problem from the 1980s to early 2000s. This norm was broken when President Felipe Calderon took office in 2006 and implemented a militarized approach to dealing with the drug cartels.
Calderon may have been partially successful, but around 60,000 people were killed during his campaign against drug cartels. News about drug-related violence turned off potential American baby-boomer home-buyers.
President Enrique Peña Nieto´s policy is unclear: his rhetoric focuses on lowering murder rates, kidnappings, and extortions, as opposed to arresting or killing the country´s drug lords. He announced the creation of a large national centralized police force, but then retreated from that announcement.
In any case a BBVA Research study has suggested that violence has only a limited effect on housing sales, because the violence is very regionally concentrated. Between 2008 and 2010, 46% of homicides were in five states only: Baja California, Durango, Sinaloa, Chihuahua and Guerrero, according to the SSP (Secretaría de Seguridad Publica or Public Security Ministry).
Plus, low income segments account for 80% of the housing market. The key issue for this segment is housing finance and housing supply, not violence, to which their communities are less vulnerable.
Construction and loans sharply up
Mexico´s real estate market should grow strongly in 2015, aided by government investment in housing and by tax reform.
"The main stimulus to the property market will come from the government's national housing policy, announced in January, which is expected to trigger real estate investment of 370 billion pesos and pave the way for the construction of 500,000 homes," said Lamudi Latin America's CEO Vera Makarov.
Residential construction rose 6.4% y-o-y to April 2015, according to Scotiabank. "Even though residential building has lost something of its significance .... over Q3 and Q4 in 2014 it almost managed to catch up," said BBVA Research."
Infonavit mortgages rose by 21% to 154,400 loans y-o-y to May 2015, according to the BBVA Research. Fovisste loans were up 19.3% y-o-y, an improvement on the decline of 4.35% y-o-y to December 2014. Commercial bank mortgage loans also rose by 12.6% during the year to May 2015.
Infonavit and Fovissste loans had double digit growth, according to BBVA Research, because:
The upper limit on financing was raised
Multiple of minimum wage ceiling was abandoned
Interest rates are down
Small mortgage market; high interest rates
The non-subsidized private mortgage market in Mexico is small, at around 10.1% of GDP in 2014. Mortgage interest rates remain high. The average interest rate offered by banks and Sofoles was 13.15% in June 2015.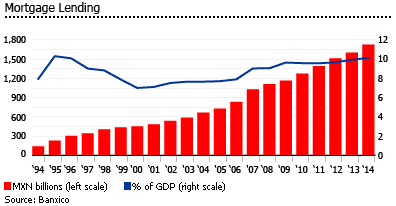 In 2014, mortgage loans granted rose 1.25%, due to the slight economic rebound. The value of mortgages increased 6.6% to MXN 260.4 billion (US$ 15.23 billion), according to BBVA Research. Default rates were below 4% in December 2014.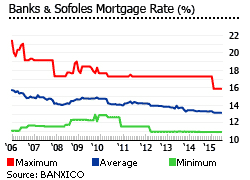 The central bank Banco de Mexico (Banxico) recently decided to keep the benchmark interest rate at 3%, despite Mexico's currency depreciation, a record-low rate imposed since June 2014.
In July 2015, inflation reached a historic low of 2.74%.
Since 2000, banks have made significant changes that have led to better access to loans, and more favourable lending conditions.
Mortgage processing fees have been reduced to an average of 3%, from 6%.
Loan to value ratios have been raised to 80% – 90% from 65% or lower.
Loan terms have been lengthened from 10 - 15 years in 2000, to the current level of up to 30 years.
Constitutional ban on foreign land ownership remains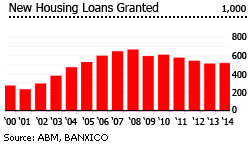 Under the current system of fideicomiso, foreigners can only indirectly own real estate by setting up bank trusts. Although this is relatively safe, it rests on the credibility of Mexico's banking system and property registry administration, which unfortunately discourages many foreigners.
There were hopes that the restrictions might be loosened up. Congress actually voted in favor of a proposal to allow foreigners to directly purchase beach residences. However, this proposed legislation was rejected, due to the amendment procedure not being finished within the time frame required by Article 89 number 2, Section III of the Rules of the Chamber of Deputies. So fideicomiso is still the system foreigners must use.
The PRI then and now
Enrique Peña Nieto of the Institutional Revolutionary Party (PRI) won the 2012 presidential election.

The PRI ruled for Mexico for an extraordinary 71 years until 2000, ceding for a 12-year period to the free-market/Christian Democratic National Action Party (PAN).

In its heyday, the PRI controlled the Presidency, the Senate, the House of Representatives, the Supreme Court, almost all governorships and mayoralties throughout the country. It controlled all labour unions, all peasant organizations, all student organizations. Employer organizations were affiliated to the Mexican state.

Opposition was met with a combination of incorporation, and death squads. There was much electoral fraud.

Mexico had an economic miracle from 1940 to 1970 based on import-substitution, when GDP increased sixfold, while the population only doubled. GDP growth rates were over 5% or 6% per annum. But in later years Mexico did not grow fast enough to keep up with countries like Brazil and Indonesia, while oil revenues allowed the state to spend heavily on social programs and industrialization, in an atmosphere of increasing corruption and inefficiency.

Many Mexicans became disaffected during the 1970s and 80s. President Ernesto Zedillo´s (1994-2000) devaluation of the peso in 1994 (the "Tequila crisis") turned the following years into a severe crisis, further undermining support for the ruling party.

The Mexican peso crashed. The downturn precipitated an enormous banking and property crisis. Yet the Mexican economy improved after the crisis, with average growth of 5.1% from 1996 to 2000.
The good years
Economic expansion continued under the free-market/Christian Democratic National Action Party (PAN) after 2000. By 2002 Mexico's banks had been recapitalized. The housing market had solider financial foundations. Interest rates began to fall, and lending for housing recommenced.
Mexico experienced extraordinary growth of its housing market during the following years (2002-2007). Inflation was now low, and construction began to recover. More people began to borrow to buy houses, largely due to a big increase in government low-cost housing schemes. The ratio of self-built houses fell from 70% in 2000, to 30% of new houses in 2006. Construction became one of the economy's most dynamic sectors, boosted by lower interest rates. Bank loans rose.
Reforms helped: better mortgage laws, social security reform with a defined contribution system fostering long-term savings, the creation of a long-term yield for government securities.
House prices remained restrained all through this period, because the housing construction sector had become much more competitive, and many more developers were building housing. The wider economy also grew, and exports were very strong.
Nieto and PRI´s return to power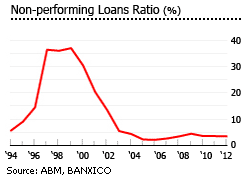 In late 2012 the PRI´s Nieto (called by many "the new face of the old guard") became president. He promised big changes, and was initially feted by investors.
Mexico by 2012 was a deeply stressed country, despite gains under PAN with Vicente Fox (2000-2006) and then Felipe Calderón (2006-20012). A major reason is undoubtedly that in 2006, Calderón chose to make the battle against organized crime the centerpiece of his presidency. By 2012 many Mexican citizens were tired of the fight they had first supported, with over 60,000 dead.
Some reforms come through. Mexico's hidebound energy sector is being liberalized. The country's deepwater and shale fields are being thrown open to foreign investment. The electricity industry will also be liberalized. Mexico now has the lowest tax take in the OECD as a percentage of GDP, and there have been measures to shake up the telecoms and broadcasting industries.
However many suspect Nieto of intending to re-establish the PRI´s old corrupt hegemony.
On September 26, 2014, 43 male students from the Raúl Isidro Burgos Rural Teachers´ College of Ayotzinapa went missing in Iguala, Guerrero, Mexico. The police first opened fire on their bus, killing 6, and then handed the remaining students over to a local drug gang. Later 43 bodies were discovered. Beatriz Pagés, the PRI´s Secretary of Culture, later claimed that this had nothing to do with the state: "The chain of protests and acts of vandalism—perfectly well orchestrated—replicated in various parts of the country, demonstrate that the disappearances and probable extermination of the 43 normal-school students were part of a strategic trap aimed at Mexico," she wrote. "All these activists and propagandists have the same modus operandi."
Nieto has been involved in two housing scandals. The first was the revelation that first lady Angelica Rivera´s US$7 million house in Lomas de Chapultepec was registered under the name of a construction company property that received contracts in the state of Mexico when Nieto was governor. The second came after in November 2014 a high-speed train contract was awarded to a Chinese-led consortium. The contract was later scrapped when it was revealed that the president's White House family mansion had been paid for by a contractor who was a member of the train consortium
"Today there is, without doubt, a sensation of incredulity and distrust," admitted Nieto in an interview in March 2015. "There has been a loss of confidence and this has sown suspicion and doubt."
However the PRI won 203 out of 500 seats in the Chamber of Deputies in the June 2015 elections - remaining the dominant party. Along with its two allied parties, the Ecologist Green Party of Mexico (PVEM) and New Alliance Party (PANAL), the three ruling parties hold 260 out of 500 seats and garnered 39.84% of votes. Following PRI was PAN, with 108 seats, and the Party of the Democratic Revolution (PRD) with 56 seats.
Mexico's system of housing subsidies
Mexico's homebuilding industry has grown enormously in the past decade, with the help of high demand for homes and population growth. An important factor has been state spending through INFONAVIT and FOVISSSTE.
The government provides housing finance for low-income households, mainly through INFONAVIT (Infonavit is the Instituto del Fondo Nacional para la Vivienda de los Trabajadores or National Fund for Worker's Housing Institute). Infonavit deducts contributions from workers' payrolls, and then lends at below-market rates (9%). The low-end is also served by Fovissste (Housing Fund for Public Sector Workers), which lends at a lower interest rate (maximum of 6%, less if the base salary is very low). There are also Sofoles, which are post-1994 private mortgage financial institutions, which sometimes co-finance with Infonavit and also provide some mid-market loans, and also fund developers.
As of Q2 2014:
Infonavit provided 69.97% of mortgages
Fovissste granted 10.25% of mortgages
Sofoles provided 1% of mortgages
Banks provided 17.64% of mortgages. Banks totally dominate high-end market segments.
Other entities granted 1.15% of mortgages
Housing subsidies were granted by SHF (Sociedad Hipotecaria Federal) (44.76%), CONAVI (Comisión Nacional de la Vivienda or National Housing Commission) (26.84%), and FONHAPO (Low-Income Housing Fund) (28.39%).
Almost all houses sold by developers get financing from one of four major sources.
A shift in social housing policy
During the year to December 2014, the number of loans lent by public institutions weakened. Infonavit loan numbers increased only 1.7%, and Fovissste´s loan numbers declined by 4.35, according to BBVA Research. Bank loans were up 4%

The decline followed a February 2013 policy-shift by the Mexican government to prioritize urban developments and build high-rise residences closer to cities.

Mexico´s top three homebuilders were heavily hit. Sales of Geo, Homex and Urbi´s low-cost homes in developments far from offices and schools tumbled in 2013. These three developers hold large land-banks where Mexicans no longer want to live. All three filed for bankruptcy protection in 2014.

While the 'big three' developers were in trouble, smaller and medium-sized developers such as Javer and Ara jumped at the opportunity to expand. Infonavit also expanded its product menu for low-income borrowers and increased the maximum loan amount to MXN 850,000 (US$ 49,715) from MXN 483,000 (US$ 28,250) in July 2014, and also granted peso-denominated loans at a fixed rate for up to 30 years.

Homebuilders have reallocated resources to higher income segments. The housing stock in the "Popular" segment, costing up to 200 VSM or MXN 426,208 (US$ 24,928), dropped from 64% of all houses in 2011, to around 55% in June 2015, according to the Registro Único de Vivienda (RUV). The housing stock of the "Traditional", "Medium", and "Residential" segments, costing 745,864 (US$ 43,624) or more, rose from 30% in 2011, to 35% in June 2015.
Slower-than-expected growth in 2015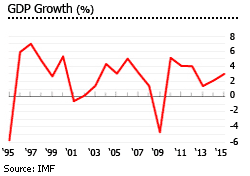 During the second quarter of 2015, Mexico's GDP decelerated to 2.2% y-o-y growth, lower than the 2.6% y-o-y economic expansion in Q1 2015, according to the Instituto Nacional de Estadística y Geografía (INEGI). The slower growth was caused by weaker agricultural and industrial sectors as compared to the first quarter.
After a 4.7% GDP contraction in 2009, Mexico grew by 5.1% in 2010 as export demand picked up, specifically from the United States. This was followed by good years in 2011 and 2012 (both with 4% growth).
Mexico's economy is highly dependent on the US, and in 2012, 78% of Mexico's exports went to the US. 2013 was a disappointing year with 1.4% GDP growth, but in 2014 there was 2.1% GDP growth.
Mexico's 2015 economic growth outlook was reduced to a range of 1.7% to 2.5% by the central bank, Banco de Mexico (Banxico). BBVA Research reduced its growth forecast to 2.5% from 3.5%, citing three factors for its lower growth prediction:
Oil production's downward trend;
The level of dynamism in manufacturing exports is lower than expected; and
Public sector consumption and investment's contribution to growth were also lower than expected.
Mexico - More data and information